Music News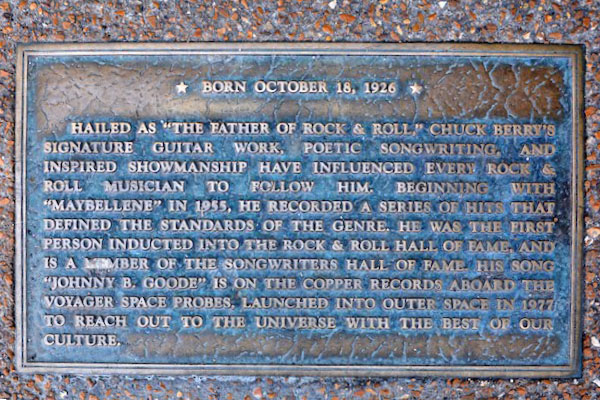 Hail, Hail, Chuck Berry!
Chuck Berry had to be smiling on Sunday, April 9. It was a beautiful spring day and the crowds had come to see him one last time at The Pageant on Delmar Avenue. They just wanted to say goodbye to an old friend they grew up with. 
St. Louis is a city blessed with musical talent and history. Chuck Berry and Scott Joplin are its bookends. Both drew on the blues to change the course of twentieth-century musical history. Joplin took the blues as a base and urbanized it for an entirely new genre of music, ragtime, which influenced the development of jazz. 
Fifty years later Chuck Berry took those same blues and added a bit of country, R&B, a hot piano, driving beat, sweet tunes and clever lyrics to create a new music, rock 'n' roll. When you hear the term "guitar-driven," think Chuck Berry. His dazzling six-string prowess and flamboyant stage style turned his instrument's usual rhythm and fill job in a band into the starring role. His playing and songs inspired generations of musicians across the world. 
Collaboration was also a key ingredient in Berry's success. Long before Lennon and McCartney or Jagger and Richards there was the duo that inspired them, Johnson and Berry. The Sir John Trio led by the legendary keyboardist Johnnie Johnson (the real Johnnie B. Goode) was a highly regarded St. Louis band in the early '50s. Johnson's guitarist had a stroke and he asked Berry to fill in for his 1952 New Year's gig. 
Things would never be the same: Chuck joined the band, Muddy Waters hooked him up with Chess records, in 1955 "Maybelline" was born, and the band was renamed the Chuck Berry Band. Together they began cranking out the hits that put Berry in the Blues Hall of Fame and both Johnson and Berry in the Rock & Roll Hall of Fame. Francis Johnson, Johnnie's widow, says "Chuck was the Maya Angelou of rock 'n' roll." Paul Shaffer (of David Letterman's Late Show) reminisced about the night Chuck asked him to play with him and said, "He was rock 'n' roll. His life coincides with its birth and, perhaps, its death." 
Chuck Berry will always be alive in the memories of musicians and music lovers and especially St. Louisans. They remember him for the music, for staying true to his home town, and for making them happy and to want to dance. It is most apparent in the Delmar Loop area: the first star on the Walk of Fame outside Blueberry Hill, the memorabilia inside, the Duck Room downstairs, and the bronze statue covered in flowers and beads across the street. There is also a new portrait on the side of Vintage Vinyl that the owner, Tom "Papa" Ray, says "had been planned for some time but it was at the moment the artist began painting it that Berry died."   
Joe Edwards, the owner of Blueberry Hill and a trusted friend of Berry's, has decades of memories. He calls Berry's music "a personal history book for all of us" and stressed how Berry "had a major effect on our culture with the ability to bring black and white together." The Kaldi's coffee gang (60+) remember how Berry seemed to be a constant presence on the radio: "It was like driving in the car with an old friend. There was a rhythm and a sound that fit with being young and a teenager." Dave Robinson (62) got to fish at Berry's farm and said "his whole family listened to him and the British invasion that followed." But for him, Berry "didn't get his just due until later in life. "
Today at the National Blues Museum, an entire section has been devoted to Chuck Berry and his influence. There, one can see his records, the records others made with his songs, the duck walk and the flow of his influence across the musical landscape. Terry Hardin (52) says he "grew up with the records my mother loved which started with Chuck Berry and Little Richard." Dr. Rosalind Norman grew up deep in the inner city and remembers Berry fondly: "I grew up near downtown in the late '50s and early '60s and Berry would send busses into our neighborhood to pick up kids and take us out to his farm to play and swim..... I had never been in the country. I got to go swimming in his pool. It was amazing. A person of his color who had all of this doing what he was doing. He was a role model for kids of color. He had his passion, pursued it and succeeded."
Museum visitor Regina Heard (44) said, "Chuck is music to me....the link in a chain that runs from rock and roll to hip hop." Ed Chappelle, a museum volunteer, finds "so much blues and rock 'n' roll history in each of his songs." Dave (58 -- NBM founder) and Renee Beardsley (53) "love their childhood memories of his music and the trace of Berry's pioneer roots from the Sir John Trio across the water to inspire everyone in England." And Zachary Ganet (37) simply said Berry "was a badass guitar player." Like a lot of Berry's audience from that generation, Ganet's encounter came through Back to the Future, "I first came to realize who he was when, as a kid, I saw Michael J. Fox do his guitar style."
Blueberry Hill was packed Saturday night with a crowd there to raise a glass with Joe Edwards and Johnny Rivers in a toast to the man who played 200 shows there. Many Berry family members and friends were there including Murv Seymour (52), Carl Brooks (59), Joe McKinney (75), and Charlie Cojak. Before toasting they reminisced about how good he was to his extended family and the good times at the Windemere City home and the farm. Murv said, "We loved Uncle Chuck. He was the starting point for the creation of a new genre of music that led others to copy his style. He was quietly admired." Carl chimed in saying, "He was family and he created rock 'n' roll from infinity to beyond." The family visited the Duck Room and later headed across the street for pictures with the statue.
Sunday the sky was blue and the breeze warm as limos arrived and crowds gathered outside the Pageant. Out front people entered for the open viewing, while a large line for ticketed guests formed. On the side there was another long line for the 300 public tickets that would become available at noon. Celebrities, family, friends, coworkers, musicians and the public easily co-mingled, a great representation of the way Chuck's music brought black and white fans together. It was easy to ask folk "Why did you come today?" or "What did Chuck Berry mean to you?" Their responses tell the rest of the story.  
There was a large contingent of Berry family present. Eric Johnson (55) was there with his family. He recalls learning "My Ding-A-Ling" in the '70s but, he said, "You couldn't sing it around the house; you had to sneak outside." Cousins Diane Johnson (66) Marilyn King (79) and Eric Smith (46) all praised his lasting legacy and the doors he opened for other musicians.
David Selby (66) and Patrick Roche (64) worked for Berry. Selby said Berry was a role model: "He was very brilliant, dedicated to his family and believed in God. He taught me about business and life and how to treat people." Daniel Rossing, (32) a pianist from Norway, played with Berry in Europe. He grew up listening to his parents' records of Chuck. "Getting to play with him was a dream come true," he said, "I had to be here." 
Stefano Francioso (51) loved the sound of his Gibson ES35 and Dual Show amps and his lyrics: "Everyone had shit lyrics and he could paint a picture -- 'I never seen a coffee-colored Cadillac but I know exactly what one looks like'." Michael Messey (59), a musician who played with Chuck for many years, recalled a memorable day: "I first heard My Ding-A-Ling at my cousin's. I never dreamed he would end up playing it with him years later." 
Beth Zubal (55): "He was a native St. Louisan that brought great music, a new mode of upbeat music. He always stayed true to his roots living here and playing the Duck Room. People had access to his music." Antonio Scott (37) called Berry "a hometown hero," and plainly "awsometastic." Joe (68) and Jake Miklovic echoed a familiar refrain: "Chuck's music was everywhere growing up. I heard it on the river on the Admiral and at the CYC and sock hops..... Your hormones were moving and Chuck was grooving. You were young, in love and feeling great -- it made you want to dance."
Donna Diffley (67) and Dawn Smith (57) loved "his duck walk, the great hits and how he influenced all the big acts to follow and he never forgot his hometown." For Cathy Jacobs (59) and Carol Allen (57) "the music meant freedom of expression and was so much fun to dance to." Jerry Coleman (60), who played a couple of gigs with him, remembers Berry best for "breaking down racial barriers. His music brought people together and it will be here as long as we live." Tim Cladsen (51): "He influenced everyone, a pioneer."
Ray King (50) Sue Beck (61) and Eric Pritle (70) were first in line for the public tickets. Ray, a musician who "appreciated Berry's huge influence on modern music," and offered the reminder that "The Beatles and Led Zeppelin wouldn't exist without Chuck Berry." Sue says a she came to "support his family and pay respects one last time." Eric likewise came to "pay respects to one of the hardest working men in show business [who] lived a full life doing what he loved to do."
CC Winchester (40) credits Chuck Berry with making him want to be a musician. Laurie Ising (53) and Ann Smith (57) called him "the father of rock 'n' roll," and said, "As a music lover you've got to appreciate what he's done. It's important to us to pay our respects." Michelle McMurray (57) remembered the fun times she had at Blueberry Hill listening to "one of our own, a legend and always so friendly." 
Ted Thien (72) remembered first seeing him in 1962 at the Gaslight Square: "He put the guitar as the lead instrument and changed music." Jeff Schieb (45) emphasized Berry's singular contribution: "It won't happen again -- breaking the norms and creating something new. You can take apart most any song and you will hear snippets of Chuck Berry." Praising the "hometown legend," Andre Louis (52), Karen (60), Ralph Morse, and Brian Flowers (61) said, "There is no better rock 'n' roll than Johnnie B. Goode. Anyone whoever picked up a guitar and played a bar chord owes it to Chuck to be here."
Gus Thornton (65), bass player with Marquise Knox, remembered Berry's early influence: "He was the first thing I listened to as a kid. Getting into the guitar, I tried to play like him. I knew Johnnie Johnson and he got me a gig with Chuck and he was always very nice to me." Elaine Foster (64) recalled, "Chuck used to play for the Sumner High Roundups. We loved his music as kids. All the girls would scream when he played and I would too." Jules Sardo (68) remembered the first time she saw the performer, "I saw him for the first time playing on a bill in '71 with Billy Peek at the Rainbow Lounge, where it cost 50 cents to get in." 
Lynn Orman Weiss was in town from Chicago this week to pack up her Women of the Blues photography exhibit that had been showing at the National Blues Museum. She stayed over to attend the Chuck Berry events. When I asked her what Chuck Berry meant to her she answered with John Lennon's quote: "If they didn't call it rock 'n' roll they would have to call it Chuck Berry."
The Duck Room Stage sits empty. Chuck has left the building. He may be gone but the songs remain and St. Louis will always know the music by its real name... Hail, Hail, Chuck Berry! 
To see Bob's photos of many of those quoted here in the order of the article, click the image below.
Related Articles