Music News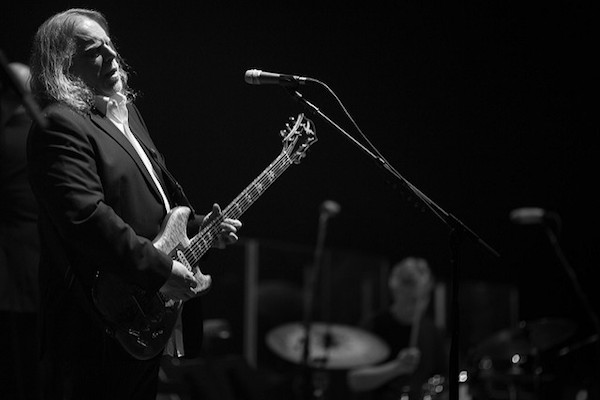 Revolution and Road Songs: An Interview Warren Haynes
Warren Haynes is easily one of the hardest working musicians in the business. At certain points in his long and successful career, the guitarist/vocalist/songwriter has been known to perform in three or four different bands at a time, from the Allman Brothers Band to The Dead and Phil Lesh & Friends, to his own Warren Haynes Band and, of course, as the anchor of Gov't Mule, which he co-founded more than 20 years ago. 
Fully focused on the later at present, Haynes and Gov't Mule are set to release their tenth studio album (and first in four years), aptly titled Revolution Come... Revolution Go, on June 9 on Fantasy Records. The band, which features Haynes on lead vocals and guitar; original drummer Matt Abts; Danny Louis on keyboards, guitar, and backing vocals; and Jorgen Carlsson on bass, makes a stop at The Pageant on Monday, May 22. 
Via phone from the road, Haynes chatted a bit about the new album, which the band began recording on Election Day in Austin, Texas.
"We were setting up and preparing to record, and the first day is always a little boring and tedious, so occasionally we would get a break and glance at the TV news," he says. "Like the rest of the world, we were pretty convinced that Trump was not going to win. I think even he and his supporters were convinced of that. It just kind of changed our perspective on things."
Though a handful of the songs including the title track are somewhat political in nature, Haynes says they were already written by Election Day, so the outcome didn't necessarily affect the songs themselves so much as the recording process. 
"For me, I guess it just forced me to put my head down and focus on the music. I didn't read the paper or watch the news for two weeks. I just concerned myself with making music."
The final product is as strong and diverse as any album the band has made -- expanding on its signature heavy blues-rock sound, anchored by Haynes' soulful vocals, familiar guitar tone and strong songwriting that touches on the dark aspects of our current political climate balanced with messages of hope, unity and personal introspection. The title song provides a sort of musical and thematic centerpiece. 
"It's very long and goes through a lot of changes and musical directions. The lyric for it was definitely inspired by what was going on," notes Haynes. "I think a lot of us kind of predicted what's starting to unravel now and at least predicted that the divide would get bigger and bigger. Some of the songs are kind of taking a humorous glance at it, but it's serious business. But we're a rock 'n' roll band. It's about the music first and foremost."
The music speaks clearly, particularly heavy-hitters like "Stone Cold Rage" and "Pressure Under Fire," the later of which Haynes worked on with legendary producer Don Was, along with the more soulful and inspiring "Dreams & Songs." Though they have performed together, most recently on The Last Waltz 40 Tour, this is the first time the two collaborated in the studio. 
"Don and I have become really close friends the last four or five years. We first met when we did the Red, White and Blues performance at the White House for the Obama Administration," says Haynes. "Don was there with Mick Jagger and we hung out and became friends. He's just so fun and easy to work with and such a pro. He adds a wonderful vibe to the overall thing and has great suggestions, but is just really good at getting the best out of people and creating a nice mood."
Guitar legend Jimmie Vaughan makes a guest appearance on the blues-heavy track "Burning Point." Vaughan lives in Austin where the band recorded, so Haynes says it just made sense to invite him to contribute. "You can hear my guitar in the right side and Jimmy's guitar in the left side and they're very conversational. Our styles are so different, but I think that's one of the things I really love about his playing -- it's extremely unique. I've been a fan for a long time and we've been friends for a long time, but this is the first time we've actually recorded together." 
One of the lighter songs on the album, "Traveling Tune," is a sweet and melodic ode to the road and the shows and all of the people the band has met along the way. Haynes pays respects to "those who didn't make it through life's challenges," singing "We've got to keep on rising, singing in their honor." 
Over the past several months, he's personally experienced the loss of two notable fellow musicians with whom he shared a bond and a stage with over the years -- Allman Brothers drummer Butch Trucks and, more recently, Col. Bruce Hampton. Haynes and Trucks toured the world and played thousands of shows together in the Allman Brothers Band.
"He was one of a kind as a musician and a human being," Haynes says. "He was very passionate about everything that he did and it was a tremendous shock to all of us when and how he passed. It's a huge loss. He was kind of part of this dying breed where I'm not sure musicians like him are going to continue to be put on this Earth."
Haynes was actually on stage with Col. Bruce Hampton when he collapsed and died earlier this month at his own 70th birthday celebration in Atlanta, a shocking moment for all who were present.
Says Haynes, "He was one of those people that it was important to pay attention to what was going on when you were around him because there were little lessons to be learned all the time -- most of them cloaked in humor and craziness -- but you always walked away enlightened when you hung out with the Colonel. I was blessed to know him and he was a wonderful human being who influenced so many musicians. I guess in a bizarre way, I was honored to be on stage with him when he passed. It was the most extreme, surreal moment probably of my life. I don't know anyone who can say they've had that happen to them and we were all devastated; but in the light of day, what a beautiful send off for him." 
Though Haynes has put out several successful solo records, most recently 2015's Ashes & Dust featuring Railroad Earth, he's remaining focused on Gov't Mule for the foreseeable future, he says. "I have enjoyed all of the stuff I'm doing, but Gov't Mule is really kind of the home base. When we reconvene, all my attention goes there for quite a period of time." 
Gov't Mule appears at The Pageant on Monday, May 22 at 8 p.m.
Related Articles