Music News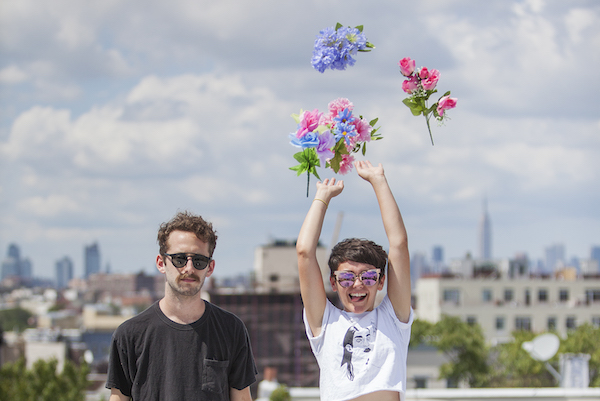 Two new two-minute heroes: An Interview with Alex and Noah of Diet Cig
Coming off the duo's debut album, Swear I'm Good At This, Diet Cig are one of the biggest breakout bands of 2017 and the defining sound of the breakout genre they call "slop pop." Alex Luciano (guitar/vox) and Noah Bowman (drums) met at a show that Bowman was playing in at New Paltz, NY. Then Luciano's offer to make a music video for Bowman ended up turning them into one of the most exciting acts in indie music today. Before their show Friday, June 2 at Blueberry Hill's Duck Room, I had a chance to talk to Alex and Noah about festivals, adulthood, and the precision skills needed to properly pack a van.
Matt:: So you're at Bled Fest and from social media I see you've just finished a show.
Alex: Yeah, it was a really fun set, the festival is really cool.
Matt:: You're in Michigan right now?
Alex: Howell, Michigan at an old high school, I think. It's pretty wild.
Matt:: Is it an actual festival or a DIY kind of festival?
Noah: It's kind of like a hybrid, somewhere in the middle -- it has real sound systems and everything and there's many stages but we're spread out through the building.
Alex: Like we just played a stage in the big cafeteria. There's other stages in classrooms and other rooms. It's run by real production companies and it's very organized, just smaller than a typical festival.
Matt:: That seems simultaneously really cool and "Oh my god, I'm back here -- I thought I was able to leave this place so long ago."
Noah: Yeah! It kinda feels like when we walked because it's just a bunch of kids since it's an all age thing. It feels like you're in some 2000s music video.
Alex: There's pop-punk in the background and kids in the hallway. There's lockers and everyone's hanging out and it's really weird. So definitely music-video vibes.
Matt:: That didn't come to mind but as you said that I thought, "How did I not get that right away?!"
Noah: [laughs] We just had a beer.
Matt:: I have a couple of questions for you guys if you're ready to answer them. 
Alex & Noah: Sure!
Matt:: So my first question is that I feel like recently there's been this huge wave of young songwriters essentially writing about their transition into adulthood that I think your band is definitely part of with the album title Swear I'm Good At This. Being a part of this generation, I feel like we're being forced to grow up but we don't quite know how to because it feels like we weren't properly taught. So I guess my question is how has this transition into adulthood affected your outlook on life and in turn, your songwriting.
Alex: I mean I'm only 21 and so as I was writing these songs I was kinda in that transition like you're saying. All of my songs are really very honest and about experiences that I've had. Because of that, I think this kind of transition into adulthood that I've been going through has really affected the songs. Honestly, when I write songs I take situations that have happened to me and different things that have happened in my life and kind of take them and reclaim them in a way -- turn them into something that I can be proud of and excited to share with people. So I think a lot of the hard things and the shitty things that have gone on in my life that I feel like I'm inclined to write songs about have been these transitional periods and not knowing where I fit in the world or with anyone else. I think those feelings are really intense for a lot of people who are going through that phase and I definitely felt them and just decided to own them and be like, "This is real and this is my life, and I'm gonna turn this into something I'm excited to play and share and that I'm proud of."
Matt:: So this next one is a bit of a small question but one I wish others would ask more often. Since you have been touring for two or three years now, how down is your unpacking and packing method for the van?
Noah: Oh, let me tell you that is my favorite thing and I appreciate that you asked that question because no one ever cares about that part and I live for the pack and the unpack -- I'm not even being sarcastic, I love it! I think we have it down to a science.
Alex: Oh yeah, it's like Tetris.
Noah: It is. It's like Tetris and our van I've kinda built out to fit our needs, so we have a bed in our van too and a lock chamber for all of our stuff.
Alex: There's only one way it all fits.
Noah: Yeah, there's really only one way it all fits and I know it and our tour manager Nate knows it, and if you put something in the wrong place…you're fucked.
Alex: Hey, this time I know something, okay? So interesting enough, on this tour we added a whole big speaker cab and we were like, "How is this all gonna fit?" We had it down perfectly before and funny enough, the first time I help figure out the Tetris move to pack the van, we pack the giant cabinet and have extra space.
Noah: Yeah, she nailed it.
Alex: So I was pretty proud of that.
Noah: Yeah, that was good.
Alex: But that's really kind of Noah's territory and his pride and joy on tour.
Noah: I'm such a neat freak and like to have things just organized so I love that part of the day.
Matt:: I'm glad you appreciated the question. Actually, there's a video out there that A.V. Club did where Pinegrove and Into It. Over It. compete to see who can pack their van the fastest.  
Alex: Oh my god, we should do that! We would freaking win against anybody.  
Noah: I'd do it in like what, 45 seconds? No?  
Alex: I don't know about that.  
Noah: No, but that's a fun thing I didn't even know that they did that.  
Alex: I'll have to look that up, I like that.  
Matt:: Speaking of vans and driving, what's been some of your favorite music to listen to on this tour?  
Noah: I've been driving a lot and as lame as it is I just don't put any music on because everyone sleeps and I usually drive in the morning. But if I am going to throw something on, I really like that Pinegrove record, their newest one, and today I threw on some throwbacks. I listened to Local Natives, that first record they did, Gorilla Manor, that's a good one.  
Alex: You listened to Jimmy Eat World's Bleed American like every day.  
Noah: Yeah, that's a really good record.  
Alex: I have some newer bands that I love like Sylvan Esso and some other ones but I feel like we're just sick of all the songs we listen to constantly, so I've been trying to throw it back to some '70s jams. The other day we had a really good time listening to "September" [Earth, Wind and Fire] and "December, 1963" [The Four Seasons].  
Matt:: So what are you excited to do in St. Louis?  
Alex: City Museum! We want to go and play in a ball pit…really bad. We've heard from friends that this is the only thing that we have to do when we're there and that's all I want to do.  
Matt:: I agree, City Museum, you gotta go. 
Alex: Yeah, that's our goal. We didn't get to go last time and we really want to so…catch us in the ball pit!    
Related Articles