Music News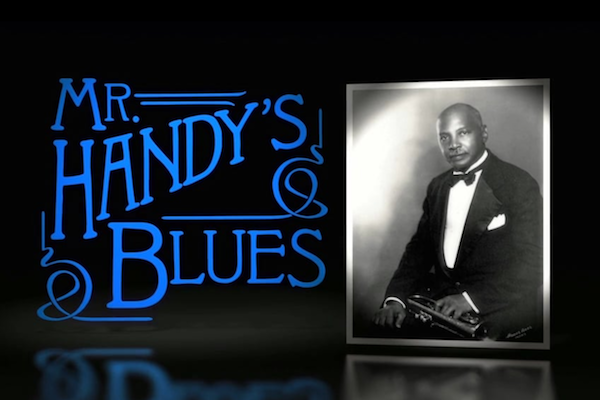 'Mr. Handy's Blues' comes to town
The life of William Christopher Handy, the Father of the Blues, is a tale long overdue to be told. After a ten-year effort, acclaimed Emmy-winning filmmaker Joanne Fish is ready to tell it on June 25, at a private event at the MX theater on Washington Avenue. Billed as "A St. Louis Celebration," it will be the first showing of Mr. Handy's Blues.
The St. Louis show honors this city's central role in the Handy story. As Fish explains it: "St. Louis was his crossroads moment either to go home and teach or be a vagabond musician. It was his spiritual moment. St. Louis is the soul of the Handy story, Memphis the heart." 
It was in 1894 when a 20-year-old Handy found himself broke, starving and sleeping on the cobblestones beneath the Eads Bridge. He never forgot the pain and despair of those desperate times, nor the blues lament he heard from a woman stumbling down the street: "Ma man's got a heart like a rock cast in de sea." Twenty years later it became a key line in "The St. Louis Blues," one of the most recorded songs in history. 
The St. Louis showing is also a thank you to all the local individuals and musicians who helped her along the way. One of those is the local co-producer Dr. Rosalind Norman, a long time educator, black theater advocate and business consultant. She shared Fish's vision of showing Handy's "economic empowerment, optimism, and his rising above the challenge of Jim Crow violence." "It is an important message for St. Louis after Ferguson," Norman says. "It is an opportunity to see a person of color in spite of racism and poverty rise above it and become an international icon."
Fish's interest in Handy began while working in Nashville for TNT and doing a documentary on the "Queen of Rockabilly," Wanda Jackson. Wanting to learn more about those musical roots and a fortuitous 2007 film festival trip to Florence Alabama, Handy's 1873 birthplace, led her to the W.C. Handy museum. "I learned so much, so many cool things," she says. She was also shocked to learn there were no documentaries about this towering figure of twentieth-century music. Joanne was hooked, and the journey began.  
There are two stories embedded in Mr. Handy's Blues. According to Fish, one "is a tale of family conflict, racial tensions and redemption, his love of music and his talent for transforming the oral traditions of his African American countrymen into a unique and commercial musical genre, namely the blues." 
The other is the story of a successful African American businessman who, with his partner Harry Pace, created the first black-owned music publishing company in 1912 and moved it to Tin Pan Alley in the heart of Broadway in 1918. A century later the Handy Brothers Music Company is still in business. His songs "St. Louis Blues," "The Memphis Blues," "Beale Street Blues," "Yellow Dog Blues" and many more are considered masterpieces in both the blues and jazz worlds. 
W.C. Handy's arrival in New York also coincides with the early years of the Great Migration and the start of the Harlem Renaissance. He was a black businessman, a living example of what Marcus Garvey preached in Harlem about starting black owned businesses. He co-wrote song lyrics with Langston Hughes and organized the first blues performance in New York City's Carnegie Hall in 1928. Handy also wrote and was musical director for the first blues movie, St. Louis Blues, starring Bessie Smith and an all African American cast. (The film can be seen daily at the National Blues Museum.)
Handy was also a musicologist. Long before Alan Lomax took to the Delta with his recording machine, W.C. Handy and Abbe Niles wrote Blues: An Anthology (1926) which was illustrated by renowned Mexican illustrator Miguel Covarrubias and is considered the most famous blues collection in history. Two more important historical texts followed in the 1930s, Negro Authors and Composers of the United States in 1935 and W.C. Handy's Collection of Negro Spirituals in 1938.
The filmmaker uses W.C. Handy to tell his own story himself by using film clips, recordings and his 1941 autobiography Father of the Blues. She also brings the film to life with interviews with family members, historians and musicians like Bobby Rush, Taj Mahal and a 16-year-old Matt "Rattlesnake" Lesch playing a Handy song. Other St. Louis musicians appearing in the film include Miss Jubilee, Kim Massie, Kasimu Taylor, Sarah Jane and the Blue Notes, The Voodoo Blues Band and Race Simmons and the School of Rock Band.
The film and celebration have been supported locally by the Catherine Manley Gaylord Foundation, Cherry Red Productions, and STLBlues.net. The co-presenters for the event are The St. Louis Black Radio Hall of Fame, National Blues Museum, and the St. Louis Blues Society. 
Mr. Handy's Blues has been accepted at a number of upcoming festivals in the summer and fall, including July dates at both the Macon Film Festival and at the W.C. Handy Musical Festival in Handy's hometown of Florence, Alabama. Watch for additional festival announcements. Discussions are also underway with several networks for a national broadcast of the film, as well as talks for the republishing of Handy's autobiography which paints a candid portrait of the violence of the Jim Crow era and an African-American musician trying to make it in society. The journey has been a long one for Joanne Fish and her Labor of Love production company but with the making of Mr. Handy's Blues she can take pride in her important contribution to African-American and musical history.
Related Articles