Music News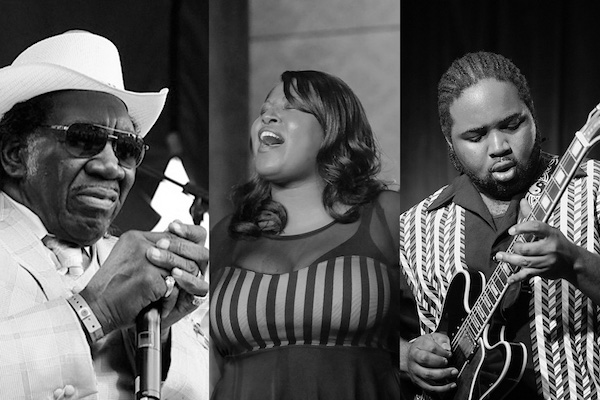 Summertime Blues: Looking ahead to Blues at the Arch
We may be "walking on the sidewalk, hotter than a match-head," but every Friday evening in August offers St. Louis blues lovers good times and great music at the Blues at the Arch concert series. Started in 2016, the series grew out of desire by the Gateway Arch Park Foundation to draw attention to the $380 million renovation of the Jefferson National Expansion Memorial and its unique role as a national park that sits in the heart of a major urban area. 
"The Foundation was established in 2009 to help fund and design the construction that begins at Keiner Plaza," explained Ryan McClure their Communication Director: "Now it was time to transform into a conservancy organization, much like Forest Park Forever. We wanted to do something to highlight the progress and call attention to the expanded facilities. The Arch was one trademark and our music, the blues, another." 
The idea also coincided with the April 2016 opening of the National Blues Museum just a few blocks away on Washington Avenue. To curate the festival, McClure called on Dion Brown, the NBM Executive Director, and their board chair Rob Endicott and they loved the proposal. Brown saw it as "a partnership that would publicize the park and draw a diverse crowd to the site" as well as an "an opportunity for the NBM to spread its wings and be a bridge to blues community." 
The result was a free three-week concert series at the Luther Ely Smith Square which sits between the Old Federal Courthouse and the Arch. The series featured local and national acts, including the National Park Service Centennial Jazz Band. They deliberately timed it to end on the final Friday in August prior to the Big Muddy Blues Festival. The partners were thrilled as the crowds doubled each week of the six band three-night series and drew more than 4,000 people. 
This year they hope to draw a lot more fans to the free series with a new site and a program expanded to include ten bands every Friday night from 6 to 8:30 throughout August. The new location will be in the amphitheater by the Northgate entrance to the park, adjacent to Laclede's Landing and the Eads Bridge Metrolink station. The stage will face south with vendors' booths along the walkway on either side of the stage. The grassy location can accommodate and estimated 5,000 people. 
The Gateway Arch Park Foundation and National Blues Museum want to fill the amphitheater. Their dual goals for Blues at the Arch remain raising awareness about the Arch grounds' renovation and St. Louis' thriving blues scene. To that end the National Blues Museum has curated a stellar mix of local talent and Delta blues musicians.
August 4 
August 11
August 18
August 25
Related Articles