Music News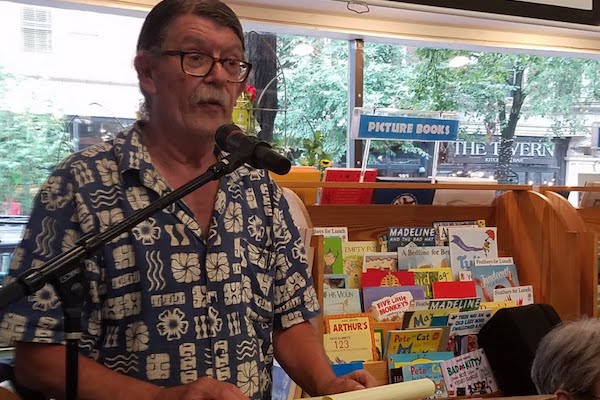 'That St. Louis Thing' at the intersection of blues and the city
Bruce Olson spent his life as a reporter where the rules are "be accurate and quick and write short and snappy stories." He loved reporting but never got to tell the whole story. It was an itch that needed scratching. In 2016, after five years of research and writing, he published a brilliant two volume history, That St. Louis Thing. "This book," he says, "was the first time as a reporter I had the complete freedom to follow my nose."
In That St. Louis Thing Olson uses his reportorial and writing skills to present a 150-year arc of history. He uses the threads of blues music, civil rights and baseball to weave a broader historical tapestry that takes you from the 1800's to modern day Ferguson. Each chapter is a stand-alone piece that easily moves between past and present providing the reader with exciting digestible stories and segments of history.    
Readers and music lovers got a taste of those stories at a unique event sponsored by Left Bank Books on Wednesday, July 19. Olson focused on the music angle reading from five chapters while being backed up by a group of stellar St. Louis blues musicians, Sharon and Doug Foehner, Brian Curran and Dave Robinson, that he humorously referred to as "the newly formed That St. Louis Thing Band."  
Following each segment, the band would play a song directly related to the reading: from Scott Joplin to Blind Boy Fuller's "Rag, Mama, Rag" to Sharon Foehner's soulful rendition of W.C. Handy's "St. Louis Blues," to versions of Ike and Tina Turner' "Rock Me Baby" and Lonnie Johnson's "Too Late to Cry" and Mississippi John Hurt's telling of "Stagger Lee," which Olson framed with the real story of the figure. 
Olson's readings showed his reporters sense for detail that provided the context for the events he read about while his prose brought them to life. For example, his interview with Tom Maloney, a well know local bluesman, puts you right in the Club Imperial with Ike and Tina Turner:
First we get the band, the band does their thing, then the band goes into this boom-da-boom-da-boom-da-boom -- the beat like galloping -- then over to the left of the stage you see the Ikettes all standing in a line -- like this engine ready to go down the tracks -- and then -- they hit it and come right up on stage all dancing and prancing -- the strobe light goes on and you almost fall over -- you don't know what's happened -- and there's these incredibly beautiful, vivacious gals with these miniskirts on -- then there comes Tina, the queen of all of them --- man it was something -- and all the clocks stopped --- time just stopped -- and you were in a zone until they were done with us. It was quite fantastic.
There were other surprises too in the readings like the story of Bob Dylan's early 1960s relationship with Lonnie Johnson and how Lonnie's tips from those years came back to change Dylan's style beginning with his 1997 "Time Out of Mind" studio album. The music and nuggets like these made for an enjoyable evening but there's much more here to enjoy in this anything but dull history.
As Olson would be quick to tell you the two volumes came from five years of research. "I started to write a blues story," he says, "but things kept popping up and kept me going. For example, thanks to help from the St. Louis Library staff, I found documents that show the local civil rights movement could trace its roots back to a reform movement led by local middle class African American and white women. They wanted to improve the sanitation in Deep Morgan where the local clubs derived 1/3 of their revenue by charging people to use their bathrooms." 
It's no surprise that what started as a blues story became much more because, as Olson admits, "giving details of a setting is what a good reporter does while a good philosopher gives the details of the context." For Bruce, the music ended up providing the narrative timeline to include the local, national and international context. He claims he "didn't know it was a complete history until it was done."
St. Louis's history is all there from a chilling description of the great cyclone of 1896, city politics, the 1917 East St. Louis race riot, baseball, the World's Fair, Lindbergh, Hooverville, Mill Creek valley, the North Side and South Side, musicians, clubs and a whole lot more. Bruce says, "I wanted to paint a full picture around characters." 
That St. Louis Thing is a self-published book because publishers have difficulty with an unconventional history of this nature. Some suggested Bruce write three separate more narrowly focused books. As he says, "they couldn't see it in context and how the parts interrelate with one another." But it is the context and the weaving of the stories that makes this book such an enjoyable read. 
Olson says his idea in writing this book "was to do something I wanted to do -- to finish one of my stories and tell the whole story." It's a good thing he scratched that itch. That St. Louis Thing: An American story of Rhythm, Roots and Race is a love story and tribute to this city, its people, its music and its place in history. Well done, Mr. Olson, well done.
That St. Louis Thing is available directly from the author and through several local outlets including Left Bank Books, Subterranean Books, Vintage Vinyl and the Missouri History Museum. 
See all of Bob Baugh's photos of the reading by clicking the image below.
Related Articles