Film Reviews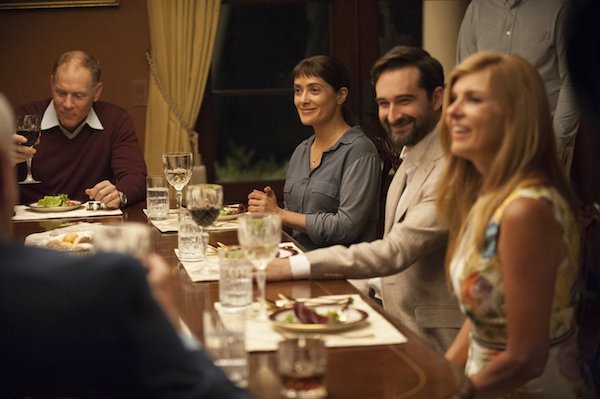 'Beatriz at Dinner' dramatizes opposing world views
Beatriz at Dinner begins quietly -- a boat floats on a river edged by mangrove trees. Such meditative, natural beauty punctuates the ensuing, tense interaction dominating and driving the quick, 82-minute film. After Beatriz awakens with her goat and dogs in her bedroom and stops at the Cancer Center where she works, she drives to Cathy's double-gated home. 
Beatriz, a massage therapist and holistic healer, helps Cathy relieve her stress as she prepares to host an important dinner party for two couples, most significantly her husband's business partner Doug Strutt. Stranded there because her car won't start, Beatriz is invited to join them for dinner. The working class and the ultra-rich will articulate quite divergent world views in the course of the evening. At its core, Beatriz at Dinner aims to ignite a philosophical consideration of people who destroy versus those who restore. To that end, Beatriz explicitly challenges the smug Doug Strutt (great name) to engage in truly difficult activity, not the big game hunting that he romanticizes but the process of healing.
With inevitable echoes of today's world, director Miguel Arteta has written that he hopes to portray the "emotional pain we all feel in this terrifying cultural climate," adding that "the stakes are high and it's time to unite." As Beatriz observes about healing, "That's hard. All your pleasures are built on others' pain." In fact, anguish was in part the catalyst for the film since it sprang from the repulsive killing of Cecil the Lion.
As Beatriz, Salma Hayek uses her mellifluous voice and confident delivery to make her points hit home. As Strutt, John Lithgow employs his more clipped statements and his dismissive scowl to present a man certain of his entitled indulgence, reinforced by his contempt for anyone less feral in the business world. 
In excellent performances, Connie Britton as the hostess Cathy, Chloë Sevigny as Shannon, Evan's wife, and Amy Landecker as Strutt's third wife Jeana are "the wives." When not snidely gossiping, they overwhelmingly defer to their husbands. Beatriz does not, and this alone sets her apart.  
Writer Mike White and director Arteta, who have collaborated on the films Chuck and Buck (2000) and The Good Girl (2002) plus the HBO series Enlightened (2011-2013), are in creative synch, keeping the characters' comments and their reactions to each other front and center. They do, however, flounder badly in the ending, apparently clueless how to conclude an otherwise welcome invitation to a thought-provoking dinner. At Landmark's Plaza Frontenac and at the Hi-Pointe Cinemas.  
Related Articles