Film Reviews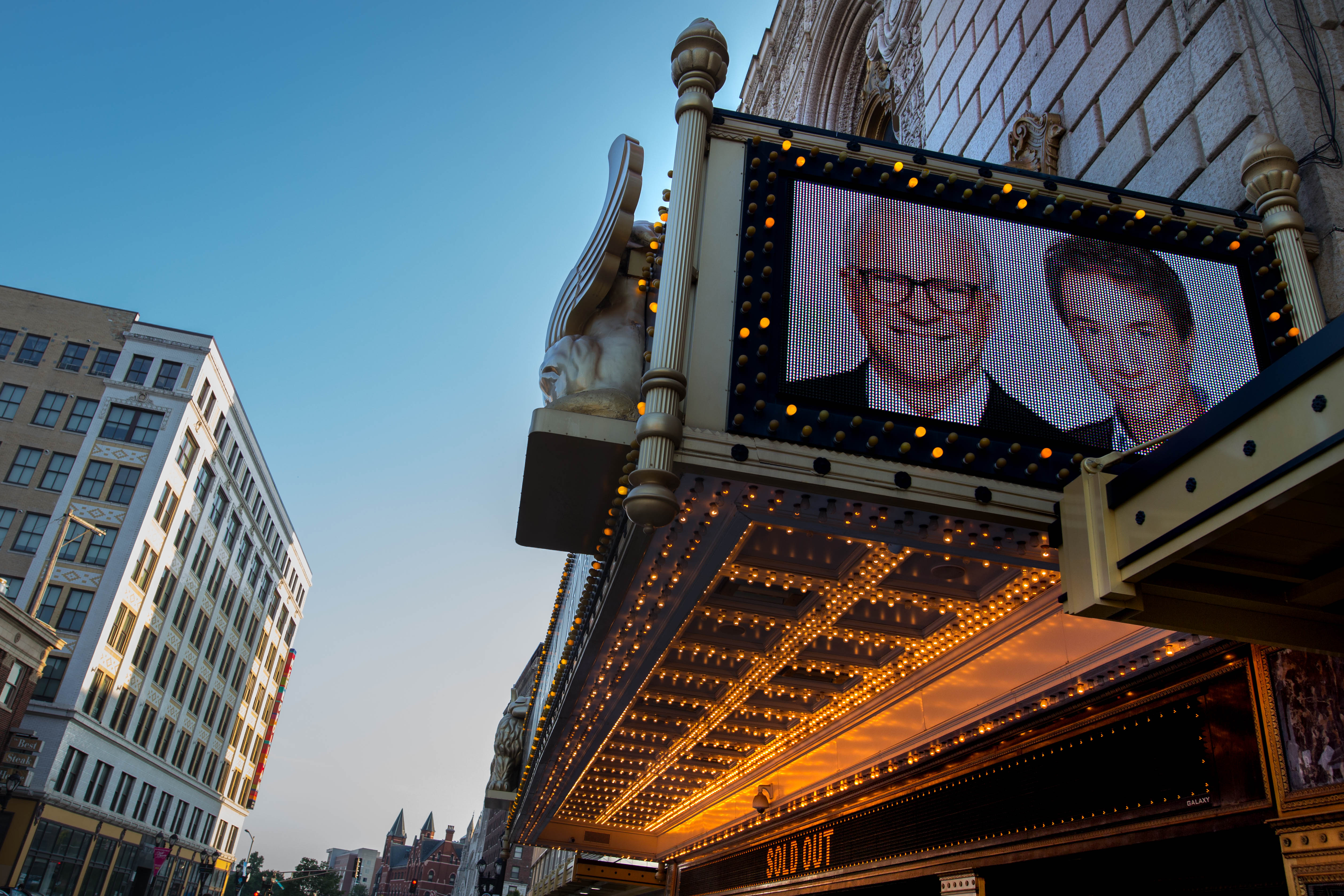 Steve Martin & Martin Short with Steep Canyon Rangers and Jeff Babko at the Fox
When the house lights went down a video played with text that read, "See them before they're dead!" followed by clips of their most beloved characters on Saturday Night Live: King Tut, Ed Grimley, The Festrunk Brothers, and Attorney Nathan Thurm. Also included were scenes from Trains Planes & Automobiles, The Jerk, Little Shop of Horrors, and Dirty Rotten Scoundrels. Martin then appeared on stage and humored the audience with a crowd-pleasing regional nod, "It's great to be in St. Louis! Webster Groves was a bit too fast paced for me," then added, "It's more than a thrill to be here, it's an obligation." He apologized for the exorbitant price of tickets but explained that he must pay a celebrity look-a-like to be there just in case he'd prefer to not preform that evening, and also, "Steve says, 'Hi.'"
When Martin introduced Short he described him as "funnier than a barrel of monkeys and that's it." The pair delivered rapid-fire quips, the kind where you can easily miss out on the next because you're still laughing at the previous. Short joked that Martin had "the sun-kissed glow of an agoraphobic shut-in." Their banter reminded me of an old school Friars Club roast where each string of witty burns is punctuated by an asinine final jab like, "You look like a toupee on a urinal." Their timing was flawless and the crowd was in tears. 
Short sang a song from a fictitious musical he had starred in called Stepbrother to Jesus. As he sang he undressed himself and put on a curly black wig. By the time he sang the line, "What's the big deal about raising the dead?" he was wearing nothing but the wig and a nude-colored bodysuit with the male anatomy hastily drawn in marker. After holding out the last note he looked creepily at the front row, "Hello, ladies..." then yelled off stage to Martin, "Top that m@#*!%$>#@!r!" 
During the course of the show they delivered a well-rounded collection of bits. Three volunteers were brought to the stage for the Three Amigos Salute while dos amigos sang the movie's theme. Short did some impersonations including a flawless Frank Sinatra, Jimmy Stuart and Katharine Hepburn. The night would have been complete without an appearance from Jiminy Glick, and no celebrity or politician was safe from his mockery. He said Vice President Pence is "so white he makes Steve Martin look like a member of the Wu-Tang Clan" and Elizabeth Warren looks like "David Spade transitioning." 
As a momentary departure from the relentless banter, Steep Canyon Rangers preformed a song they call "Auden's Train." It was composed by Martin and violinist Nicky Sanders, and the lyrics were taken from W. H. Auden's poem "Calypso." Throughout the song Sanders, featured on fiddle, makes a train whistle noise into the mic while playing and jumping around the stage in an animated frenzy. He wildly picks the strings with the bow and sometimes with just his fingers. His intensity and expertise is breathtaking and comes as such a surprise when expecting a night of comedy. When Short returns to the stage he puts the show right back on course saying, "Tonight is just like Deliverance. It's all fun and games until the banjos come out."
The big takeaway from this night of side-splitting laughter was Steve Martin's advice for making it big as a musician. He said you only need two things, to be very creative person and to already be famous. Although the humble comedian was sure to give credit where it was due, "I wouldn't be here if not for Martin Short," looking at Short, "Marty, thank you for driving." 
Related Articles