Film Reviews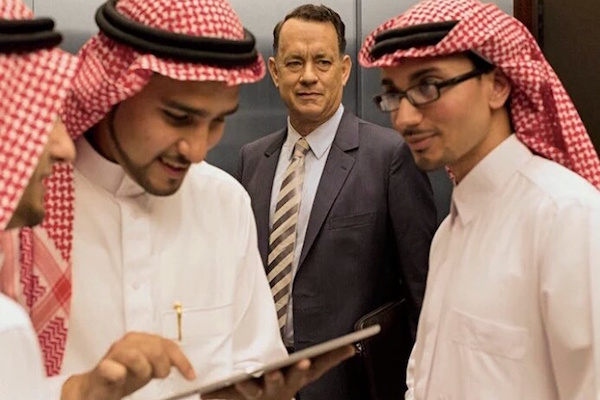 'A Hologram for the King' finds Tom Hanks searching for meaning
Writer/director Tom Tykwer earned my admiration in 1998 with Run Lola Run, and I'm delighted he's now directed Tom Hanks in A Hologram for the King. The plot is simple; the ideas provocative; the acting, cinematography and sound spectacular. First to the story, adapted by Tykwer from Dave Eggers' 2012 novel.
Hanks plays Alan Clay, embroiled in a contentious divorce, en route to Saudi Arabia when we meet. To save his dignity, his job, and his daughter's college plans, Alan must sell the Saudi King on new teleconference technology that inserts holograms into meeting spaces, making virtual interaction feel quite real. Numerous problems emerge: Alan keeps oversleeping and missing his shuttle to the King's Metropolis of Economy and Trade, necessitating an offbeat, comical alternative driver. And then there's the fact that neither the King's assistant nor the King seem to find their appointments the least bit important. Like Waiting for Godot, in other words, they just don't bother to show up while Alan's team struggles in a tent without air-conditioning.
Stranded physically and emotionally, Alan is adrift and grasps for a lifeline. It comes though a medical emergency and the help, to his surprise, of a woman doctor, played well by Sarita Choudhury. Sprinkled here and there in nonlinear fashion, flashbacks and quick montages fill in details of Alan's life, as editor Alexander Berner keeps the pace brisk. In supporting roles, Dhaffer L'Abidine, Tom Skerritt, and Ben Whishaw perform well.
Shot primarily in Morocco and Egypt, the barren, sand landscape effectively expresses the emptiness of Alan's life, and the cyst on his back the toxic burden he carries. All the technical elements contribute, but the lion's share of the credit goes to Hanks who carries the film. To that end, cinematographer Frank Griebe repeatedly moves in on Alan's face, highlighting Hanks' reaction shots. They are the glue that holds together the diverse humorous and serious scenes as, stranger in a strange land, Alan observes unexpected occurrences that come out of left field. Hanks' thoroughly likable everyman and his engaging presence are what makes A Hologram for the King worth the trip. Check area listings.
Related Articles