Film Reviews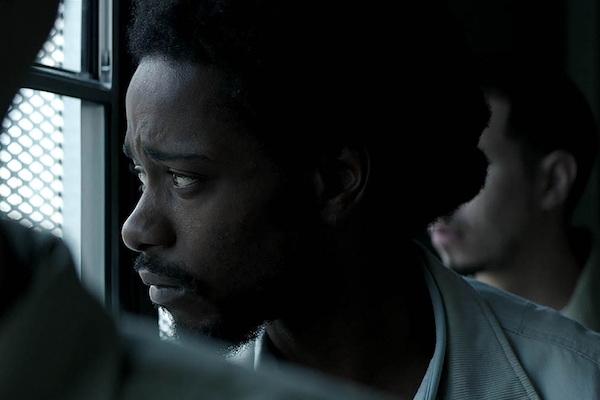 'Crown Heights' exposes the brutality and injustice of our legal system
Based on a true story, Crown Heights exposes the injustice, indifference, and brutality meted out to Colin Warner by the judicial and legal system that repeatedly victimized him. It began April 10, 1980 with a teenager's murder in Flatbush in what police called a drive-by shooting. Forensics unmistakably showed otherwise since the bullet had a strong downward trajectory.  
In fact, Warner, busy stealing cars and merchandise, wasn't in the area. Never mind, the police pick him up on a false identification by Anthony Gibson, the real shooter. Even with contradictory information, the police hang on to Colin, who gets fifteen years for second-degree murder. That's just the beginning. A travesty of justice prevails every step of the way -- witnesses who continue to lie or who tell the truth and aren't believed, years in solitary, appeals, a probation hearing, and more, including a beating by guards. And yet for twenty years friend Carl King refuses to give up on Warner gaining freedom despite sacrifices for his own life.
Writer/director Matt Ruskin heard the 2005 This American Life summary of Warner's and King's tragic story, leading eventually to Crown Heights the movie, named for the area Warner lived. To add some context, briefly Ruskin contrasts Colin's early years in Trinidad with Brooklyn. As Colin Warner, Keith Stanfield artfully presents his emotional journey from disbelief to determination to frustration, never wavering in his assertion of his innocence but yielding to despair. As Carl King, Nnamdi Asomugha, retired in 2013 as an NFL Oakland Raider cornerback, digs into his first acting role by resisting histrionic grandstanding. In fact, director Ruskin's approach is, for the most part, a restrained, factual account of these events. We bring the outrage rather than having the characters sensationalize incidents so appalling they need no emotional exclamation points.
Various Innocence Project cases have received media coverage the past few years. Colin Warner's story is one that deserves the attention given here. Crown Heights won the Sundance Film Festival Audience Award for U.S. Dramatic Film for its strong, clear call for a better justice system. Check local listings.
Related Articles