Theatre Reviews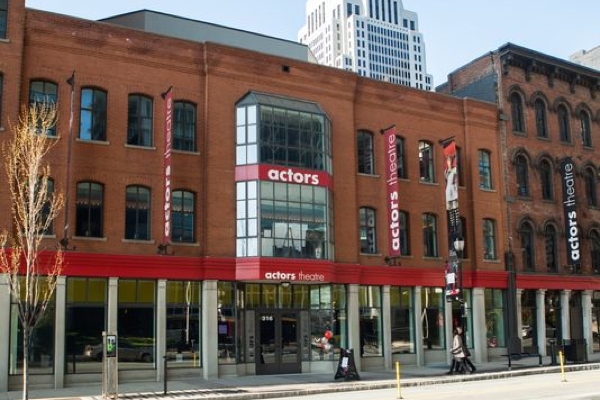 In Louisville, the Humana Festival of New American Plays is a rite of spring
"In the Spring," wrote Tennyson, "a young man's fancy lightly turns to thoughts of love." Were he still with us today, he might have added, "and, if he's a theatre geek, to thoughts of the Humana Festival of New American Plays." 
All right, so it doesn't scan. But the fact is, anyone who is interested in the state of theatre in the USA today can't afford to pass up the Humana Festival. Now in its 41st year, the festival is a seven-week celebration of new plays produced by the Actors Theatre of Louisville. The company presents seven new works (winnowed down from an average of 500 submissions each year) in the course of the festival, which takes place in their sumptuous downtown digs.
How sumptuous? Located in historic structures on Main Street, the Actors Theatre consists of the 637-seat Pamela Brown Auditorium, with a thrust stage; the 159-seat Victor Jory Theatre, a three-quarter arena performance space; and the 318-seat Bingham Theatre, a flexible arena space. 
Add in the palatial lobby, a nine-story parking garage, and a restaurant (called Milk Wood because it's located under the theatre — a punning reference to Dylan Thomas' famed verse play Under Milk Wood) and you have the kind of facility most theatre companies dream about. Better yet, it's only part of a general revitalization of downtown Louisville that includes fine hotels, restaurants, and bars, all within an easy walk of the theatre.
The Humana Festival is a valuable resource for other theatre companies as well as folks who simply love theatre. I'm on the board of directors and play reading committee at the West End Players Guild here in St. Louis (our motto: "big theatre in a small space"), and I can attest to the festival as a source of new plays for our seasons.
For the past seven years now I've been attending Humana and reviewing the new plays for KDHX. I have been posting short video blog reviews from the festival and longer written reviews at KDHX and on my Stage Left blog. For the past few years my fellow KDHX critic Tina Farmer—who sees more theatre every year than just about anyone I know—has joined me on those video blogs. This year we'll be sharing the written reviews as well, and Tina will also be publishing feature articles on the festival here at KDHX.
Tina will be reviewing Tasha Gordon-Solman's comedy I Now Pronounce, Jorge Ignacio Cortiñas's drama Recent Alien Abductions, and Chelsea Marcantel's comedy Airness. I'll be covering Molly Smith Metzler's comedy/drama Cry It Out, Basil Kreiemendahl's comedy/drama We're Gonna Be OK, and The Many Deaths of Nathan Stubblefield, an unclassifiable collection of eleven short one-act plays written specifically for the young Acting Apprentices of the Professional Training Company at ATL. Look for our articles later this week right here at KDHX and check out our video blogs on YouTube.
Related Articles