Theatre Reviews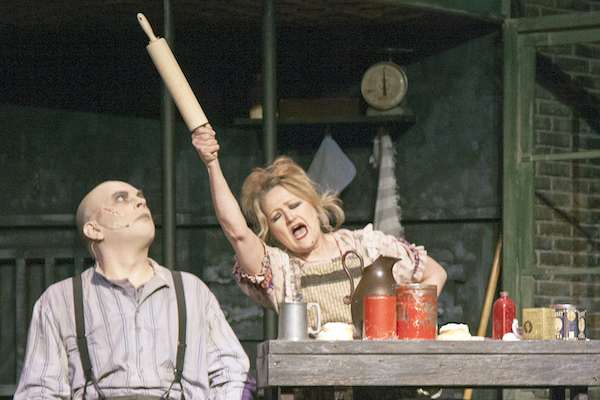 Stray Dog Theatre's spectacular take on 'Sweeney Todd' is bloody good fun 
Stray Dog Theatre leaps with enthusiasm into a dark and comically exaggerated London to tell the tale of Sweeney Todd, the Demon Barber of Fleet Street. Gleefully discordant and filled with strong performances, anchored by outstanding leads from Jon Hey and Lavonne Byers, the tragically comic musical is fantastic and fun. Director Justin Been and music director Chris Petersen team to create a thoroughly entertaining production. Each note, every line and lyric, and every member of the cast in this rousing, enthusiastically murderous production asks, with a wink and a nod, "How about a tasty meat pie?"
Sweeney Todd is a noir version of a morality tale in which a mistreated young barber reinvents himself when, 15 years later, he returns home seeking revenge. Saved from certain death at sea after a daring escape, Todd is befriended by Anthony, a naïve young sailor who saves his life and nurses him to health. Looking for an adventure of his own, Anthony accompanies Todd to London. He soon becomes inextricably tied to Todd's devious plot. Todd also rekindles his association with Mrs. Nellie Lovett, a necessity if he is to extract vengeance on the men who stole his happiness, Judge Turpin and his lackey Beadle Bamford.
The show, like the story itself, is layered with complexity and filled with twists and turns. A mix of lucky coincidence and carefully constructed plans, as well as a deliciously devilish solution for disposing of criminal evidence, allow Todd to execute his plan. Seemingly successful, Todd too late realizes the errors of his way. Though Todd's story is tragedy, his long lost daughter Johanna and Anthony offer a ray of hope. Cleverly contrived, the lyrics, songs and twisting story, by Stephen Sondheim and Hugh Wheeler, are vocally and physically demanding and delivered at a breakneck speed under the confident, sometimes sly, hand of director Been.
Hey is likeably fiendish as Todd, with a rich, earthy voice that's so pleasant to hear, you almost feel guilty for enjoying his performance this much. Consumed with anger Hey is brutal and determined, so much so that he can't see what he's missing most. Byers is crafty, conniving and humorously coquettish as Mrs. Nellie Lovett, reveling in her role and controlling her voice to good effect. The two play off each other well, both are expressive and show expert comic timing, generously supporting each other vocally and in scene, habits prevalent throughout the capable cast. 
Eileen Engel and Cole Gutmann are well matched as young lovers Johanna and Anthony, with clear, pure tones and lingering sighs in perfect harmony. Their characters are typically melodramatic, but Engel and Gutmann give the lovers a touch of longing that sympathetically suits their story. Connor Johnson once again shows natural talent and dramatic instinct as Tobias Ragg. His voice is pleasing and strong, and he innocently represents the audience perspective and shock with an appealing sensibility. Kay Love, Gerry Love, Mike Wells, Tyler Cheatem, and the ensemble of Angela Bubash, Ted Drury, Laura Megan Deveney, Kimmie Kidd, Stephanie Merritt, Kevin O'Brien, Belinda Quimby, and Benjamin Sevilla create thoughtful, spirited supporting characters and embrace the lovely dissonance of the score to near perfection.
Vocally and stylistically, this show is a fantastic representation of Sondheim. The tricky lyrical runs and layered, minor harmonies combine with an imaginatively macabre but compelling story and blend to near perfection in Stray Dog's engrossing production. Music director Petersen seems to revel in the productions lively interplay, and the effect is striking. The show moves seamlessly and Rob Lippert's multilevel set design once again makes excellent use of the company's space, while Ryan Moore's costume design and Sarajane Alverson's dramaturgy add important details and nuances. Tyler Duenow's lighting design stands out, effectively setting mood, focusing attention, and increasing the tension as the story unfolds.
Audiences curious about the work and significance of Sondheim will want to see this show, as it's a spectacular production. Casual fans will likely delight in the story, vocal gymnastics, and comic excess of the darkly persuasive and thoroughly entertaining Sweeney Todd. With performances at Stray Dog Theatre through April 22, 2017 selling out at a brisk pace, you need to make your reservations soon if you want to catch the devilishly delightful "Demon Barber of Fleet Street" in the act.    
Related Articles