Theatre Reviews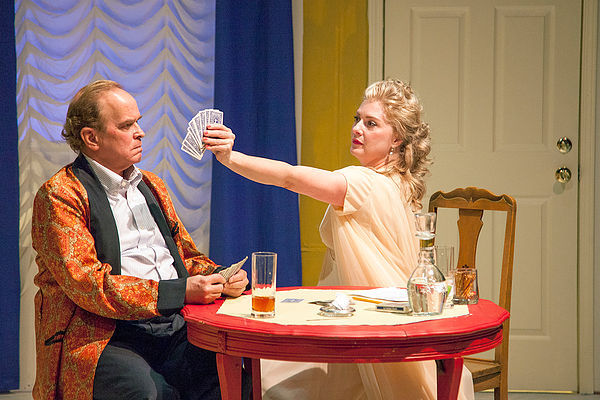 Born Yesterday' is reborn today -- and it's as fresh as ever!
This glorious old play by Garson Kanin was the vehicle that launched Judy Holliday into stardom in 1946. She played that archetypical not-so-dumb blonde, Billie Dawn. (Her reprise of the role in the 1950 movie won her the first Golden Globe.) Born Yesterday was revived in 1989 with Madeline Kahn playing Billie, then again in 2011 with Nina Arianda in the role. (Miss Arianda had wowed the world the previous year in Venus in Fur.) 
So that's some pretty tough competition for anyone taking on the role of Billie. But Heather Sartin carries it off with the same level of sheer perfection that stunned me two summers ago when she played Sabina in The Skin of Our Teeth. Vocally it's as if she were channeling Judy Holliday; the Bronxy, bright, energetic voice of this former show-girl just grabs you and swings you along into the story.
The story takes place in a posh hotel suite in Washington, D.C. Harry Brock, a rough-and-tumble junkyard mogul and multi-millionaire, has come to Washington to make sure that the senator he has bought comes through on some de-regulation that will allow Harry to reap mammoth profits on all the scrap iron cluttering up Europe after the war. Of course Harry brings along his doxy, Billie. Now Billie ain't exactly the most refined of ladies, and in order to polish her up a little so they can mix with the appropriate powerful folks Harry hires a nearby journalist to give her lessons in "couth". Big mistake! Paul Verall, the journalist, helps Billie to understand the newspaper, then books, then art museums, then more books. And there's a dangerous chemistry between these two. Now Billie had always thought that after she had two mink coats there was nothing left to wish for; but now she becomes addicted to thinking! And she's smart! ("Smart"! That's the word that best defines Miss Sartin's whole performance.) 
But Miss Sartin is not alone on the stage. She is wonderfully supported (well, maybe "battled" would be a better word) by Joe O'Connor as Harry Brock. Mr. O'Connor is a native New Jerseyite, and his accent is perfectly reminiscent of all those movie mobsters. Harry has "lived his life at the top of his voice," and Mr. O'Connor lavishly embodies that. What a tour de force! He bullies and bosses with wonderful power. Yet at moments he makes it heart-breakingly clear that he truly loves Billie. 
Now Harry, for complex tax purposes, has made Billie the legal owner of much of his empire. She normally just signs whatever papers he puts in front of her. But what's to happen when the now-enlightened and conscientious Billie realizes that much of that empire is corrupt, immoral, and perhaps illegal? 
The casting of this production is sublime! Mark Neels, a fine actor (and director) plays Paul. Tom Moore plays Ed, Harry's subtly boozy consigliore with just the right touch. Will Shaw, as Senator Hodges, looks every inch the part -- and really makes us believe this demoralized politician.
All in all, director Sam Hack has created a resounding success. Occasionally the pace could have been pumped a bit, but it was a happy evening of most solidly gratifying theatre. I thank the Clayton Community Theatre and its founder Sam Hack for bringing us quality productions of great American plays. I hope that many young theater-lovers will attend Born Yesterday to see what a truly well-made play, splendidly produced, is really like.
Related Articles