Theatre Reviews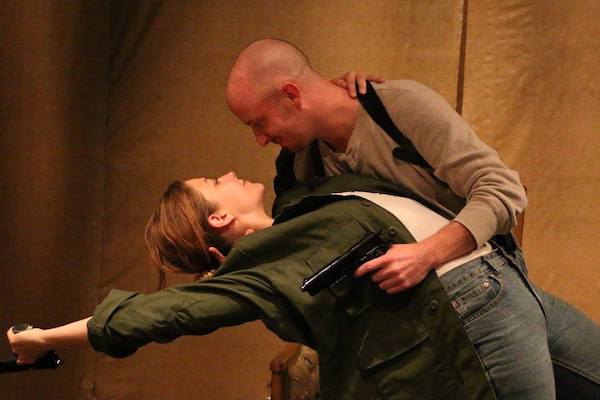 'The Lieutenant of Inishmore' spins a horrific tale with a healthy dose of humor
St. Louis theatergoers with a taste for twisted tales and things that go bump in the night have new cause to rejoice. With a smartly efficient approach and technical support, Theatre Lab helps bring Theatre Macabre's vision of horror-story-based theater to life. The company's inaugural production The Lieutenant of Inishmore is full-on horror and hilarity, delivered with a wink, a nod, and a pint or four of stage blood. Plus, the story is every bit as interesting as it is comically horrific.
The show is set during the active years of the IRA's campaign against Britain for control of Ireland. Padraic, an IRA lieutenant, takes to torture with the same eloquent style as Mr. Blonde in Reservoir Dogs, only funnier. He's so bent and violent, however, that even the IRA questions his methods. The organization is particularly riled by his anti-drug behavior. After all, they're making money hand over fist from kickbacks and protection fees. As a result, Padraic is being pursued by three former acquaintances that unwisely choose to use his cat and "one true friend," Thomas, to lure him home and into their trap. 
Padraic's father Donny, who's just as afraid of the man as anyone, and neighbor Davey try to make the best of the situation, but Donny eventually has to call Padraic and let him know something's wrong with Thomas. Donny interrupts Padraic in the midst of torturing a captured prisoner, saving the prisoner's life and causing Padraic to hurry home. Mairead, Davey's 16-year-old sister who happens to love the IRA, Padraic, and her own cat with equal devotion, eagerly pursues him. The resulting mix-ups and gruesome violence that follow Padraic's homecoming is hilariously funny and, in some deeply wrong way, absolutely satisfying. Even Mairead's ascendance, as menacing as it may be, will keep audiences laughing.
Charlie Barron and Larissa White are fiendishly fabulous as Padraic and Mairead. Their romance is quirky and their personalities violently exaggerated, ensuring the two are also completely engrossing. Barron creates numerous contradictions in Padraic and, in a way that's creepily believable, effortlessly shifts from one extreme emotion or reaction to the next. White is enthusiastically trigger happy, and a sharp shooter to boot. What Mairead may lack in finesse and feminine wiles she makes up for with eagerness and accuracy; White embraces the character's inconsistencies with gleeful abandon.
Chuck Brinkley, as Donny, and Mark Saunders, as Davey, are convincingly daft and slow on the uptake and comically illogical, but with a genuine likability. They are the accidental witnesses and nosy neighbors who know more than they should. Brinkley and Saunders find levels in these bumbling characters that keep us almost as interested in them as we are in Baron and White. Chuck Winning, Brock Russell, and Jake Blonstein blunder effectively as Padraic's IRA buddies, their verbal and physical humor reminiscent of "The Three Stooges." It's clear they too have good reason to fear Padraic's wrath. It's equally clear that they don't quite fully appreciate the finer qualities of Barron's sharply wrought mania. Finally, Jackson Harned is among the most cooperative and sympathetic drug dealers and torture victims you will ever meet.
The simple set, designed by Eric Kuhn, is realistically normal and hard scrapple, allowing for the addition of increasingly interesting props and set pieces. A seesaw, multiple cats (both stuffed and real), a number of dead bodies, and several bloody effects, designed by Valleri Dillard, demonstrate that Theatre Macabre has a clear vision and well-defined expectations for the live horror theater they intend to produce. Lighting designers Tony Anselmo and Kevin Bowman, sound designer Ted Drury, and costume designer Sarah Porter turn in solid work that enhances the story and humor.
Theatre Lab and Theatre Macabre team together well, ensuring the production, directed with efficiency by Nick Kelly, moves at a quick pace. The effects are perfectly timed and executed, and the humor shines darkly in the night. The Lieutenant of Inishmore, running through June 25, 2017, may not surprise you, per se, but if you enjoy horror and comedy, this show is guaranteed to make you laugh out loud. The situations are just plausible enough and the violence is over-the-top gleeful, ensuring that lovers of macabre stories and horror films will likely have a devilishly delightful time. 
Related Articles