Theatre Reviews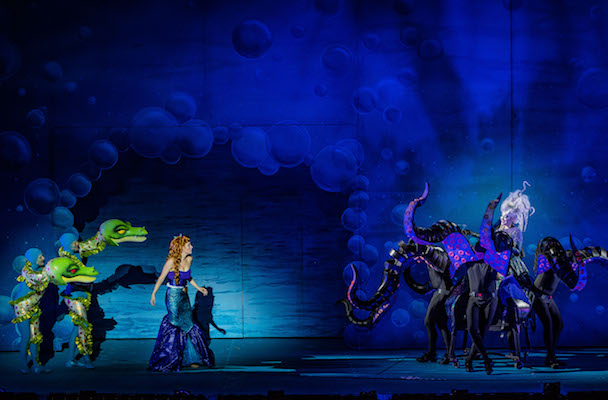 Bubbling with imagination, 'Disney's The Little Mermaid' is a whimsical musical gem
Kids have such a wonderful ability to access magic and possibility, so there's something inherently life-affirming to watching theater created with them in mind. Director Marcia Milgrom Dodge and her crew clearly get this. Her vision and choices for the MUNY's production of Disney's The Little Mermaid seem to spring forth from the mind of a very precocious child. When combined with the highest quality ensemble, fluid choreography, and an imaginative design, the result is delightful theater that the whole family can enjoy and children are likely to remember for years to come.
Disney's The Little Mermaid tells the story of Ariel, the youngest daughter of Triton, king of the mer-people and ruler of the seas. Inquisitive and adventurous by nature, Ariel is enamored with the humans who live above the water and desperately wants to know more about them. Her constant companions Flounder the fish, Sebastian the crab, and Scuttle the seagull do their best to watch over the spirited mermaid, but she soon meets and falls in love with Prince Eric. A human. With legs. Aided by Triton's jealously wicked sister Ursula, Arial gets the opportunity to join the humans. But if she doesn't get the prince to fall in love with her in three days, she will lose her soul.
The synopsis is more frightening than the story itself, which is an underwater fairytale replete with fanciful sea animals, catchy songs, and the requisite happy ending. Nickelodeon star Emma Degerstedt is instantly appealing as Ariel. She's believably enchanting, with an ebullient spirit, and her voice, whether singing or speaking, has the bright anticipatory tone of youth. Her movements, except when she's learning to use her newfound legs, are gracefully fluid and expressively animated. Degerstedt laughs and smiles and seems to float across the stage, sharing her enthusiasm and telegraphing her hopes and emotions to the audience.
Degerstedt is matched in excellence by a strong supporting cast. Jason Gotay, as Prince Eric, has a rich midrange voice that pairs well with Degerstedt and his characterization matches hers in wide-eyed excitement. Jerry Dixon is powerful, with a rich deep voice and stern demeanor as King Triton, but he's clearly a softie who wears his heart on his sleeve. James T. Lane and Richard B. Watson show great comic timing as Sebastian and Grimsby, respectively, and Lane is captivating and fun on the lead vocals in "Under the Sea" and "Kiss the Girl." 
The irrepressibly delightful Spencer Jones steals a number of scenes as Flounder. His pleasing voice is much mightier and better developed than one would expect for his age, and is only belied by his character's eager nature. Kevin Zak and Will Porter slither and shine as Ursula's sea serpent henchmen Flotsam and Jetsam. They're perfect complements to the flawless Emily Skinner as Ursula, a capriciously evil role that Skinner clearly enjoys. She (and the perfectly synchronized teenagers who form her tentacles) is completely captivating as she schemes, cackles, and sings with wicked glee, and her every movement is a spectacle in itself.
The technical considerations for this show are a significant element of its success. Choreographer Josh Walden and music director Charlie Alterman complement Dodge's vision to near perfection, visually and audibly creating the suggestion of a world beyond the shore. Scenic designer Michael Schweikardt and Puppet Kitchen Productions, Inc., with the help of costume designer Robin L. McGee and wig designer John Metzner, fill the expansive stage with visual interest that's in continuous motion, as it naturally would be in a world under the sea. The cast crew, and orchestra come together in complete harmony from the opening note to the final bow, and the plethora of colorful sea creature puppets are a kaleidoscopic delight. 
There are some minor disappointments in the show, however. The costumes are fabulous for the most part, but a few need more visual and character affirming details. The most prominent is Flounder's costume, which lacks oomph and falls a little flat compared to the others, though Jones adds plenty of personality. I also want Sebastian to look a tad more crustacean, perhaps with some antennae. Additionally, I expected shell tops on the mermaids; it's a small quibble that still seems important in my memory.  The use of the video walls is also a bit hit or miss for me. They enhance the feeling of being on or under water but also create confusion, particularly during Ursula's final scene. These are all little touches, however, and may reflect choices made to emphasize the idea of the show springing from the imagination of a child. They certainly don't diminish the quality or enjoyment of the production.
Much like Disney's original film, the MUNY's take on this classic tale is fantastic family theater that's filled with abundant heart and plenty of laughs. The story is visually compelling and delivered with a light touch, the songs are catchy, and the characters are realized in ways that resemble and amplify the animated version. In short, Disney's The Little Mermaid, in performance through June 29, 2017, springs to life with imagination and creativity that's sure to entertain.
Related Articles