Theatre Reviews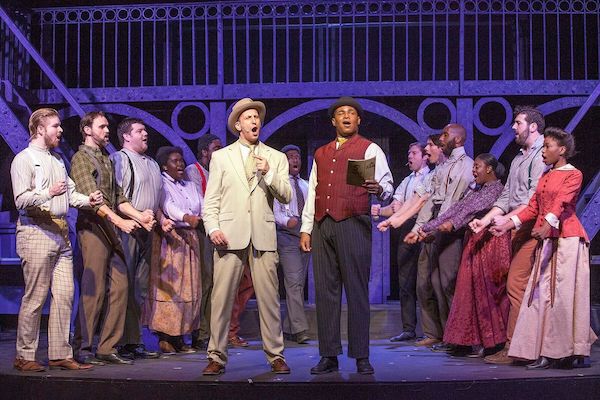 Compelling performances and an exceptional score ensure 'Ragtime' is splendid storytelling 
Stray Dog Theatre closes its current season with a moving and effective version of Ragtime that will likely have you toe tapping and humming along to its infectious rhythms and memorable melodies. You may also be compelled to utter a gasp, have a laugh, and shed a tear or two. 
Thoroughly engrossing and entertaining, the musical presents three different stories that weave together in a fascinating fashion, connecting vastly different experiences in ways that feel entirely plausible, if not completely realistic. Though the characters' lives cross paths with deeper repercussions than most, the distance between them is apparent.
An affluent white family's lives are forever changed when the Mother finds an abandoned baby in her garden while the Father is away on an adventure. Without Father to restrain her better nature, she rescues both the newborn infant and his young, unwed mother. A young black man, a piano player in a Harlem saloon, searches for the girl of his dreams and finds a family, as well as a blockade of prejudice and hate. An immigrant widow and his young daughter flee their homeland in fear of being persecuted for their religious beliefs. From the moment they arrive at Ellis Island, they must fight through poverty and constant struggle to make a new home. These stories are the very fabric of our nation, and the company brings them to life with poignant urgency.
Kay Love is splendidly gracious as Mother, rescuing Sarah, caring for her infant son and, eventually, helping Coalhouse Walker, the piano player, win Sarah over. Full of emotion, her vocal interpretations convey an essential goodness that's tempered by a sense of longing. Her life changes through a simple act of kindness that has unexpected consequences. Jeffrey White, as the immigrant Tateh, is sympathetic and emotionally grounded in his desire to create a better life for his daughter. Desperate to deliver on the promise of America, there's a pressing urgency to his movements and while his songs bring hope, you can hear uncertainty in the phrasing. 
But it is Omega Jones, as Walker, and Evan Addams, as his beloved Sarah, who thoroughly captivate the audience with soaring solos, expertly intertwined harmonies, and a heartbreaking tale. Jones commands attention in a spirited and vital performance that seems to capture both the possibility and prejudice of the era. Addams counters him with grace and an impressive range that's perfectly balanced and true. There's an innocence to Sarah that Addams mines to a finely honed and mentally sharp point, and it is impossible not to root for the couple.
The supporting ensemble capably completes the story creating well-defined characters and delivering pleasing arrangements that fill the theater. Joe Webb is engagingly prescient as the Young Boy and Avery Smith is a sympathetic Young Girl. Phil Leveling is all pomp and certainty as the Father, while Chuck Lavazzi is a grumpy old Grandfather and a spiteful and bitter racist. Jon Bee is sympathetic as Mother's Younger Brother, with a kind heart and innate desire for equal justice, and Ebony Easter has a lovely, gospel infused moment as Sarah's friend. Terry Lee Watkins, Jr., Joseph Gutowski, Gerry Love, Jason Meyers, Laura Kyro, and Angela Bubash are entertaining versions of historic characters, and Jackson Buhr, Jennifer Clodi, Chris Gauss, Melissa Sharon Harris, William Humphrey, Caleb Long, Dorrian Neymour, Kevin O'Brien, Belinda Quimby, and Chrissie Watkins round out the diverse and talented cast.
Ragtime paints a richly textured picture of an America purposefully segregated by wealth, social status, skin color, and nationality. In many ways, our society still adheres to these constructed boundaries. Different perspectives of the American dream, and the lengths many will go to in an effort to secure that dream for themselves or their family, are the central theme of the show. The sweeping musical, based on the novel of the same name by E.L. Doctorow, effectively explores these issues at the turn of the century. That century is 1900, but the questions faced by these characters feel relevant and timely today. Though not all the stories end with "happily ever after," the ending feels cautiously hopeful for the future of our country, perhaps undeservedly so. 
Outstanding performances and a compelling story will likely keep you on the edge of the seat, and the songs and music may make you want to dance despite the serious, almost cautionary undertones of the story, but the musical also provides much food for thought. Ragtime, running through August 19, 2017 at Stray Dog Theatre, isn't always easy to watch, but it rings with authenticity and emotion, resulting in a genuinely moving evening of theater. 
Related Articles