Theatre Reviews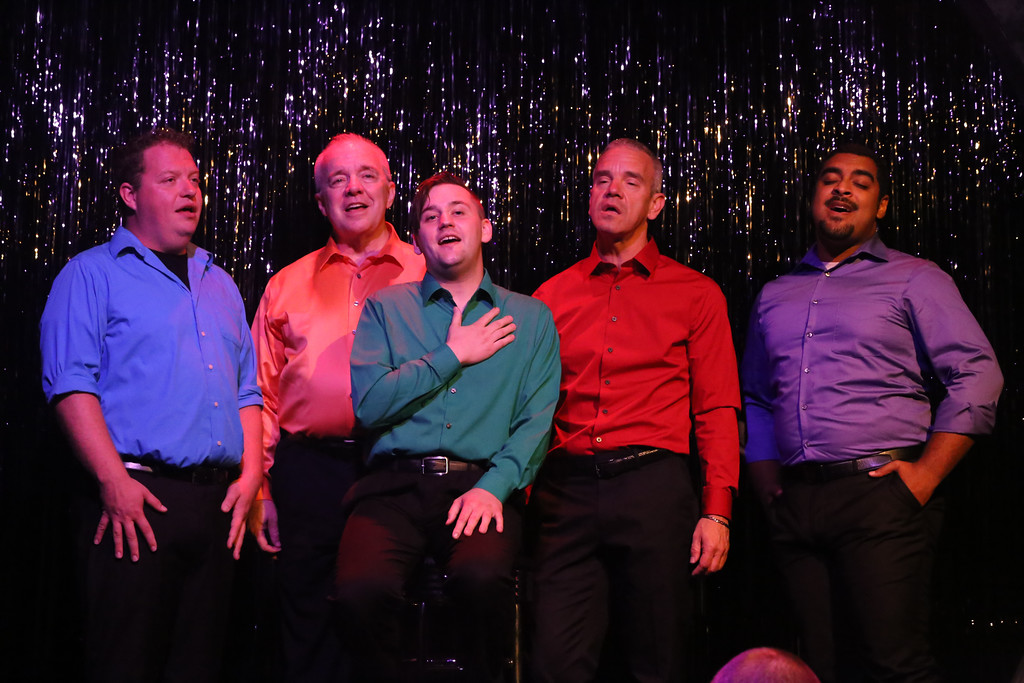 'Out On Broadway: The Third Coming' lights up the Marcelle with music and love
The third iteration of New Line Theatre's original cabaret revue, Out On Broadway celebrates the songs of Broadway with a gay perspective, and without any rewrites. In addition to an enjoyable evening of entertaining musical interpretations, the show reminds us that love is love and we all have far more in common than the differences we too often focus on. The thoroughly enjoyable evening of music features the voices of Dominic Dowdy-Windsor, Mike Dowdy-Windsor, Ken Haller, Sean Michael, and Keith Thompson, with Dominic and Sean shining particularly bright in the spotlight.
The show loosely traces the progression of love, beginning with the idea of loving and accepting oneself before loving others, but there's nothing heavy handed or preachy in the message. The selected songs, primarily lesser known musical gems that deserve a listen, complement each other well while adding humor and genuine pathos to the evening. For the 2017 edition of the revue, company artistic director Scott Miller added numbers from recent shows that prove a surprising fit. Best of all, there are a number of songs from the evening that stand out, either vocally or through interpretation. 
In the first act, "Mrs. Remington," sung by Dominic (listed as Nick in the song selections), is a fun up-tempo piece with a clever lyrical bent. With layered harmonies that sound like a much larger choir, Sean, Keith, and Ken ensure "One Boy" is entertaining and impressive. "Bosom Buddies" is a perfectly comic number delivered with panache by Ken and Keith, as is "Happily Ever After." "Unusual Way," a loving duet sang by real life spouses Dominic and Mike, is buttery and soft with a compelling arrangement, and Nick and Sean stand out with strong vocals on "Stars and the Moon" and "Heart and Music," respectively.
The second act is almost perfect in terms of song selection, arrangement, and performance, but there are a few particularly effective choices. "Just Like Our Parents" tells a great story. "Getting Married Today," is funny and Mike is particularly charming as a groom with a serious case of the pre-wedding jitters. That song is countered by the humorous "Fine," which again features Dominic and Mike, this time after the honeymoon glow has waned. "Sleepy Man," is a hushed lullaby with Sean on lead vocals that envelopes you with warmth and love, while "Make Them Hear You" sees Dominic leading the charge in full, spirited voice. 
"In My Own Lifetime" gets a great interpretation by Ken, and Dominic provides the constant reassurance love needs on "I'll Be Here." Keith turns a certainty into a question in "One of the Good Guys," while Sean and the company offer a new lesson on tolerance with a haunting and cautionary "Children Will Listen." "You'll Be Back," from the musical Hamilton is a surprising and effective interpretation that gets lots of positive audience response, and "You Are the Light" closes the night with a hint of gospel that fits the inspiring and hopeful song. The song selection creates a lovely story arc and the men's voices perfectly suit the arrangements.
The men are dressed simply, in black slacks and solid colored shirts that span the rainbow, and are accompanied by Nate Jackson on a piano that's appropriately placed in front of the stage. There's no banter, so the sense of intimacy that usually characterizes a cabaret is somewhat lost, and the men seem a bit stiff and formal much of the time. Choreography isn't necessary in this format, however a more relaxed physical presence and a slightly looser, more conversational approach may enhance the emotional connection with the audience. Finally, some of the harmonies weren't quite on pitch the night I attended, but these men are all experienced professionals and I expect those errors will be corrected.
Out On Broadway: The Third Coming, in performance through August 19, 2017, is an original concept from New Line Theatre, with songs curated by Miller and associate artistic director Mike Dowdy-Windsor. The show, particularly the first half, feels a bit long for cabaret, but I'm not sure which songs I'd cut as each song has a distinct purpose. Additionally, the men interpret every song well, with intention and perspective that's clear, genuinely expressive, and uniformly well performed.  
Related Articles