Theatre Reviews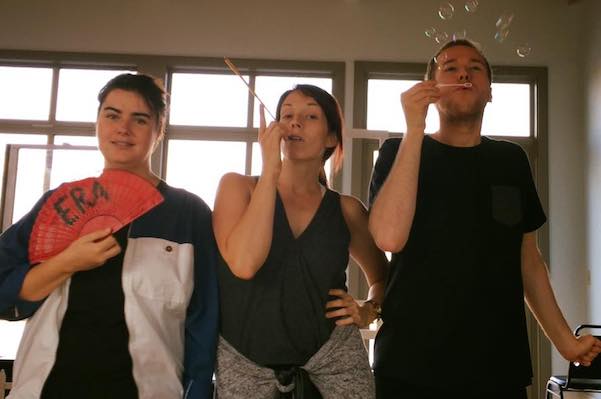 In Performance: St Lou Fringe Festival and 'In the Heights' have the arts community buzzing
With so much theater and performing arts in and around St. Louis every month, it can be difficult to keep up! On a weekly basis, KDHX's new In Performance feature will highlight some of the most anticipated shows coming to a stage near you. We hope this helps you plan your night out and encourages you to "go see a play" or other live, local art. And remember to check out the KDHX Calendar for information on art and music in and around St. Louis.
The sixth annual St. Lou Fringe Festival opens in the Grand Center Arts District with a free public performance on Thursday, August 17, 2017, and continues through August 26, 2017. The revamped festival introduces three headline acts, shows curated by the festival artistic staff and produced by invited artists with previous Fringe experience, lottery-awarded shows, and the $1 DIY Fringe stage. All shows are original works created for the festival or new St. Louis premiers, helping St. Lou Fringe achieve its mission of providing a platform and promoting new artistic expression in a cross-cultural and openly diverse festival.
Two of the three headline shows include a first for St. Lou Fringe: two-act plays. Executive director Matthew R. Kerns explains that this addition is part of the Fringe's plan to intentionally grow by promoting works on the cusp of breaking out. "St. Louis is a thriving arts city, with audiences that actively support culture and artistic endeavors in all mediums," he explains. "With the headline acts, we're promoting our city as a 'test kitchen' for the development of new theater. In addition, we are actively seeking feedback from our audiences." As always, the Fringe offers a wide variety of original and experimental pieces that last less than an hour. 
The St. Lou Fringe Festival offers a number of ticketing packages, allowing audience members to see as many or as few shows as they can fit in their schedule during the Festival's two-week run. With more than 30 producing companies and individuals, and over 100 scheduled performances, theater lovers and curious audiences can easily find something of interest. "A Song for Vanya," "Snow White," and "Evolution" are the three headline shows and will be presented in the beautifully restored Grandel Theatre. Your ticket purchase to the national and local headline shows also includes a complementary pass to another festival show.
Other shows attracting early buzz include a one-woman show from Elizabeth Townsend, last year's Fringe favorite; an original work by St. Louis actor and producer Joe Hanrahan; "Inconceivable," featuring some of the most unique puppets you've likely ever seen; two Zombie shows; "The Bard's Women," "Dead Gothic Society," "Same Difference," and the offbeat "Meatball Séance." Visit the St. Lou Fringe website for descriptions of all the shows, as well as a schedule of events and information on the popular Fringe Family Day, a free or voluntary donation event in Strauss Park with performances, interactive art stations, and a parade.
Ahead of next spring's St. Louis premier of Hamilton, R-S Theatrics opens their production of the highly anticipated In the Heights this weekend, with shows continuing through September 3, 2017. The musical, set in Washington Heights, a Latinx neighborhood in the middle of the cultural diversity of New York, is a story of community and personal discovery. It's also the Tony award-winning show that introduced the world to the talents and genius of Lin-Manuel Miranda. 
Based on Miranda's upbringing, the musical tackles some of America's toughest issues -- immigration and prejudice. Usnavi, a bodega owner, narrates the story from his perspective, but the themes transcend race without ignoring its impact. As director Christina Rios recently noted, this is "a story about you . . . that time you disappointed your parents, that time you didn't really know where you belong." Riveting and filled with exceptional songwriting, In the Heights is about overcoming your fears and challenges, and finding your place in the world.
Union Avenue Opera also opens their production of Hansel and Gretel this weekend. The operatic take on the well-known children's show continues through August 26, 2017.
Continuing this weekend: Ragtime, an effective and well-received musical about race, immigration, and the American Dream, at Stray Dog Theatre through August 19; Out On Broadway, New Line Theatre's original cabaret revue celebrating music and gay pride, through August 19; and SATE's moody, evocative, and deeply sensual production of The Color of August through August 19. 
Related Articles