Theatre Reviews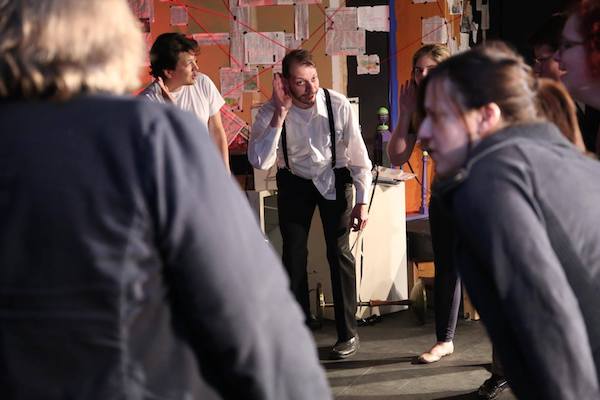 In Performance: 'The Dramatic License Show' invites audiences to view the fruits of their 24-hour adaptation festival labors
With the holiday weekend upon us, most theaters are dark or in continuing runs, so this week's KDHX's In Performance feature will be a bit shorter than usual. In addition to the list of continuing shows, we are pleased to provide interested audiences with information on the latest effort from PRIME which presents a one night only performance of original short plays on Saturday. As always, remember to check out the KDHX Calendar for information on art and music in and around St. Louis.
PRIME presents The Dramatic License Show: A 24-hour adaptation festival celebrating creative expression by combining and remixing pop culture's most enduring genres. Playwrights from St. Louis and around the world will interpret familiar themes with a deconstructive eye, "taking the things we know and looking at them with a new perspective," says PRIME Co-Founder Andrea Standby. Local artists will then produce the short plays, and audiences will be able to see the completed works at 8pm on Saturday, September 2, 2017, at The Gaslight Theater.
The festival has an air of competition as six teams work furiously over their scripts to bring life to the sometimes contradictory and often funny stories. Successfully achieving their objective, the stories will be at once familiar and unexpected. As a participant in multiple 24-hour play festivals, filmmaker Matt Heckman appreciates "the idea of mashing up genres and forcing old ideas in to new light.  Taking stories we all know instinctually and toying with them like this opens the door to a lot of humor. I love being surprised when I go see live theatre and I think there will be a lot of that in this show." St. Louis theater goers are invited to see it for themselves.
Continuing this weekend: Rebels and Misfits continues their immersive and evocative show Uncle Vanya: Valiantly Accepting Next Year's Agony, at a private residence in Ladue. The moody play bristles with tension and yearning. St. Louis Shakespeare presents the infrequently produced Titus Andronicus at the Ivory Theater August 25 through September 3, 2017.  The action-packed rather cautionary tale is rife with vengeance and copious bloodletting. 
The powerful musical In the Heights continues at R-S Theatrics through September 3, with an additional performance added on Thursday, August 24. Though most performances are sold out, stand-by reservations may be available. And don't forget, the sweet-natured, musical pleasing Church Basement Ladies continues it run at the Playhouse at Westport Plaza through October 1, 2017. The life-affirming show is a genuine slice of mid-American apple pie.
Related Articles