Theatre Reviews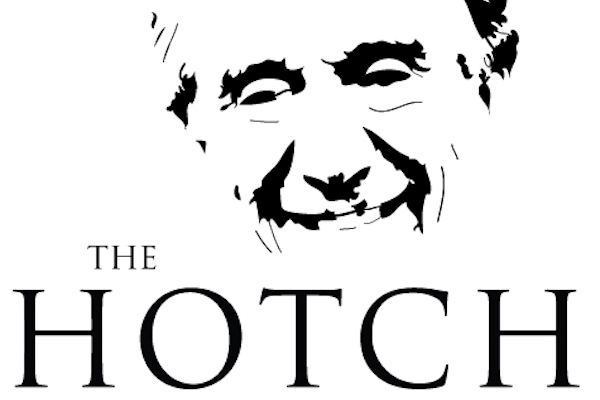 'The Hotch' shines with bright young drama
A. E. Hotchner, now ninety-seven, is quite a guy. This Washington University graduate has been a novelist, playwright, journalist, editor, biographer and screen-writer. He's known everybody -- from Tennessee Williams (whom he beat out in a playwriting contest) to Hemingway (his buddy for years) to Paul Newman (his neighbor, with whom he founded the "Newman's Own" brand) At Wash U Hotchner has endowed the exciting playwriting festival that bears his name.
This contest is open each year to all Wash U student playwrights. Several contending scripts are selected for a twelve-day "workshopping" and rehearsal with a professional dramaturg. Every other year one of the winners from the previous two Hotchner festivals is given a full production.
I just had a very exciting couple of days attending the staged readings of this year's winners: Superboy by Chisara Achilefu, Desperate Times by Danny Marshall, and Raindropped by Scott Greenberg. The experience gave me great hope for the future of American theater. The readings were done in the Hotchner Studio Theatre by student actors working under faculty directors. For each performance the house was packed and abuzz with the infectious enthusiasm of youth. Discussions after each performance were led by Richard J. Roberts, long-time dramaturg at the Indiana Repertory Theatre. Playwright-in-residence Carter Lewis co-ordinated the festival and introduced each performance.
Super Boy, by Chisara Achilefu, examines the related problems of grief and guilt. We meet young Emily, a high-school student, whose friend Joey has committed suicide. Her parents insist she undergo some psychological therapy to help her deal with this trauma. The playwright slowly and subtly lets us learn that the therapist, Dr. Coulson, is dealing with problems of her own.
Joey is a bright kid, but very eccentric. Every day since grade school he has worn a Superman cape to school—"because it gives him power." He is thus the object of much mockery, if not bullying. Despite this, Joey and Emily become friends because of their common love of fantasy books and films. This friendship results in strains on Emily's relationship with her regular boy-friend, Daniel. To salvage her relationship with Daniel she betrays Joey. 
Annie Butler as Emily, Noah Weiner as Joey, and Victor Mendez as Daniel all give very convincing performances as these high-school kids. All are nuanced and multi-dimensional. In their hands, and with the mature guidance of the playwright, they present no good-guy or bad-guy, but real young people confronting difficult problems. Ebby Offord gives the analyst complexity and subtlety. Andrea Urice directs.
In Super Boy I was reminded of two other plays where therapists find their own personal demons entwining with the troubles of their patients: Peter Schaffer's Equus and John Pielmeier's Agnes of God. Both of these plays leave us with uncomfortable questions. But in Super Boy Ms. Achilefu gives us a wise and optimistic resolution of the burdens of grief and guilt. Laying blame (or embracing it) is fruitless; embracing joyous memories is balm indeed. 
Desperate Times, by Danny Marshall, is hilarious! This play is almost a spoof on David Mamet's Glengarry Glen Ross—but it's much better than Mamet's play. Mamet shows us real-estate salesmen who are willing to cut each other's throat for a sale. Danny Marshall gives us used-car salespeople tempted to do the same thing. Both plays shower us with a tsunami of foul language; but with Mamet we're supposed to take all this seriously, and Mamet insults us by assuming that with all that obscenity we'll think it's "really hot stuff". Marshall, on the other hand makes a wonderful comedy out of it all. And I totally buy it. (There is much wildly inventive invective, all done in convincing "New Joisey" accents.)
Pat, Lisa and Troy are under immense pressure to maximize their sales. The winner will become the new manager when the boss retires. Pat is a family man. Lisa and Troy have a history of sleeping with their customers to facilitate sales. Each unites with each to sabotage the third. A final surprise twist brings all their hopes crashing down -- but with the faint possibility that these lives just might lose some of their sleaze.
Jordan Dubin, Anna McConnell and Noah Weiner do splendid work as these significantly sleazy sales personnel, under the direction of the dramaturg, Richard Roberts. 
Raindropped, by Scott Greenberg, presents a party of young friends at a "destination" wedding in the Maldives. The "Bride and Bride" are Liz and Beth. The Best Man is Liz's ex-lover, Elliot. The Maid of Honor is Liz's sister, Jess (who had once slept with Elliot when he and Liz were a couple). Weird enough yet?
Elliot is still in love with Liz, but tries to behave and be a "good Best Man." But he's troubled by guilt because his brother is back in the States dying of lung cancer and Elliot knows that he should be back there with him.
There are many scenes, secret-agent dreams, rainstorms, bonfires, a pretty standard wedding reception speech, hallucinations, some bad puns, shootings, bashing with a Bible, a lost (then found) wedding ring, and a guilt-laying dying brother who coughs à la Camille. The play has a blend of the flavors of romantic sit-com, soap opera and spy/action film -- all lightly and gracefully handled. 
The mostly-college audience responded throughout with eager laughter and giggles. Of all the exciting actions happening on the stage the most utterly shocking to several in the audience was when our hero threw his smart-phone into the ocean!!! (OMG!!!) 
The cast does excellent work. Lucas Marschke plays Elliot, Helen Fox is Liz, Natalie Thurman is Liz's sister Jess, Hanna Dains is Beth, and Nathan Lamp plays the dying brother. Lamp also brings a special odd charm to a mysterious Man, who keeps popping up. 
Am I just too old-fashioned? I think that the play's apparent assumption that gender is utterly irrelevant nowadays let some real dramatic possibilities slip by. We are, let's face it, a gendered species, and in that fact lies considerable drama—and certainly much comedy.
In all three plays Daniel Washelesky does excellent work as narrator, reading the scene descriptions and stage directions.
Bon voyage, young playwrights. Bon chance! Break a leg! Have fun on your bright adventure.