Theatre Reviews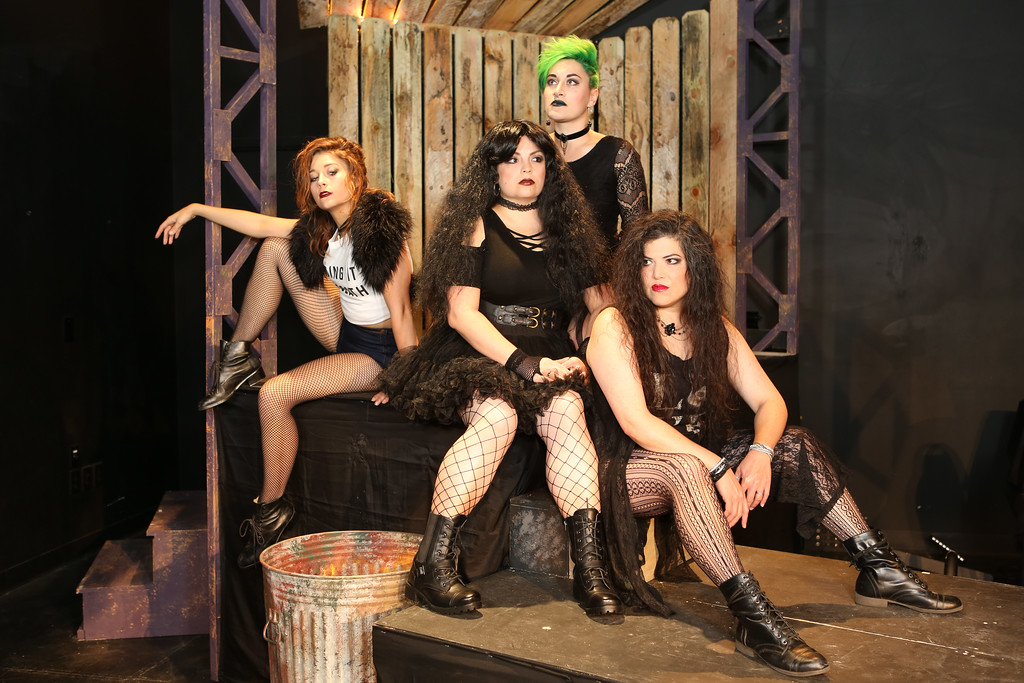 In Performance: 'Lizzie' rocks The Marcelle and an intimate political conversation comes to life at West End Players Guild
As the weather outside cools, activity in local theaters in just heating up! Welcome to this week's KDHX In Performance feature, where we preview a rock 'n' roll take on an American legend and a long ago political conversation that feels eerily relevant today. As usual, there's lots of theater to choose from in St. Louis this weekend, ensuring you've got plenty of reasons to go see a play. 
In the sweltering heat of August 1892, Lizzie Borden's parents were brutally murdered in their New Jersey home, and Lizzie was targeted as the prime suspect. Her sensational trial was followed from coast-to-coast and her story quickly became legend. New Line Theatre amps up the gothic rage with the St. Louis premier of Lizzie, a rock opera running through October 28, 2017 that's loud, rude, and a bit nasty. The show is blistering and powerful, filled with a punk rock ethos and riot-girl rage as well as an outstanding cast featuring Anna Skidis, Kimi Short, Larissa White, and Marcy Ann Wiegert. 
"I knew I would be playing Lizzie for a long time," Skidis mentions when asked about the show. "But the process has still been a bit of a whirlwind. The musical is challenging for an actor, but riveting. Mike Windsor-Dowdy is a marvelous director; he asks all of the right questions while leaving a lot of room for personal exploration. And sharing the stage with Marcy, Larissa, and Kimi is an absolute privilege." 
Skidis notes that preparing for the show has been exhausting and exhilarating. Her last show overlapped with Lizzie, causing her to lose a week's rehearsal, "And yet, I don't think I've ever been as prepared for a show," she continues. It's a good thing, too, as the titular character, Skidis is in most of the numbers. "I've done a ludicrous amount of research, and I think I have listened to every podcast about Lizzie Borden in existence," she pauses for effect. "I might be the only person ever to think that she probably didn't do it, but in the show..." Well, you'll just need to plan to attend to see how the rock opera unfolds.
The West End Players' Guild opens their 107th season (yes, you read that correctly!) with Lee Blessing's acclaimed play A Walk in the Woods, in performance through October 8, 2017. Director Renee Sevier-Monsey marvels at the wide-ranging topics in the Pulitzer and Tony award nominated play. "The men discuss everything," she observes, "from the seduction of being a superpower to orange ties." The deceptively friendly setting leads to important questions examining the tenuous relationship between superpowers, the human side of the arms race, and the hope that negotiations for peace will at last succeed. 
The impact and relevance of the conversation is powerful, and its currency is not lost on the director. "Botvinnik (the Russian) is discussing whether it's even possible to formulate an agreement and says 'all of them are getting nuclear weapons... once we only had to be rational in English and Russian. Now we must do it in Hebrew, Hindi, Afrikaans,'" she observes. "And I always finish it up with AND KOREAN in my head. Because that's the conversation we are having about North Korea. Right now."  
Continuing this weekend: 
St. Louis Actors' Studio taps into insanity and fear with the taut, psychologically probing The Feast, in performance through October 8, 2017. The funny and sometimes disturbing play traces the impact on Matt and Anna's relationship when the sewers under their apartment begin speaking. Is Matt losing his mind or is his nightmare coming to life? 
Unsuspecting Susan, continuing through September 30, 2017, is a humorous, sometimes haunting look at motherhood from the newest company on the block, Inevitable Theatre Company. The chatty show, starring St. Louis' favorite Donna Weinsting, takes a surprising turn when the divorcees world is shattered by news about her son.
STAGES St. Louis wraps up their season with the always crowd-pleasing South Pacific, continuing through October 8, 2017. The musical set in World War II is filled with engaging performances and memorable songs that helped solidify Rodgers and Hammerstein's work as the upper echelon of classic American musical theater.
Inventive staging and choreography add to the transformative The Curious Incident of the Dog in the Night-Time, in performance through October 1, 2017 at the Rep. Intellectually brilliant, socially awkward, and living with autism, 15-year old Christopher is determined to discover the truth about Wellington the dog. He learns much more than he expected, and audiences may as well. 
The sweet natured, musically pleasing Church Basement Ladies continues its run at the Playhouse at Westport Plaza through October 1, 2017. The life-affirming show is a genuine slice of mid-American apple pie. And, as always, remember to check out the KDHX Calendar for information on art and music in and around St. Louis.
Related Articles