Theatre Reviews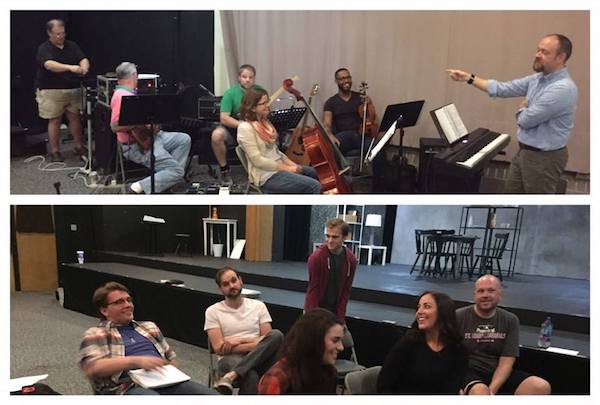 In Performance: Mind games psychological and paranormal are among the evil doings opening at The Rep, Take Two Productions, and Emery Entertainment
From Shakespeare's sulking Dane to Next to Normal's frantic mom to evil spirits that go bump in the night, just about every mood and emotion is covered in this week's KDHX In Performance feature. There's even a free reading of the powerful Keely & Du this evening on The Stage! at KDHX. As you're making your plans, remember to visit the KDHX Calendar for a list of all the arts and events happening around town. 
Local audiences get another chance to see the quirky and deeply effective Next to Normal when Take Two Productions presents its interpretation of the popular musical. The contemporary story effectively explores how a typical suburban family copes with the ups, downs, and crises of living with someone suffering from mental illness and features Stephanie Merritt, Jonathan Hey, Leah Loran Koclanes, and Gabriel Beckerle. Directed by local playwright, actor, and director Stephen Peirick, the show "really tries to take the audience into the family member's minds and emotions, presenting their family's story with love, sympathy and heart." 
Peirick was drawn to the play for its relevance and important message. "At the 2017 Video Music Awards, rapper Logic, with Alessia Cara and Khalid, sang his song entitled 1-800-273-8255, which just happens to be the phone number for the National Suicide Prevention Lifeline. At the end of his performance, he commented that the mainstream media doesn't want to talk about 'mental health, anxiety, suicide, depression...' While theatre may not be 'mainstream media,' it's not afraid to tackle these topics." Next to Normal, in performance through October 21, is raw and realistic at times, but never without heart or a caring. Even in its darkest moments, there's a thin ray of light and a hopeful perspective lurking.
On Thursday, October 12, Solid Lines Productions open their season with a free reading of Keely & Du, an painfully honest show that looks at violence against women with a deft touch, presenting a believable situation and authentic dialogue that acknowledges the difficulty people often have with the subject matter. Director Susan Kopp initially presented the play to the company and is honored to be guiding the talented and dedicated cast through the reading. "I proposed the play to Solid Lines because I know many women felt violated last year by the election of a president who did not seem to respect them," she explains. "Many women, including myself, became concerned that the right to their own bodies would be threatened once again."
The story of Keely, a woman who becomes pregnant through an act of rape and is kidnapped and held to ensure her pregnancy is not terminated, is not suitable for all audiences. Frankly, the subject matter is likely quite upsetting and difficult to watch for some. The story is deeply personal, with conflicting views and realistic responses. The performance at The Stage! at KDHX begins at 7:30 pm, and the audience is invited to participate in a talk back session immediately following the show. Through its season, Solid Lines is hoping to create conversations that cover important topics and address related questions in a respectful environment, encouraging discussion and compassion among varying perspectives and views.
If you're ready for murderous stories and haunting tales, you'll want to catch the Repertory Theater of St. Louis' first ever production of William Shakespeare's Hamlet, running through November 5. Arguably one of the Bard's greatest plays, the dark story tells of lust, murder, and revenge among Danish royalty. Young Prince Hamlet teeters on the edge of madness in reaction to his father's unexpected death and his mother's quick marriage to his uncle. Spurred on by the accusations of his father's ghost, he takes a tragic, often erratic, path through grieving and vengeance. Filled with complex characters, profound soliloquies, and clashing swordplay delivered through an unforgettable script, the Rep amps up the drama with excellent stagecraft, technical design, and effects. 
If you're ready to get into the Halloween spirit in a bold but comic way, you'll want to put Emery Entertainment's production of Evil Dead the Musical, running through October 22 at the Grandel Theater, on your To Do! list. The fast-paced, tongue-in-cheek musical, based on the popular movie franchise, delivers all the cheesy puns and blood-spattered mess of the films. The cult classic about five college friends trapped in an abandoned cabin in the woods after accidentally unleashing an evil force is set to catchy melodies and toe-tapping rhythms you can really dance to. The result is a gory good time for fans of horror, comedy, and musicals. 
Continuing this weekend: 
Stray Dog Theatre presents Spring Awakening, a bold coming of age tale set among a deeply private religious community. Directed by Justin Been, and delivered with a rebellious rock and roll score, the story follows a group of friends through the trials of adolescence. The musical, running through October 21, features adult themes and subject matter and is intended for mature audiences. 
Upstream Theater presents Sweet Revenge, a sympathetic satire in performance through October 22 at the Kranzberg Arts Center. Considered the "finest Polish comedy ever written," the story, directed by Philip Boehm, is told from the perspective of an amateur St. Louis Polish immigrant theater troupe in the 1930s. 
Tuesdays with Morrie is an adaptation of Mitch Albom's memoir about reconnecting with his professor, mentor and friend and saying goodbye. What begins as a one-off visit turns into weekly lessons on life in the New Jewish Theatre's production of the heartwarming story continuing through October 22. 
St. Louis Shakespeare shakes things up a bit with the introduction of a new work to the Bard's canon: Cardenio: Shakespeare's Lost Play. Based on an episode involving a supporting character in Cervantes' Don Quixote, the dramedy, running through October 15, 2017, is a re-imagination by Gregory Doran, artistic director of the Royal Shakespeare Company. 
New Line Theatre amps up the gothic rage with the St. Louis premier of Lizzie, a rock opera running through October 21 that's loud, rude, and a bit nasty. The show is blistering and powerful, filled with a punk rock ethos and riot grrrl rage as well as an outstanding cast featuring Anna Skidis Vargas, Kimi Short, Larissa White, and Marcy Ann Wiegert. 
Related Articles