Theatre Reviews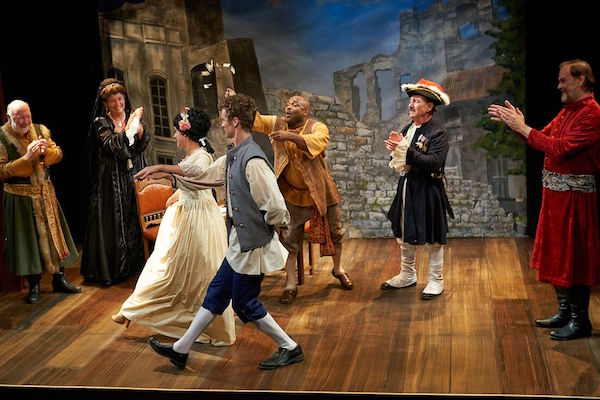 'Sweet Revenge' is a delightful retelling of a familiar tale where love, and humor, conquers all
The light and charming comedy Sweet Revenge, As performed by the Juliusz Slowacki Players Saint Louis 1933, tells a familiar story. Two neighbors argue over their shared property line, threatening to disrupt an entire community and prevent true love from taking its natural course while creating plenty of opportunity for comic shenanigans. Upstream Theater introduces St. Louis audiences to the popular Polish comedy by Aleksander Fredro, with a new translation of the script by the company's artistic director, Philip Boehm, who also directs. 
Though Czesnick and Milczek's feud over the wall separating their property has escalated to the point of physical and legal threats, their children -- Czesnick's niece Klara and Milczek's son Waclaw -- have fallen in love. Naturally, the young lovers haven't yet found the courage to make their affections publicly known, and each fears what will happen if the two men discover their secret. Matters become complicated when Czesnik's friend Papkin and the widow Hanna enter the story. Papkin is enamored with Klara and Milczek strikes an agreement for Hanna to wed his son, even though she is already engaged to Czesnick. Much comic mischief and back and forth scheming eventually lead us to a happy ending.
Whit Richert is kindly gruff and stubborn as Czesnick. His patience may be worn thin by the feud, but his overall demeanor is light, almost giddy, particularly when the prospect of love and romance emerges. His friend Papkin, a boisterous braggart with a coward's love of self-congratulation, played with a flourish by John Bratowski, tries to act as emissary. He bumbles around preening and posing his way through one exaggerated tale after another. John Contini, as Milczek, is stern, calculatingly cunning, and equally as stubborn and obstinate as Czesnick. He moves with certainty and is much less susceptible to laughter and mirth.
Caitlyn Mickey and Pete Winfrey are charming as the young lovers trying their best to avoid detection until they can safely wed. Winfrey is eager but over-cautious, with a tendency towards morose worries, while Mickey may have the quickest wit and keenest perception of them all. Jane Paradise is humorously coquettish, though she too has an angle to play, and Eric J. Conners is sufficiently funny and comically overworked as all the servants and workers.
The pleasant show moves along at a nice pace, with a simple set that allows for quick transitions, but there are moments when it drags with too much exposition and too many rambling tales from Papkin. There's abundant humor in the script, but the retelling becomes tiresome at times, though Boehm does a solid job with both the translation and direction. The story, told in rhyming verse, is clearly conveyed, but may simply be too indulgent towards the original material, as some judicious editing feels appropriate. 
More importantly, the show is bookended with two problematic scenes. Intended to represent the performers as the Julius Slowacki Players St. Louis, 1933, they deliver a message on tolerance that feels suspiciously like historic whitewashing. In these scenes Conners, a black man, is welcomed into the company and then, after the show, the company chooses to support him and not patronize a local establishment that won't allow him to join the rest of the cast. The intention is pure here, but without record of an actual event, it feels disingenuous and inappropriate. 
Sweet Revenge, as performed by the Juliusz Slowacki Players Saint Louis, 1933, is a sweet natured comedy with an enjoyable, if familiar, tale. The talented cast easily captures the emotional ups and downs of the story's quickly shifting plot with engaging performances that are light and filled with comic interplay. Though a bit longer than it needs to be, the Upstream Theater company's production, running through October 22, is quite entertaining.
Related Articles