Theatre Reviews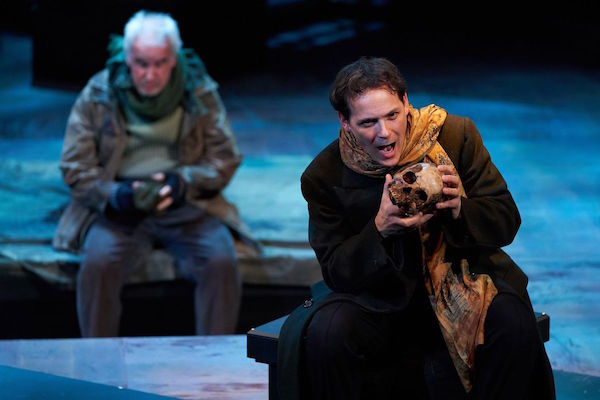 Murder and madness drive The Rep's electrifying and eloquent interpretation of 'Hamlet'
The Repertory Theater of St. Louis turns a finely tuned, well-seasoned ear to Shakespeare's enduringly popular tragedy about power, madness, and betrayal among the Danes. The dramatic story, arguably one of the Bard's best, is well known and often performed, though rarely at this length. For the first production of Hamlet in the company's 51-year history, the commitment to story, action, and dialogue is successful, and clearly conveyed from the first moment to Fortinbras' closing eulogy. 
Young Prince Hamlet's father dies suddenly while he is away studying. As soon as his father is buried, it seems to Hamlet, his mother Gertrude quickly marries his uncle Claudio. After an appearance from his father's ghost that's filled with accusations, Hamlet is certain there is indeed "something rotten in the state of Denmark." 
His pursuit of justice is unfortunately hampered at every turn. There's Polonius, a meddling consort to the king sticking his nose into to stir the pot. A couple of schoolmates summonsed by his uncle-turned-stepfather try to distract him merely raise suspicion. A dispute with his longtime friend Laertes (caused in no small part by Claudio) amplifies his woes and, naturally, so does his love for Ophelia. With assistance from the ever-loyal Horatio and a troupe of traveling players, Hamlet is certain the truth will be uncovered.
Jim Poulos immerses himself in the language of the story, his body expressing every emotion and motivation with energetic, purposeful movement. Even when deep in thought or lost in madness, his actions are certain, his intentions clearly defined. Poulos easily handles the language and nuances of the script, and conveys much with a pointed gesture or lift of an eyebrow. His Hamlet is bristling in his quietest moments and his rages often contain witty observations and knowing glances.
Ophelia gets the opportunity to really come to life during her mad scenes and Kim Wong makes the most of these memorable moments. Though I wish she were directed to show more personality and force of will from her first entrance, she moves from obedience to seeming reverie to madness with increasing intensity and a lack of self-awareness that captivates. Robynn Rodriguez is a malleable Gertrude, a woman who seems to lack any voice or agency of her own. She is evocative and genuine in moments when she can reveal her emotion but seems otherwise trapped, more like a pawn than a queen.
Michael James Reed is imposing as Claudio, self-assured but wary with greed and power. He proclaims his every utterance as if tone of voice alone is enough to secure his tenuous grasp on the crown. Christopher Gerson is earnest and pragmatic as Horatio, a more understated approach that keeps the focus on the story at hand. Ross Cowan and Stephen Hu, as Rosencrantz and Guildenstern, and Carl Howell, as Laertes follow suit, while Larry Paulsen, as Polonius, is all pomp and circumstance, comically long-winded with a touch of neighborhood gossip. The capable supporting ensemble includes local actors Jerry Vogel, Ben Nordstrom, and Cassandra Lopez as well as a host of less familiar, but no less engaging names.
Mounting a full-length production of Hamlet is a significant undertaking, even for a theater with the resources and experience of The Rep. Director Paul Mason Barnes and scenic designer Michael Ganio work well together, filling the mostly bare, multi-level stage with chases, movement, and a gallery of courtiers observing key scenes that are smartly countered by small, intimate moments in tight focus. The effect is particularly dramatic when complemented by a single, statuesque column and Lonnie Rafael Alcaraz's stunning lighting. Attention is shifted and mood is altered effectively, while Dorothy Marshall Englis' costumes ruffle and furl and snap into place with appropriate drama. Every detail feels designed to emphasize the sound of Hamlet and it works to glorious effect, the show is an absolute treat for the ears.
The articulation and interpretation of Hamlet is strikingly crisp and contextually motivated. Each actor conveys clear understanding of each word's meaning and potential consequences, and the sense of courtly manners is present even in the graveyard. What seems to suffer (during several scenes) is the interplay and contextual relationships between the actors. The story ties together and every piece is well delivered, but it often feels as if each actor is speaking in a bubble that prevents them from knowing others are in the room. Hamlet and Ophelia break through, as does Laertes; and Gertrude embracing her son, cradling and soothing him, is effectively touching, but I would like to see even more character-to-character connection throughout the production.
Barnes clearly understands the show as both literature and drama, and it's evident that a lot of thought was paid to interpretation and meaning during the rehearsal process. The approach ensures that the production is lively and fast-paced without sacrificing any elements of storytelling. While I long for more connection between them, the actors are fully committed and emotionally invested in their stories. The Rep's stirring production of Hamlet, running through November 5, is a thoroughly engrossing dive into the language of Shakespeare with active, beautifully crafted scenes that are likely to have your heart racing.
Related Articles