Theatre Reviews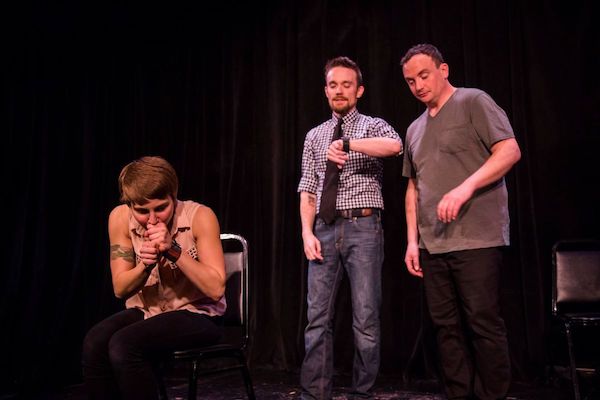 In Performance: One-weekend only performances top the list of this week's theatrical choices
Though there are none of the usual openings in this week's KDHX In Performance feature, there's still news to share! Two exiting performing arts events are happening this weekend only, and there are a lot of "not to be missed" shows closing soon. Check the listings and reviews, then make sure you don't miss out. And, as always, remember to visit the KDHX Calendar for the complete list of music, arts, and events happening around town. 
The fifth annual Compass Improv Festival takes place this weekend at the Improv Shop (in its new location in the Grove). The festival includes seven scheduled performances and you're guaranteed a new show every time. You won't know what you're going to see when you walk in, but that's ok. The actors don't know either. The three-day Compass Improv Festival celebrates performance and the art of "yes and..." an approach that's as important to improv as iambic pentameter is to Shakespeare. Maybe even more so. 
The name "Compass" harkens back to the 1950s, when the Compass Players introduced this new form of acting to audiences in both Chicago and St. Louis. When the company settled in Chicago it changed its name to (the now iconic) Second City. Andy Sloey, who trained at Second City and is the Improv Shop's general manager, notes that the scene in St. Louis is strong, with about 300 participating artists in the area. Kevin Hahn, who moved to St. Louis a year a go and is producing the festival, agrees. You can see for yourself at the Fifth Annual Compass Improv Festival, with shows at the Improv Shop in the Grove, October 19 -- 20. If you really enjoy the festival, check out the shop's classes for adults at every level from beginners to seasoned artists.
Variety, the children's charity of St. Louis, presents its annual all-abilities welcome Variety Children's Theatre production Thursday, October 19 through Sunday, October 22. For its ninth production, the cast goes "off to see the Wizard" with the colorful, musical adventure The Wizard of Oz. As is the standard for the company's productions, a group of talented kids with special needs are featured in the show, accompanied by a full orchestra and local professional actors, artists, and crew. 
The Variety Children's Theatre brings the beloved story of Dorothy and her spunky dog Toto to life in a heartwarming production. We join along as they take a trip "over the rainbow" and into a world filled with new friends and important lessons. The show's positive, "yes, I can" attitude and uplifting tone will make you smile as surely as the memorable songs will keep you humming all the way home. Variety's production of [The Wizard of Oz is on stage at the Touhill Performing Arts Center on the UMSL campus, with six performances scheduled over four days.
Continuing this weekend: 
If you're in the mood for murderous stories and haunting tales, you'll want to catch the Repertory Theater of St. Louis' first ever production of William Shakespeare's Hamlet, running through November 5. Arguably one of the Bard's greatest plays, the dark story tells of lust, murder, and revenge among Danish royalty.
Get into the Halloween spirit in a bold but comic way with Emery Entertainment's production of Evil Dead the Musical, running through October 22 at the Grandel Theater. The fast-paced, tongue-in-cheek musical, based on the popular movie franchise, delivers all the cheesy puns and blood-spattered mess of the films and there's seating in the "splatter zone" for the most adventurous theatergoers.
Take Two Productions presents its interpretation of the popular musical Next to Normal. The contemporary story effectively explores how a typical suburban family copes with the ups, downs, and crises of living with someone suffering from mental illness. The quirky, memorable musical, in performance through October 21, is raw and realistic at times, but never without heart or a caring. Even in its darkest moments, there's a thin ray of light and a hopeful perspective lurking.
Insight Theater Company brings Sherlock Holmes and his loyal companion Dr. Watson to life in Tony award-winning playwright Ken Ludwig's comic mystery Baskerville: A Sherlock Holmes Mystery, running through October 29. John O'Hagan and Ken Coffield are extra clever, amiable, and delightfully engaging, while Elliot Auch, Ed Reggi and Gwen Wotawa create a wonderful ensemble, with each showing theatrical flexibility and sharp comic timing in multiple roles. 
Clayton Community Theatre continues with their run of August Wilson's Two Trains Running, a beautifully reconstructed snapshot of life in a black neighborhood in Pittsburgh, circa 1969. Jobs are scarce and gentrification is taking over, pushing out the neighborhood's poor and working class residents. As they struggle to hang on, the group of regulars at Memphis Lee's diner takes refuge from a weary world, grab coffee and a bite to eat, and find solace in familiar company.
Stray Dog Theatre presents Spring Awakening, a bold coming of age tale set among a deeply private religious community. Directed by Justin Been, and delivered with a rebellious rock and roll score, the story follows a group of friends through the trials of adolescence. The musical, running through October 21, features adult themes and subject matter and is intended for mature audiences.
Upstream Theater presents Sweet Revenge, a sympathetic satire in performance through October 22, at the Kranzberg Arts Center. Considered the "finest Polish comedy ever written," the story, directed by Philip Boehm, is told from the perspective of an amateur St. Louis Polish immigrant theater troupe in the 1930s. 
Tuesdays with Morrie is an adaptation of Mitch Albom's memoir about reconnecting with his professor, mentor and friend and saying goodbye. What begins as a one-off visit turns into weekly lessons on life in the New Jewish Theatre's production of the heartwarming story continuing through October 22. 
New Line Theatre amps up the gothic rage with the St. Louis premier of Lizzie, a rock opera running through October 21, that's loud, rude, and a bit nasty. The show is blistering and powerful, filled with a punk rock ethos and riot grrrl rage as well as an outstanding cast featuring Anna Skidis Vargas, Kimi Short, Larissa White, and Marcy Ann Wiegert. 
Related Articles