Theatre Reviews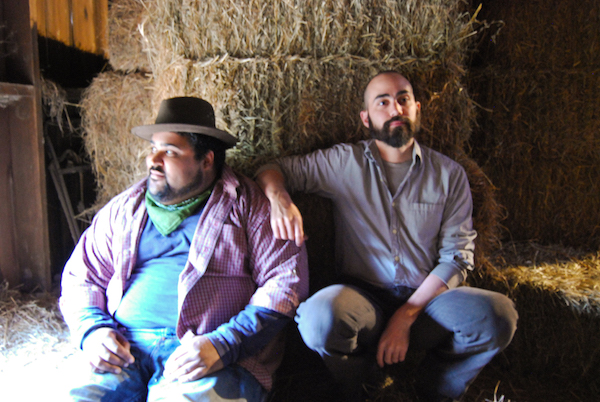 In Performance: 'Of Mice and Men' and 'Stones in His Pockets' tell two very different stories centered on the friendships between men
Fall has swept in to St. Louis bringing cold nights and a distinct lack of outdoor activities. That makes now the perfect time to stay warm in the theater. This week's In Performance feature previews two shows constructed around a friendship between two men. In each story the men face tough economies and scarce jobs, but their resulting tales are strikingly different and uniquely appealing.
Slightly Askew Theatre Ensemble brings John Steinbeck's Of Mice and Men to life in an interpretation that shifts the perspective forward to reflect contemporary America. The production took off after actor Carl Overly, Jr. dreamed that he was Lennie and Adam Flores was George in a staging of the play. SATE producers Ellie Schwetye and Rachel Tibbets immediately recognized the prophetic nature of Overly's vision, and then recruited director Jacqueline Thompson to shape and guide the show.
Steinbeck's haunting story introduces us to George and Lennie, two farm workers who dream of a life far away from fields filled with migrant labor. Though they come from different backgrounds and possess very different skills and abilities, the two form a close friendship, with George doing his best to keep the sometimes difficult Lennie calm and out of trouble. Their bond is tested when events lead them down an ominous, slippery slope.
For their production, the team re-imagined the show to more accurately portray contemporary migrant workers. Thompson notes "exploring new given circumstances as it relates to color-ism, identity, and each character's hidden truths gives every artist working on this production a different approach to the story" while remaining true to the integrity of the classic. Flores, Overly, Jr., and the rest of the cast eagerly embraced the approach. 
"The blood, sweat, and tears that planted the seeds of this country have always been diverse," Flores notes. "In today's climate it's essential that varying backgrounds examine the things that are integral to our American consciousness," he continues. The greatness we associate with the past "is now embodied by populations very different than those most often portrayed as 'heroes' on stage, and that's the real beauty of this particular production." 
First published in 1937 as a novella, the realistic modern cast provides a fresh point of view on a subject that remains relevant. While some may be startled by the diversity, the eloquence and tragic beauty of the tale is just as powerful, effecting, and resonant. "Although Lennie meets an untimely end," Overly offers, "his last moments are of hope and happiness, which is something I think we all should strive to have in our everyday lives." Slightly Askew Theatre Ensemble's Of Mice and Men runs Wednesdays through Saturdays, through November 18. 
The West End Players Guild takes a more humorous tack in its presentation of male friendship with the Irish comedy Stones in His Pocket. A Hollywood film company has taken over a tiny village in Ireland's County Kerry to make The Quiet Valley, an "Irish romance" in the mode of The Quiet Man. The audience follows extras Jake and Charlie as they submit to, mock, and sometimes rebel against Hollywood and the egos involved in the production. As director Steve Callahan enthuses, the play set in the 1990s "is an absolute gem of a show" and features "strong performances by Jason Meyers and Jared Sanz-Agero, who play a combined 13 roles!" 
Because the two play all the roles, Meyers notes that one key challenge is shifting characters on the spot. "There's no time to get into the right head space or say a key phrase to get the speech pattern down," he notes. "It all has to happen inside my head in full view of the audience in the blink of an eye." Meyers and Sanz-Agero found the rehearsal process to be mentally and physically taxing -- one of the toughest shows they've ever done -- but well worth the effort.
Callahan was immediately drawn to Marie Jones' script and is delighted to be directing. "The old epics were sung by a one bard alone, and they were gripping stories," Callahan artfully offers in summation. "Stones in His Pockets so convinces me that a tale can be wonderfully enacted by only two actors. The utterly simple theatricality of this play allows us to see deeply and truly into the very real people in this small Irish world." See for yourself through November 19, at West End Players Guild.
Continuing this weekend: 
YoungLiars amps ups the blood letting and body parts with Titus Androgynous, a comic interpretation of William Shakespeare's Titus Andronicus, running through November 11, at the Centene Center for the Arts. The story tells of the Roman general's defeat of the Goths and subsequent bitterly personal feud with the scheming Goth queen Tamora. Under Chuck Harper's direction, with songs by Paul Cereghino that push the exposition and compress the timeline, the farce is constant and bloody good. 
Steven Woolf directs Susan Louise O'Connor and Joneal Joplin in the surprisingly intimate and heartwarming Heisenberg, in performance at the Rep Studio through November 12. Georgie, an odd and impulsive woman, briefly engages Alex, an older gentleman. She's brash and crass and outspoken, he's of a more subdued ilk. The unexpected start to their relationship turns to conversation, and the two being an awkward friendship that blossoms into something odd but authentic.
As always, check out the KDHX Calendars for a listing of community art, music, and performance events! 
Related Articles