Theatre Reviews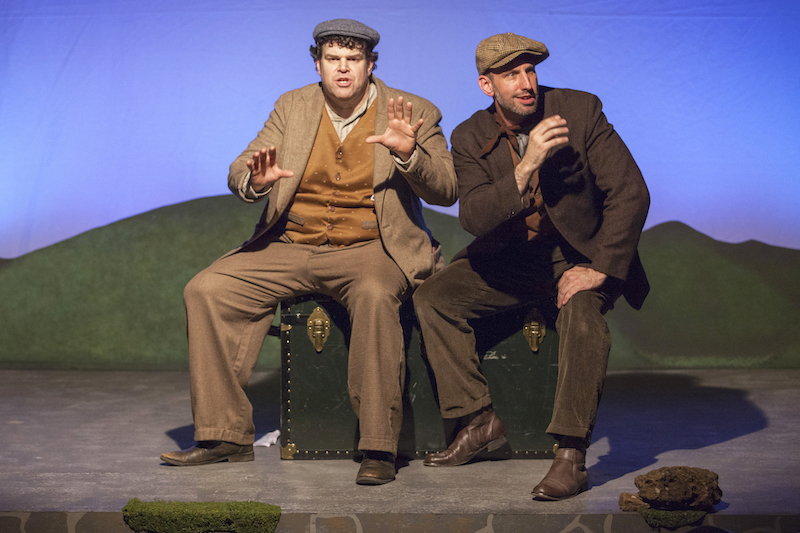 'Stones in His Pockets' is a pleasant Irish tale of hope and loss mixed with laughter and pints
West End Players Guild successfully transports audiences to a small, dying village in Ireland's County Kerry where the arrival of a major studio film crew offers opportunity and disappointment in nearly equal measure. Marie Jones' comic and insightful Stones in His Pocket lightly skewers the Hollywood movie machine while offering a humorous look at the village residents caught up in the excitement. The local extras jockey to get noticed by the director, producers, or at least the comely leading lady. Many of them harbor hopes of being "discovered" and offered an opportunity to move to the States and seek stardom, or at least steady employment, in the movie business.
The story is centered around two of the extras, Jake a local resident who is related to almost everyone else in town, and Charlie, an extra from another small Irish town. Like most of the town, Jake struggles to find work. Unlike the others, he's already lived in America and recently returned home a bit jaded and disillusioned. After a movie rental chain forced the closure of his small business, Charlie took a chance, packed up his tent and few remaining belongings, and came to the small town looking for work. He hopes that, as an extra, he can get close enough to someone in the show to pass along a script he's written and kick start a new career. 
The engagingly light and mostly humorous tale introduces us to the starlet, director, production leads, and a number of extras and townspeople. But it is the friendship that blossoms between Jake and Charlie that anchors the show and grabs audience sympathy. As Jake and Charlie, Jason Meyers and Jared Sanz-Agero have good chemistry and their friendship feels organic and genuine. Since the two men also play the other dozen or so characters in the quick-paced show, excellent transitions, sharp timing and reactions, and the ability to create clearly distinguished characters are equally important skills. Meyers and Sanz-Agero easily prove they are up to the task.
In this respect, director Steve Callahan, dialect coach Richard Lewis, and choreographer Cindy Duggan are also to be commended for their contributions. The show moves crisply, the transitions and accents are almost uniformly clear, and the exchanges between the men feel natural. Callahan and stage manager Bradley Rohlf keep their eyes on every detail, helping Meyers and Sanz-Agero to convincingly convey each role. While some of the characterizations are less interesting than others, and the pace occasionally lags just a tad, Meyers and Sanz-Agero ensure each is distinct and individual, sometimes through small actions -- a hand on a hip, a tilt of the head, unique gestures, or donning a different cap.
Tracy Newcomb provides an effectively simple set design and costume pieces that can be quickly added or removed to indicate certain characters. Nathan Schroeder's lights and Chuck Lavazzi's sound are similarly complimentary without distracting from the story or action. The focus is squarely on the storytelling and the approach is satisfying, keeping the play active and engaging. The best example of this comes through as each actor transitions from one character to the next. Meyers and Sanz-Agero remain committed to their exiting character as they move away from the scene, and then react to the transition as the new character while they move into the next bit. Though difficult to accurately describe, the small adjustments and subtle acknowledgements go a long way in defining each role and scene. 
West End Players Guild's production of Stones in His Pockets, running through November 19, 2017, is a smartly constructed production, with a humorous story that touches on socioeconomic disparity and the lack of opportunity that often dooms rural communities, no matter where on the globe that small town may be. Though not a masterpiece, the show is compelling and entertaining, with a clear storyline, strong direction, and inspired, thoroughly engaging performances from Meyers and Sanz-Agero.
Related Articles