KDHX Q & A
Inside KDHX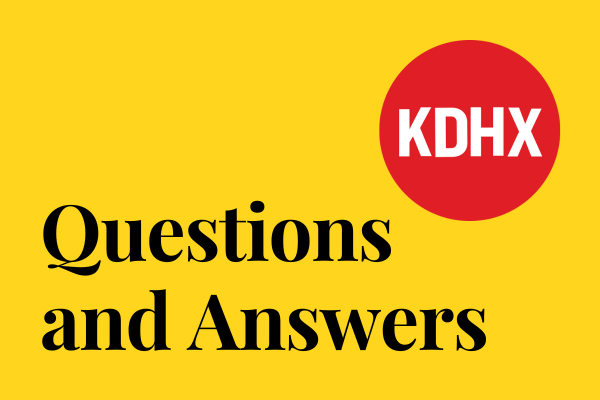 How is KDHX doing financially?
KDHX has had a special focus on organizational financial health since 2015. In that time, KDHX has cleared over $2M of debt, established a cash reserve, had 6 "clean" annual federal audits, and invested resources back into radio programming. It is the fiduciary responsibility of the executive director and board to ensure the organization is financially healthy. KDHX went through a period of difficult financial times that called for direct action to re-establish financial health.
---
Can I see KDHX's financial statements? 
KDHX's financial reports are made public on our website. Our annual audited financial statements and IRS 990 tax forms from the four years prior are posted.
---
Why did KDHX move from the building on Magnolia? 
KDHX moved from 3504 Magnolia to 3524 Washington Ave in December of 2013. Magnolia had been the home of KDHX for more than 20 years. KDHX moved for several reasons.
---
What happened to The Stage?
The Stage at KDHX is no longer a venue operated by KDHX. KDHX owns the building and leases the first floor, which contains a venue and bar, to Kranzberg Arts Foundation (KAF), which programs and staffs the space, now called Central Stage. There are two main reasons that KDHX no longer programs The Stage.
---
What happened to the Folk School? 
The Folk School, as a full-fledged music school, is no longer a program of KDHX. There are a few reasons for this.
---
When did Kelly Wells become Executive Director?
Kelly Wells has served as executive director of KDHX since September 2016. As executive director, Kelly works to cultivate the growth and transformation of KDHX to be people-centered, connected, and clear about collective vision and values.
---
How much money does KDHX spend on consultants?
KDHX partners with consultants in three ways. For specific projects like strategic planning. For expert guidance around specific priorities like building anti-racist capacity. For human resources support. In 2022, KDHX spent less than 1% of its operating budget on consultants.
---
Why does KDHX use 3rd party facilitators for difficult conversations?
KDHX began partnering with the Conflict Resolution Center (CRC) of St. Louis in 2021. CRC is a nonprofit dedicated to helping the St. Louis community resolve conflicts and disputes more peacefully. KDHX established the partnership for a variety of reasons.
---
What was the Station Renewal Project?
In 2007, KDHX received a grant from the Corporation for Public Broadcasting (CPB). CPB initiated a two-phase Station Renewal Project to assist a limited number of public radio stations that were considered "at risk" stations because they were not meeting CPB expectations for listenership or financial support from listeners. KDHX fell into this category and was at risk of losing CPB funding. KDHX applied for and was granted a Station Renewal Project Grant, which was a two-year, $234,000 capacity-building grant.
---
Why doesn't KDHX use the term "member"?
KDHX promotes inclusivity. KDHX has donors and supporters rather than members because at KDHX, the amount of money or the amount of time a partner can contribute is not the only measurement of someone's investment in or commitment to KDHX nor will it have undue influence on the direction of the station.
---
What benefits do Donors receive? 
A financial gift to KDHX ensures independent programming is available for all listeners when tuning into 88.1 FM or KDHX.org. Additionally, every donor at KDHX is a part of the Fan Club. The Fan Club is a monthly email that connects donors to music discovery by highlighting songs and videos recorded at KDHX Studios.
---
What is Community-Centric Fundraising? 
In the last several years, KDHX has adopted a new model of fundraising known as Community-Centric Fundraising (CCF). Community-Centric Fundraising is a fundraising model grounded in equity and social justice. The ten core principles of CCF serve as a starting point for organizations to begin their CCF journey. KDHX is adapting the core principles of CCF to reflect how they show up at KDHX.
---
What is the process for adding new members to the board of directors?
Board members are appointed by the board or elected by the associate members (active volunteers) of KDHX. The Board maintains Board Expectations to guide the board's work and to consider new board members. The Board regularly reviews the Board Expectations to ensure that they serve the needs of the organization and its commitments to increased board diversity.