KDHX Presents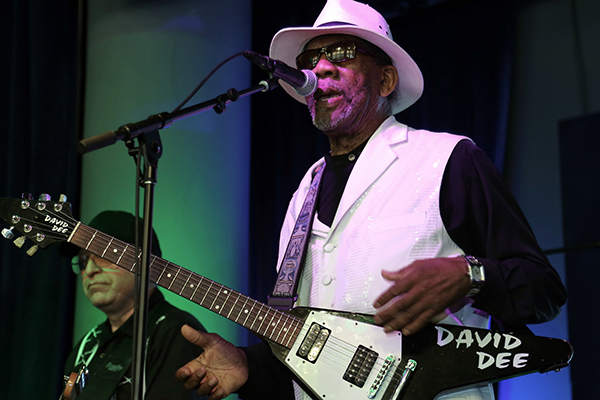 Listen Live on Friday: David Dee and The Hot Tracks
Written by

KDHX
KDHX is excited to announce David Dee and The Hot Tracks as the Listen Live on Friday artist for September!
Join us on Friday, September 20 at Noon at The Stage at KDHX for a special behind-the-scenes look at a multimedia live production.
The performance is FREE and open to the public!
The first 20 minutes of the performance will be broadcast live on 88.1 FM and will be featured on The Rhythm Section with Andy Coco. The on-air broadcast will include three songs and an artist interview, hosted by The Soul Selector Papa Ray.
Those in the audience at the Stage will be treated to a second set of music after the live broadcast concludes. The entire performance will be streamed live on the KDHX YouTube page. 
More details on the performance can be found here.
Story photo by KDHX Volunteer Photographer Bill Motchan. 
From the artist:
David Dee and the Hot Tracks
Though he was born in Greenwood Mississippi, David moved to East St. Louis with his family as an infant. He began singing with a spiritual group at the age of 12. When he reached the age of 16, he moved to Chicago and in 1963 after a stint in the military, returned to East St. Louis to form his first musical group, David and the Temptations. Following the break-up of the group, he free-lanced as a singer for other groups such as Clyde Jones, Walter Rice, Wahtachie and others.
David has released numerous CDs, which include a substantial body of original work, perhaps most notably his hit record "Going Fishing", which colorfully portrays the consequences of neglecting a spouse. It has been suitably described as ST. Louis blues anthem.
Considered by many to be St. Louis's reigning blues king, David Dee has earned the title of one of his original standards, "Workin Blues Man". The moniker embodies the various roles of bandleader, song writer, guitarist, entertainer, and singer that has been cultivated through 40 plus years of travels, recording and performing. From Parisian Hotels to East St. Louis VFW halls to festivals in Amsterdam, his performances have delighted just about every type of audience imaginable.
###
Listen Live at KDHX combines KDHX's unique multi-platform capabilities to highlight local and national musicians both on the airwaves and through live performance and is made possible through your support!
If you are interested in contributing to Listen Live at KDHX, please check out all of the details and the giving levels at Support.KDHX.org.