KDHX Presents Listen Live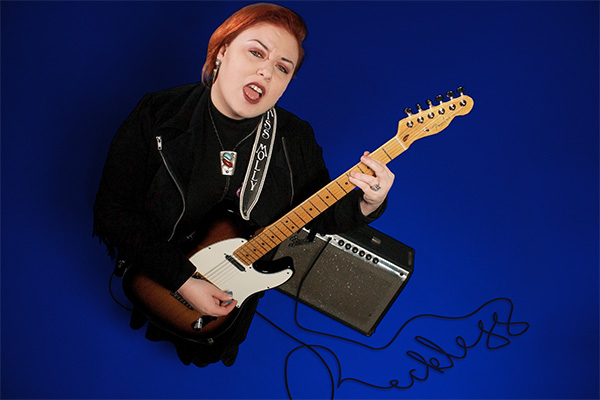 Listen Live Online 12/1/20 - Featuring Miss Molly Simms
Written by

KDHX
KDHX is proud to present Listen Live featuring Miss Molly Simms.
Tune in to the KDHX Facebook page Tuesday, December 1 at 7:20 PM to watch the live video performance!
The first 20 minutes of the event will be broadcast live on the air at 88.1 FM on Wax Lyrical with Caron. The entire 40-minute session will air live on Facebook.
Listen Live is sponsored by the Missouri History Museum.
From the artist:
Miss Molly Simms came to local prominence as the leader of Bible Belt Sinners, a fun and flashy Rockabilly band; but Simms' solo work as heard on Revenants in 2012, One Way Ticket in 2015, and False Success in 2017 (Gaslight) showcased Simms with a wider stylistic range. Now, with the maturity evidenced on her fourth release Reckless (Blue Lotus), Miss Molly is poised to break out as an entirely different artist.
The album's 11 tracks feature Mark Ortmann (Bottle Rockets, courtesy of Bloodshot Records) on drums, and various local artists like Neil C. Luke (Old Souls Revival) and Allie Vogler (River Kittens) add to it's flavor. It's lush rounded vibey sound speaks for itself and is cultivated largely by Simms songwriting – but guided by the soulful quality and thoughtful arrangements of Zac Minor's saxophone and the horn section.
The album is multi-faceted and makes it hard to pigeon hole Miss Molly into just one genre. Opening track "Red Brick Town" is a melodic but burning garage rock tune, which lyrically describes a post-apocalyptic scene but on a deeper level is about the wreckage left behind from a broken relationship (a common theme for Simms), but songs like "Complicated Broken People" (also featured on the Saint Louis Blues Society 18 in 18) uses three part horns, background vocals and fluid breaks to paint glossy strokes of Saint Louis soul across a canvas of Americana. By the time the album reaches it's intimate last track, you'll find Molly with a softer approach not often heard on the fitting end to the album, "Goodbye to You". But, even as you wind down with this track, you will leave you wanting more. With a driven bridge that rivals it's soft and sweet chorus and a lively sax solo, the song threatens to be as powerful as the album's single itself.
"Working on this album was an entirely different experience than anything else I have released", said Molly. "Some of these songs were just ideas or 'throwaway songs' I've had for years but had resigned myself to thinking they were unusable or somehow not complete ideas. But working with Paul (Paul Niehaus IV, Blue Lotus) allowed these songs to come to fruition and I truly believe this is my best work. The single, 'Reckless', was drafted halfway through completing the record. We literally finished writing the song during the recording of the song."
Reckless was officially released in August of 2020.
—————————————-
"Miss Molly Simms reminds us she's not your usual singer/songwriter, softly expressing lament and regret. Her music has way too much power and attitude to be relegated to a corner." —Best Singer Songwriter, The Riverfront Times (2016)
"Miss Molly Simms can sweep the floor with tender ruminations on loves lost and quiet yearning (along the lines of Lucinda Williams), but not before setting the situation straight with a few doses of hard-earned sass and voodoo bile." —Fred Friction