KDHX Presents Listen Live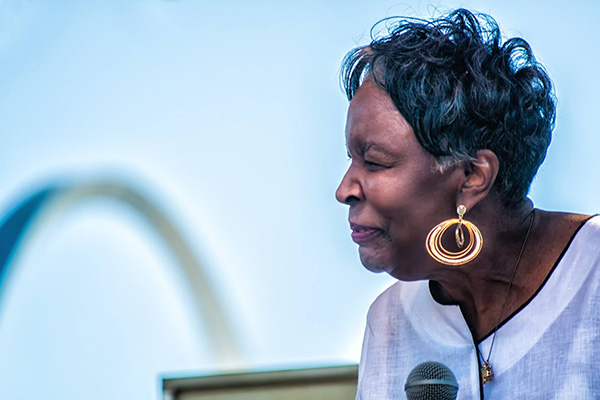 KDHX Presents Listen Live Featuring Uvee Hayes - 4/13/21
Written by

KDHX
KDHX Presents Listen Live featuring Uvee Hayes
Join us on Tuesday, April 13 at 7:20 PM ct for Listen Live featuring Uvee Hayes. This online event will stream live on the KDHX YouTube page at YouTube.com/KDHX with a portion also broadcasting live on 88.1FM with Caron of Wax Lyrical.
Sponsored by Missouri History Museum.
---
 From The Artist:
Soul music represents true facts of life, inspiration, feelings and understanding, and Uvee Hayes' twenty-plus years as a recording artist has left thousands of fans and listeners delighted with her interpretations of her repertoire that includes everything from Rhythm and Blues, Soul, and Torchy Love Songs to the Delta Blues. She has a reputation of being a crowd pleaser and the consummate professional. 
Uvee Hayes combines her classic blues style with an urban edge, and with deep gripping and captivating lyrics. She has recorded more than nine albums, cassettes and CD's, with some of the worlds finest musicians, including Tom Tom Washington, Otis Clay, The Emotions, Theresa Davis, Oliver Sain, Stevie Wonder, Luther Ingram, The Phoenix Horns, Keith Dodier, John May, Rich McDonough and many others. 
She has appeared and performed on shows with Bobby Rush, Tyrone Davis, Ike Turner, Little Milton Campbell, Oliver Sain, Syl Johnson, Clifton Davis and countless artists and musicians around the country.
Previous CD's, "There'll Come a Time" and 'Play Something Pretty' were favorites in St. Louis, Chicago, Kansas City and Columbia, Missouri, throughout the South  and in the United Kingdom and Far East.. 'True Confessions' is still a huge seller as her current CD "In the Mood".
Uvee released a very popular CD on April 7, 2017 titled 'Nobody but You".  In June, 2018, Uvee Hayes released her CD 'From A Woman's Point of View" and August 2018, Uvee Hayes released he current music video and her latest single 'Basement Party". 
Her range in the interpretation of material is remarkable, destined to reach a wide audience without compromising the stylishness and technique that she has created over the many years that he has been in the music industry. 
Uvee understands that the blues have many meanings, and some blues songs often grasp the theme of love or the relationship between a man and a woman and Uvee interprets and delivers them elegantly, with a superb and delicate sense of melody, blending effortlessly and combining with her creative energy. It establishes a very sunny and warm atmosphere for the listener that is concentrated in a positive way.
Uvee Hayes shows an exceptional natural capacity of creative and original work, along with strong individuality and imagination. She is not only unique and innovative, but she excels in vocals and lyrics. 
Uvee Hayes: Charming, beautiful and talented and a stellar performer.  
---
"When she's not on stage, Uvee Hayes has the most unassuming presence. She spends much more time listening than talking, Her speaking voice barely registers above a whisper. What gives her away as a performer is her eyes. She gives her undivided attention and engages in a manner that forms a deep connection." 
Kenya Vaughn - The St. Louis American
---