Articles 2
KDHX Volunteer Spotlight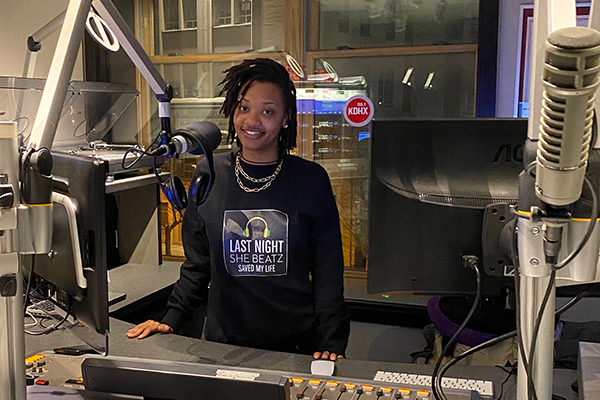 KDHX Volunteer Spotlight: DJ sheBEATZ
By Ronnie Wisdom
KDHX Volunteer Spotlight: DJ sheBEATZ
DJ sheBEATZ
She HEALz Radio
Thursdays: 4:00pm-7:00pm
"She HEALz Radio is all about calming you down from your day, reminding you that you are human and you're capable of experiencing peace and joy at any given moment. The purpose of She HEALz Radio is to "raise the frequency of St. Louis, one beat per minute."
DJ sheBEATZ, KDHX volunteer and host of She HEALz Radio, sends healing frequencies through the airwaves and just might help heal what ails you.
sheBEATZ has created a cottage industry of opportunity, one which also serves as a means of helping others. Astronomy, chakras (7 energy centers of the body), sage, stones, card reading, energy centers and foods beneficial to body and mind are elements of the SheHealz holistic healing style. sheBEATZ is also a recently certified yoga instructor.  She has the ability to play music that makes people dance and she has an aura that draws people to tell her their problems. This combination of sheBEATZ's personality and her ability to spin music that taps into the frequencies of our wellbeing is a powerful combination in her drive to promote spiritual and soulful healing. 
"I want to help people find purpose,'' says sheBEATZ. "I am happy to be doing these things and taking big leaps of faith."
Becoming a DJ, one who specializes in healing arts, was a natural step in sheBeatz's plan and her grand experiment. Her history, education, dreams and ideas all seem to be aligning at just the right time — now.   
Born and raised in the St. Louis area, sheBEATZ grew up in Pine Lawn, MO and attended school at Ascension-Saint Paul, Corpus Christi and Central Visual and Performing Arts High School. She has an MA in communications and promotions from Lindenwood University and an undergrad degree from the University of Missouri, Columbia, where she studied communications and sociology and minored in psychology. Media studies, scriptwriting, audio editing and prior radio experience with a stint as a "weather girl" are more pieces of the sheBEATZ story.  
She has a long history with the arts and recalls performing on stage since she was 5 or 6 years old. She credits her mother with introducing her to ballet, tap and voice lessons. Her exposure to music, recording and creating mixtapes and burning CDs come via her father. 
Of the many mixes heard while growing up, sheBEATZ says, she "was always thinking how to do it better." That drive to do it better, along with inspiration from the artists that got her through childhood — Aaliyah, Missy Elliott, Timbaland, Ginuwine, Pink and the St. Lunatics — prompted sheBEATZ to make her own well-received mix CDs. And with that, the essence of sheBEATZ the DJ was born. 
As for finding a home on the radio, sheBEATZ was cold-called by none other than KDHX legacy DJ, The Time Traveler G.Wiz. "Wiz called and asked if I would be interested in a show on KDHX", she recalls. 
"Trying to keep the faith and do what feels right," is a strong theme in her work. Connecting with people sonically and holistically is a means of "tapping into her gifts" and doing something that aligns and intersects with her interests and a meaningful life, she says.
 "Picking up on people's energy, picking up on that healing power of music and words," she adds, describing a foundation of her DJ style.
For someone who began to DJ as an experiment, one could say it was an experiment of success. From her early years on Gemini turntables in the mid 2000s and her apprenticeship with a DJ organization, to her strategic planning and multifaceted promotion, sheBEATZ has spread her DJ services broadly. DJ residencies in Las Vegas,  a one-time DJ gig led to a 2019 tour with 'Trap N Paint,' where sheBEATZ performed throughout the Midwest and East Coast. Among cities on the tour: Kansas City, Austin, Atlanta, Chicago, Philadelphia Washington, DC. She most enjoyed DJ sets in The Bronx and Brooklyn.
As sheBEATZ reflects on her journey, she speaks of "having the courage to let go of something negative, to do what feels right in your heart, and promote something meaningful." If listener feedback is any testimony, sheBEATZ is doing just that, with a voice and a show that have been called both "relaxing and reassuring to listeners."  
"Whatever message comes, I speak on it and play music that relates to that message," she says. And "in the moment" when she feels it, sheBEATZ spins a well rounded mix of songs and styles: rhythm and blues, rock and roll, soul, hip hop, and house are all represented in her most recent playlist. 
When not "raising the frequency of St. Louis one beat per minute" and "dropping gems of positive affirmations" on "Therapy Thursdays'", sheBEATZ is also a recent first-time homeowner who enjoys movies, being outside in nature, her role as a great auntie and sharing a condo with her Shi Tzu named Prince Leo Brown. Be sure to look for the She HEALz social media profile to learn more. 
First record ever bought?
Country Grammar, Nelly
Favorite newish band?
Been enjoying current house music.
Last live music show attended?
Stephen Marley at the Atomic Cowboy.
Best live act ever seen?
DJ Crookz in Las Vegas. Made it a goal to DJ in Vegas after seeing this set.
Favorite KDHX Program, other than yours?
Sonic Space, Lotsa A Cappella, Traveling at the Speed of Sound. 
DJ sheBEATZ is one of the many volunteer voices who help make KDHX possible.