Music News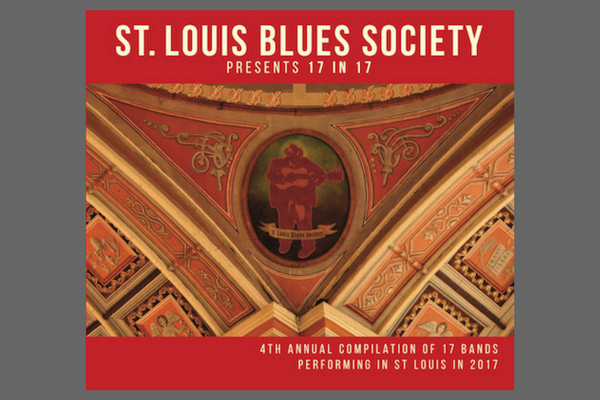 '17 IN 17' has the blues you like
Ten years ago a provocative Post-Dispatch headline asked, "Have the blues 'done left this town'?" The article noted the passing of the Great Migration generation of artists and how the tastes of the digital and hip hop generation had drifted away from the blues and live music. The St. Louis Blues Society's new CD, '17 IN 17', is a rousing response that shouts the blues are alive and well in this town.
An Identity Crisis
Situated halfway between Memphis and Chicago, St. Louis has long suffered an identity crisis around the blues. Bolstered by a vibrant recording industry, Chicago patented its electric blues sound while Memphis nailed down the rockabilly/southern soul scene. They made their music a brand as did New Orleans, Nashville and Austin. St. Louis remained a city loaded with talented musicians without a brand or marketing.
If there was one musician that put a stamp on St. Louis, it was Oliver Sain who opened his Archway Studios in 1965. Over four decades his musical talent and production skills pumped out music and shaped careers. But, when Sain passed away in 2003, Archway closed its doors and the city lost a musical anchor that helped define a part of the St. Louis sound.
It's a tricky business when it comes to defining the "St. Louis blues sound." The influences of the Delta roots music swirls through this city like the crosscurrents of the Mississippi. Our 20th century bookends of musical history Scott Joplin and Chuck Berry used those Delta roots to create ragtime and rock and roll. While Oliver Sain helped define our soul, Henry Townsend and other Delta legends kept our blues true. And, in a city with a longstanding piano tradition, Jazz, Dixieland, barrelhouse and blues always played well with one another.
All those influences thrive in St. Louis without a recording industry defining the sound. Our tradition is of having one of the liveliest local music scenes in the country with many shades of blue. It is that variety that is the spice of St. Louis blues life. If that is our advantage then the trick is to encourage it, expand it and find the ways to share it within our community and with the world.
Raising Visibility
Jeremy Segel-Moss, the STLBS chairperson, likes to tell how "for years we (The Bottoms Up Blues Gang) would be traveling and telling people in the places we played about the amazing music here but we didn't have anything to back it up." The need for a CD of original music by St. Louis artists was obvious and thus sat at the top of his to do list when he was elected as the Society's chairperson in 2013.
The CD idea wasn't just about visibility. It is also an organizing tactic as Segel- Moss points out: "We wanted honest participation with our town's musicians. With the CD they get one song recorded for free and encouragement to make nine more for their own CD." He also says with pride, "it's a statement about who we are ... We stand alone even in the best blues cities in the country. They don't have the depth of talent or the variety that we have here."
The first CD, "14 IN 14", a compilation of recorded songs submitted by musicians, was a learning experience. "Doing it," Segel-Moss says, "was a tough sell ... we encountered lots of 'No's' and apprehension from older artists who had been screwed by record companies. We also found many well known local artists didn't have any original music." That needed to be remedied with the next one.
Building a Box Set
"15 IN 15" took that step by collaborating with local wunderkind Paul Niehaus (STLBS board member), a young well-known local musician who was beginning to stretch his wings as an engineer/producer. Paul and Jeremy shared a vision of "inclusion" or as Paul puts it "seeking an intentional stylistic diversity." He also said a key to his creative process is the ability to make an artist "feel relaxed, comfortable and at ease in the studio." It certainly worked.
"14 IN 14" broke the ice for the STLBS and "15 IN 15" ended up as KDHX's most played album of 2016. The CDs have had broad appeal among the KDHX DJ's because, as Jeremy says with a smile, "with the variety there is something for everyone." The hoped for spin offs also became a reality with Niehaus working with Roland Johnson to produce his first original CD, Imagine This.
By the time "16 IN 16" was in the planning stage artists were calling Jeremy and Paul to see how they could get on it. It turned out to be a delightful gumbo of St. Louis music that garnered heavy airplay and became KDHX's most played album for 2017. It too led to more first timers wanting to do their own album. Gene Jackson's, 1963, was the first and others are working on theirs. It's part of broader local recording trend according to Niehaus, "St. Louis is on a big upswing, it's a pot ready to boil over musically." And, as Segel-Moss notes "it's young and vibrant not just old and vibrant."
With the release of "17 IN 17" the STLBS will have put out four CD's covering 62 songs and artists. Jeremy says: "We have run the numbers. There is the potential for at least two more CD's of original material without repeating any band. The plan is to retire '14 IN 14' after this year and go forward with Blue Lotus in producing two more original CD's. By the end the series STLBS will have 5 CD's. It will be a box set of St. Louis blues to market to the world."
Making 17 IN 17
Teec'a Easby's debut song, "How Do You Like Your Blues?", could easily be the anthem for the big buffet of St. Louis Blues on "17 IN 17". There are plenty of tasty choices including traditional and country blues, a deep soul swing, a slathering of electric, piano and jazzy blues and some straight up spoken word blues.
Like the earlier CD's the songs are determined by the artists and this year has a decidedly soulful thrust. It also features more women artists. Another noticeable trend is the fine piano and keyboard work. Chase Garret is out there workin the ivories on his own song Sailor Man and on Marty Abdullah's cut. Melissa Neal's hot guitar work is complimented by her keyboardist as is Jason David Cooper's song by Jesse James Gannon's Wurlitzer and organ.
What's most impressive is that half the songs are the first original songs any of these artists have ever recorded. It pays to have a musician/engineer like Paul Niehaus who can play almost any an instrument, co-write lyrics and gently push an artist for the best take. It also helps to have Kevin O'Connor who played drums on 4 tracks, co-wrote 2 songs, and did the string arrangement for others. Paul also has friends like singer/songwriter Sean Coray who sat in on Alonzo Townsend's cut.
Socially conscious songs are part of the mix too with Kim Massie, Alonzo Townsend and Nick Pence weighing in on that end. "No surprise there," according to Segel-Moss, "these musicians are making social commentary through original music ... Blues is folk music - telling stories of our lives with no pretense." That's a good way to think about this CD. It tells the truth about St. Louis with the blues you like.
That's it. The table is set. Time to pull up a chair, grab a plate and hit that "17 IN 17" buffet line for a heaping serving of St. Louis blues. Check out the menu:
17 IN 17 - A Blues Buffet
1. Devil's Elbow – "Got Conviction"
Niehaus says the Devil's Elbow Got Conviction is a "gut bucket blues number by an up and coming band that really plays two guitars together well." This is the first original for Mat Wilson and Elliot Sowell who Mat says are "still finding their style." Influenced by old 78's and obscure Chess artists, he says they wrote an "easy rocking shuffle with a cool vibe that kinda swings."
2. Marcell Strong and the Apostles – "I Got to Find My Baby"
This live cut with his band was the first time they ever saw the song. Strong said "I just wanted to get their first impression." Niehaus says the 77-year-old singer is "a living legend delivering southern soul at its finest." From the opening lines you can feel that "little bit of Otis Redding, Wilson Picket, 60's rhythm feel" Strong says he was shooting for.
3. Alonzo Townsend- "A Letter To My City"
This the first original song from the son of the St. Louis's legendary bluesman Henry Townsend. It's a spoken word tune done in what Niehaus calls "a Fat Possum blues style." Alozo says, "I had the idea for a long time but it took five years of Jeremy Segal-Moss poking me to do it ... when it was time to write it came fast and natural." It's a song with a message about the times and city we live in that Townsend says is about "what works and what makes us strong."
4. Kim Massie – "Little Girl Lost"
St. Louis has waited a long time for this one, Kim Massie's first original song. She says "I've had the lyrics and tune in my head for a while." With a lush background arrangement, she uses her beautiful voice in a "bluesy/soul/easy listening style" to softly tell her story. It's a real life one about lost children, drugs and grandparents raising their grandchildren. Kim says "I wrote this song for inspiration and to bring awareness."
5. Chase Garrett – "Sailor Man"
Chase Garrett and his friend Ethan Leinwand have really enlivened the St. Louis piano and swing scene. Most have seen him with Sweetie and the Toothaches. Sailor Man is a solo effort where his voice and keyboard shine in this self-defined "lighthearted tongue-in-cheek number." This slow blues tune is written in the rarely used B natural, "which" Garrett says, "allows me to play like Otis Spann."
6. Teec'a Easby – "How Do You Like Your Blues?"
Folks have taken notice of Easby since she wowed audiences at Big Muddy and the regional IBC with Torrey Casey and the South Side Hustle. Teec'a says her song, co-written with Niehaus, was "inspired by watching an audience respond to blues songs." The collaborative effort with Niehaus, Casey on background vocals and Sean Allen Canan's slide guitar opens with a bit of funk for her "upbeat dancey good times blues" that allows her big voice the space it needs to soar
7. Brian Owens–"Lord Knows (Ain't Personal)"
The opening chords set up a classic old school soul song straight out of Ferguson by Brian Owens. The song is a collaboration between Niehaus, Owens and his 18- year-old son, CJ Mobely who wrote the lyrics. Owens says, "we didn't try to overthink it ... and we got the early 60's soul style with a deep gospel feel in the background vocals."
8. Nick Pence and Joey Glynn – "When a Fellow is Feeling Low"
The opening resonator guitar and clicking bones tell you this is traditional country blues comin at you. Nick says "it's all about the groove with Joey Glynn's bass setting the tone." He says he wanted "to sing with truth and that dealing with race and hate comes down to accountability and taking care of one another."
9. Charisse "Swan" Sauls – "Mistress"
This collaborative first original began with Swan "identifying what notes I liked to sing, trying a minor key and finding a haunting melody." Niehaus and Kevin O'Connor provided the music and Gene Jackson the lyrics. Swan says the song was "personally tough for her" but realizing that "a song is just a role I am playing" allowed her to deliver a Motown soul rendition that fits with her love of Amy Winehouse and Sharon Jones stylings.
10. Jeff Chapman, Brother Jefferson – "Scars"
Cut live in the studio, the opening sax takes you straight to Memphis. Chapman says the song "had been sitting in the cobwebs for a couple of years and it strays a bit from our usual Americana and southern rock blues" This deeply personal soul song has all the elements with Chapmans heartfelt vocals and space for the guitar and sax to tell the story with Chapman. Yes, you can feel the scars.
11.Matt "The Rattlesnake" Lesch – "Rattlin'"
There was a time Matt "didn't feel I was good enough to play the blues – no future." He lay's that notion to rest from the opening electric blues licks of this tune. Paul describes the song as an "energetic straight eighth traditional blues" while Matt says he was just "trying to get a Walkin the Dog feel." This song celebrates his desire "to keep playin the blues forever."
12. Eastsiders Review Band– "What is Love?"
On her first original song drummer and vocalist Alice Monroe delivers what Niehaus calls "meat and potatoes St. Louis soul ... a gem of a track." Monroe says the "lyrics are something I wrote with my sisters' years ago." The delivery features a series of well-placed shifts of between a slower more deliberate pace into a hoppy up tempo style.
13. Marty Abdullah – "You Done Me Wrong"
This recording may be Abdullah's first original song but most know him from a decade with the Soulard Blues Band and now the Rhythm Rockers Band. Marty says he uses a "southern soul/R&B style to tell a true story." Chase Garrett provides a rich piano backing and solo that rolls this upbeat little rockin soul tune along.
14. Jason David Cooper – "A Quiet Man's Dream"
Cooper is a west coast transplant who shared the stage with Johnny Lang when both were teenagers. He moved to St. Louis a few years ago because of his love of the blues and the chance to play regularly. Cooper says his "jazzy swing style tune is a hopeful charming love song." The song shuffles right along with keyboardist Jesse James Gannon complimenting Cooper's jazzy guitar riffs.
15. Annie & The Fur Trappers – "You Break It, You Buy It"
A banjo, washboard and tuba sets up this jaunty upbeat tune. Known for their "traditional jazz blues Dixieland style" Annie says the band "chose to write their first original song in a jump blues style." It was new for them to do a blues in G but "we were quickly able to adjust and decide on our solos." Annie said it also fit because they have been "dabbling some in blues and are going in that direction."
16. Kyle Yardley – "Little Girl"
No mistaking the Chicago blues style here which is what Yardley does so well. He says he often writes songs by telling the band "here's the key, play a shuffle, and then I make it up as I go." That's how this shuffle came to be while playing with Rich McDonough one night. It features two guitars because Rockin' Johnny Burgin, who happened to be staying at Paul's house the day of the recording, agreed to join in the session with Aaron Griffin.
17. Melissa Neels Band – "Cold as Ice"
This is the first recording of a song Neals has been performing for several years. This straight up roadhouse blues number features her Bonnie Raitt inspired guitar work. The piano and guitar are outstanding with their interplay lending it a sweet rocking jazzy feel. Neals agrees and says she is really happy with this "rousing song and the way the piano and guitar solos turned out."
You can purchase the 17 In 17 CD here or you can become a member of the STL Blues Society and get the CD, bimonthly Bluesletter and local discounts as part of the package.
Related Articles