Cabaret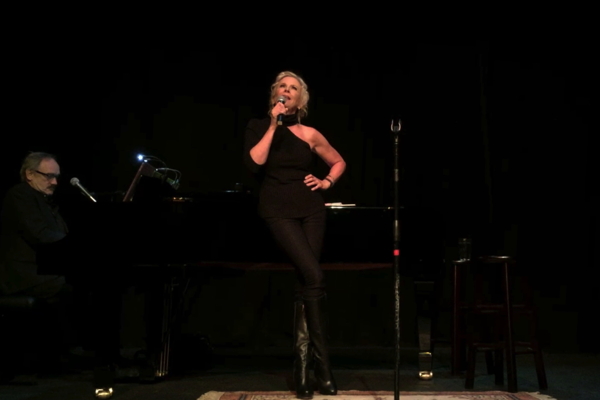 Cabaret perfection with Katie McGrath at the Gaslight Theatre
If you wanted to write a "How to Do Cabaret" textbook, you could easily start with Significant Others, the latest show by former St. Louisan Katie McGrath, which had its local premiere at The Gaslight Cabaret Festival on Friday, November 10. 
With a great song list ranging from Bon Jovi to Cole Porter, perfectly tailored arrangements by Rick Jensen, ideally paced direction by Lina Koutrakos, and Ms. McGrath's powerfully genuine stage presence, this was a show that hit all the right notes, literal and figurative.  
From the moment Ms. McGrath stepped on stage in a sleek basic black outfit that nicely set off her striking blonde hair and silver earrings, she grabbed the audience's attention with the haunting lyrics Steve Porcaro wrote for the Michael Jackson hit "Human Nature": "Looking out / Across the nighttime / The city winks a sleepless eye." By the time she got to "If this town / Is just an apple / Then let me take a bite" there was little doubt that she was singing not just about her new home town of New York City, but about her entire approach to life as well -- a view confirmed by the next song, a giddy run through Frank Loesser's "If I Were a Bell" from Guys and Dolls. As we say over at the Church of the SubGenius, she's not just going to eat that apple, she's gong to eat the hell out of it.
I should pause here to point out that I have known Ms. McGrath for over a decade, going back to when we both attended an early edition of the St. Louis Cabaret Conference. Even then, before experience and training had allowed her to polish her craft, it was obvious that her singing had the immediacy and emotional truth that is at the heart of cabaret performance. No wonder that Gerry Geddes, in a review of the NYC debut of this show, wrote that Ms. McGrath has now "pursued, captured, and pretty much perfected cabaret performance."
The "significant others" of the title, as Ms. McGrath points out, goes back to the original psychological definition of the term as anyone who had a strong influence on one's self-concept. For her that includes not only her current partner Chet (the subject of a charming original song by Ms. McGrath and Alex Rybeck near the end of the show) but also her parents, her many siblings, her favorite babysitter, and even Sen. Kamala Harris, whose pointed questioning of Jeff Sessions she praised with Frank Loesser's "I Believe in You" (from How to Succeed in Business Without Really Trying).
Memories of how her babysitter introduced her and her siblings to the joys of Motown in the 1960s led to an ingenious bit in which Ms. McGrath and Mr. Jensen sang only the backup parts of "Heat Wave" and "Come See About Me" (because only her babysitter could be Diana Ross or Martha Reeves) while she channeled her inner child trying (and failing) to execute the dance moves. That child stayed with us in the next song, Dar Williams's poignant "The Babysitter's Here," which views a failing relationship through the eyes of someone young enough to understand pain, but not yet old enough to understand its source.
Ms. McGrath touched on her family's struggle with alcoholism early on, but did so in a way that not only completely avoided self-pity, but also turned the pain into art with a wistful version of Irving Berlin's "Blue Skies." That led to a story about encountering Irving Berlin himself during a youthful trip to New York City, which in turn served as the basis for Rupert Holmes's "People That You Never Get to Love." It was an example of the solid dramatic structure of Significant Others, in which the experienced hand of Ms. Koutrakos was evident.
The show closed with a little something they didn't get in the Big Apple: James Taylor's "Sweet Baby James" sung in harmony with St. Louis singers Jeff Wright and Dionna Raedeke as a tribute to the late Neal Richardson, whose work as an arranger, music director, and educator enriched the lives of so many here in St. Louis before his own life was tragically cut short by illness earlier this year. It was a moment of true beauty.
Significant Others was, in short, a perfect blend of laughter and tears delivered by a singer who is now a master of her art, riding on Mr. Jensen's impeccably tailored arrangements.  Our loss has been New York City's gain, and it was nice to see Ms. McGrath once again holding forth on her home turf. Let us hope she returns soon.
Significant Others was produced by The Presenters Dolan as part of the fall edition of the Gaslight Cabaret Festival, which concluded on November 11. 
Related Articles