Film Reviews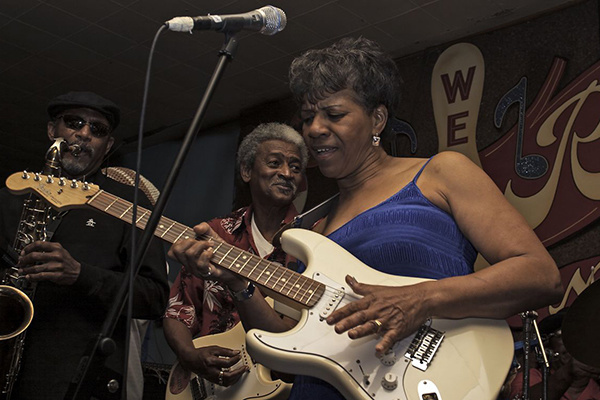 'I Am the Blues' casually celebrates great blues musicians
Like dropping in on old friends, Daniel Cross' I Am the Blues casually celebrates iconic blues musicians. No authoritarian narration and no formal interviews intrude into this leisurely, perfect visit with elderly champions of the blues. Even into their eighties, these men and women express their experiences and emotions lyrically and musically. 
The location matters: from Bentonia, Como, Tutwiler and Mount Bayou, Mississippi, to Lafayette, Louisiana, plus the many juke joints on the Chitlin' Circuit throughout the Delta and Bayou region. Acknowledging this, writer/director Cross begins his salute with cinematographer John Price's camera gliding smoothly through a swamp at water level. A brief voiceover comment describing the feeling of the blues segues into music playing over these introductory shots--a tantalizing invitation to a delightful journey.
Next, and appropriately, at the Blue Front Café in Bentonia, Jimmy "Duck" Holmes explains that he ran his café for forty-three years. We'll also visit the Pool Monkey Lounge, outdoor barbecues, living rooms, churches, and more as individuals calmly and quietly describe the pervasive racism they faced; for example, the railroad tracks that literally divided white from black communities and the curtain that kept the blues band out of sight in one performance so the white audience could enjoy the music but not have to look at the black faces.
But the heart of this wonderful film is just hanging out on the porch with and listening to blues legends play and sing. And can they make music (!!) with guitars, harmonicas, pianos and heavenly voices! They include Jimmy "Duck" Holmes, Bobby Rush, RL Boyce, Lazy Lester, Lil' Buck Sinegal, Henry Gray, and Carol Fran. Barbara Lynn plays her left-hand bass and sings. Little Freddie King -- 81 years old, 326 records, 60 years playing--describes making his first guitar out of a cigar box and a picket fence plank. One asserts, "This guitar's a bible!" and we understand.
The presentation feels effortless, a tribute to Ryan Mullins editing and Cross' design. The only thing wrong with I Am the Blues is that you want more of everything. I Am the Blues screens at Webster University's Winifred Moore auditorium Friday, July 7, through Tuesday, July 11 at 8:00 p.m. 
Related Articles