Film Reviews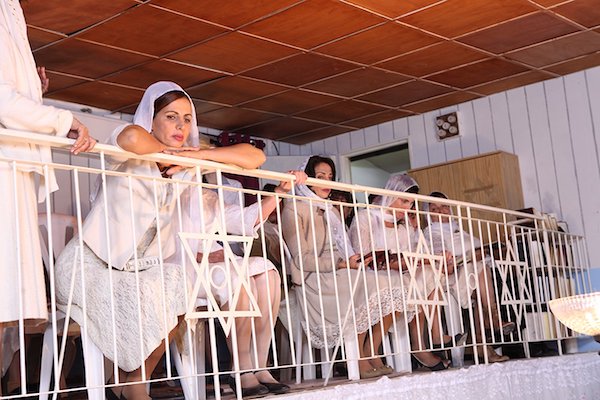 'The Women's Balcony' dramatizes religious conflict in a synagogue 
Crises often reveal the character of all affected and the values thrust into conflict. When the women's balcony accidentally collapses at an orthodox Jerusalem synagogue during a bar mitzvah, that aftermath brings a host of confrontations and revelations. Titled The Women's Balcony for the event igniting this thought-provoking drama, the Sephardic Jewish community confronts several issues.  
The beloved Rabbi Menashe becomes incapacitated by the shock of his injured wife hospitalized in a coma. The young, ultraorthodox Rabbi David comes to the rescue, offering his services guiding the synagogue's restoration -- with the women's balcony replaced by a claustrophobic anteroom -- and with directions for the wives to wear headscarves to show their modesty. Determined to have a balcony, the women raise money that Rabbi David decides he'll use to purchase a Torah scroll. That just won't do.  
A handful of couples participate in the deliberations, masterfully interconnected with diverse personalities enlivening the action and reactions. The superb ensemble of veteran Israeli actors, singers and comedians gives bravura performances. It is a special delight to bask in the snappy dialogue delivered with perfect timing and nuanced humor. The judicious approach to traditions is cleverly and subtly presented. Little details convey respect for ritual as well as reasonable adaptation. Other elements of art direction further separate the dark, more claustrophobic men's world contrasted with the more brightly colored, uncluttered women's one. Cinematographer Ziv Berkovich enhances the visually arresting look of the film with several stunning overhead shots, especially one as women open their umbrellas as they exit a doorway. 
In press notes, screenwriter Shlomit Nehama states, "I wanted to tell the story of the moderate people who are forced to deal with growing religious extremism," adding "the film also offers comfort that religion can be different and can still provide a rational community with compassion and love." Director Emil Ben-Shimon affirms this, noting, "This is a film about brave, strong women . . . full of passion for life." "The Women's Balcony" captures the joy, the vitality, and the issue relevant to many. 
In Hebrew with English subtitles. At Landmark's Plaza Frontenac Cinema.
Related Articles