Film Reviews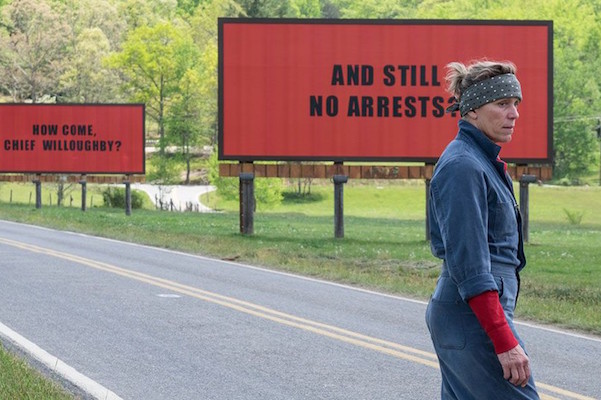 'Three Billboards Outside Ebbing, Missouri' delivers dark, character-driven humor
The title "Three Billboards Outside Ebbing, Missouri" signals the catalyst unleashing the mayhem that follows. On bold red backgrounds, three billboard messages explicitly ask Sheriff William Willoughby why no one has been arrested months after the rape and murder of Angela, the teenage daughter of a grief-stricken Mildred Hayes who channels her all-consuming anger into, in Willoughby's words, a war.     
Like dominos falling and accelerating through a cascade of action and reaction, the plot follows a destructive expression of grief, violence and pain. Mildred is consumed and outraged. And yet, as her ex-husband's too young new girlfriend says, "Anger Begets Anger," something she read on a bookmark, while reading a book about polio or polo. She can't keep them straight and asks, "What's the one with horses?" This gives a hint at the grim humor intermixed with some anguished communication.
The perfect actress to express Mildred's distress is Frances McDormand. Words almost seem extraneous, so powerful is her non-verbal communication, but when the words do come rat-a-tat-tat from her, they are weapons that hit their targets. Wearing a headband as an homage to "The Deer Hunter," she is fierce, frightening and funny, thanks to the amazing writing and directing of Martin McDonagh. He expresses an uncompromised and unique perspective in his less than flattering assessment of human nature, also displayed in his "In Bruges" and "Seven Psychopaths." And yet he includes moments of profound emotion even as he strikes at important topics: domestic abuse, religion, and racism. 
The supporting characters--unique and memorable--are played flawlessly by a dream cast. Woody Harrelson is Sheriff Willoughby; Sam Rockwell is Dixon, the unhinged mommy-boy deputy; Lucas Hedges is Robbie, Mildred's embarrassed son; Peter Dinklage is a friend, and Caleb Landry Jones is Red Welby who mans the outdoor advertising office.   
Carter Burwell's score and Ben Davis' cinematography add masterful technical support. "Three Billboards Outside Ebbing, Missouri" won Toronto Film Festival's People's Choice Award and has racked up eleven British Independent Film Award nominations. "Three Billboards" screens at Landmark's Plaza Frontenac Cinema, the Hi-Pointe Cinema, and other local cinemas. Check local listings.
Related Articles