Theatre Reviews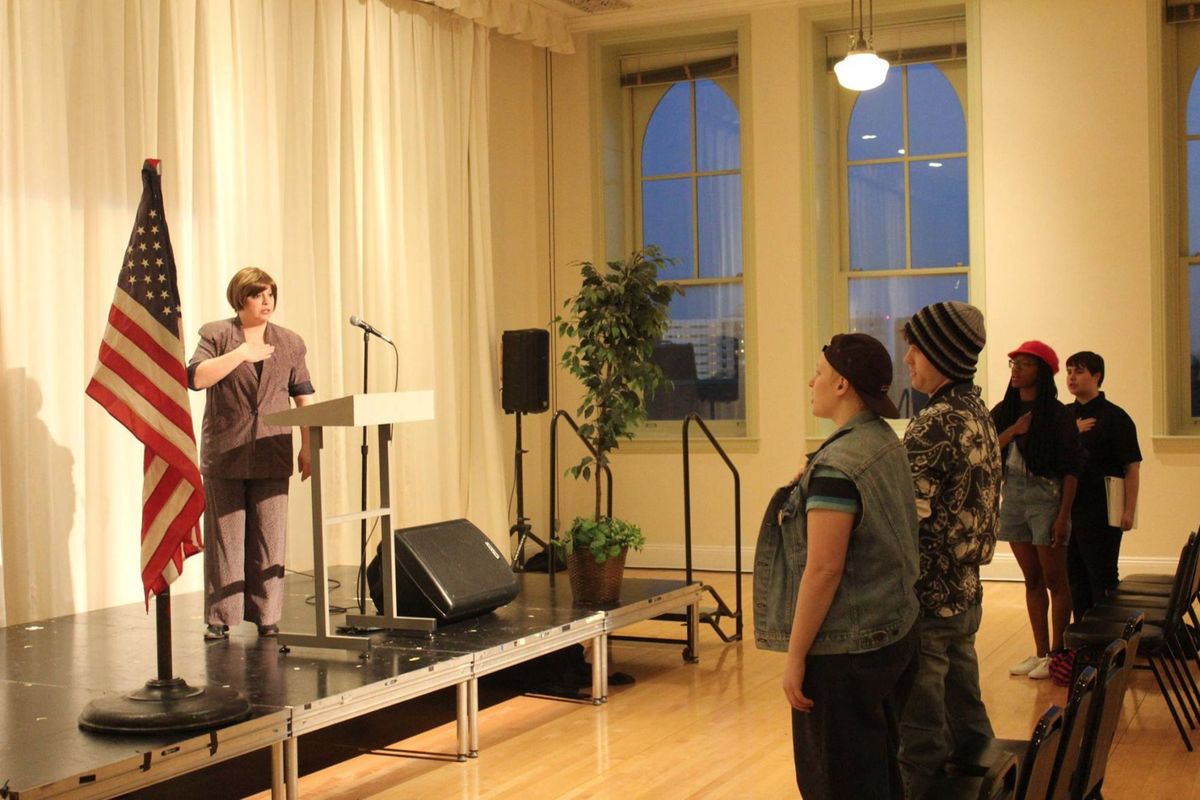 Infusing pure comedy with a serious contemporary undertone helps 'Twelfth Period' stand out among adaptations
Equally Represented Arts presents another thoroughly entertaining and satisfyingly fresh take on a classic script with Twelfth Period (or not another Twelfth Night). The company's reinterpretation of Shakespeare's Twelfth Night is set in a late-90s high school teeming with modern problems, and it "totally" works.
The original story sees twins Viola and Sebastian separated during childhood by a violent storm at sea. Each washes up on the shore of a foreign land. Viola decides to dress in her brother's clothes for safety and quickly becomes part of a love triangle between a Duke, a beautiful and wealthy widow, and Viola's assumed persona. The widow's confidante Malvolio also carries a torch for the woman, but she cares for nothing but mourning her father and brother's deaths. Until she meets the disguised Viola. Comic confusion, important lessons in love and perception, and a happy ending ensue.
Spring forward several centuries and pick up your class schedule, which also assigns your grade level, as you enter the doors of Illyria Preparatory Academy at the start of the year. Upbeat music is playing and students pass each other shouting quick greetings as you make your way into the auditorium for Principal Feste's welcome. During the show, which moves around the reasonably accessible school, you'll meet a host of familiar characters that soon entangle themselves in gossip, romantic speculation, and bullying with real consequences. 
If the show feels more "She's the Man" than Shakespeare, it's done with intent, and the actors fully commit to the concept and script, by director Gabe Taylor and dramaturge Katy Keating. Lines from popular movies are liberally sprinkled into the dialogue, seamlessly connecting to the original with perfect timing. These high school students believably argue, scheme, and flirt in both Shakespearian and contemporary English. 
Keating is vulnerable, eager, and sympathetic as Mal Olio, pining over Erin Renée Roberts' sophisticated Olivia. This adaptation is as much about Mal as Sebastian, and Keating is equal parts hopeful and devastated in the surprising role. Roberts gives Olivia stubborn independence, but she's caring, not callous. Andrew Kuhlman as Toby Belch, Francesca Ferrari as Maria, and Tyson Cole as Andrew Aguecheek are part "Mean Girls," part "Varsity Blues," and always in the moment. The characters are recognizable and fun, you almost want to skip class and drink beer with them on the balcony all day, but their youthful excess finds a tragic target.
Amanda Wales effortlessly guides the story with an engaging persona as Sebastian, smartly complimented by an eager Jonah Walker as Dude Orsino. The two have an easy chemistry, and the scene where we learn the fate of the real Sebastian sneaks up on you with surprising force. Eric Kuhn brings the artist's eye as Valentine. Excluding the intentionally over-the-top Dawson moments, the character is introspective and observant, an understated nod to the theme of outside observer that mirrors popular film. Finally, Anna Skidis Vargas is engaging and touching as multiple teachers, and her recitation of the school's motto -- a well-known quotation from the original Twelfth Night -- is appropriately serious and funny.
ERA's clever appropriation of late 1990's pop culture with a popular classic play is not an entirely new concept. ERA hasn't simply created a mash-up, however. They've added important twists of their own, ones that have currency and immediacy with contemporary audiences. For one thing, Sebastian never arrives and Olivia never falls in love. For another, our sympathies are more aligned with the genuine heartbreak Mal, representing the original Malvolio, feels after being tricked and humiliated in front of the student body. The show also ends on a more somber note than the original, as Vargas sings a haunting, a cappella version of Radiohead's "Creep." 
These changes may disappoint some purists. For me, they serve to underscore the continued relevancy of the themes Shakespeare explored. Add the troubling treatment of the original Malvolio into the mix, and the company's adaptation is, while less upbeat, every bit as interesting a story to behold. Audience members are encouraged to wear comfortable shoes, as you will be moving from class to class during the show. 
Equally Represented Arts thoroughly engaging Twelfth Period, running through May 6, 2017 at the Centene Center in the Grand Arts District, is fun and fresh. Comic pop references and hit songs ensure the jump forward in time works in convincing fashion, but most importantly, the adaptation raises valid and pressing questions in a cleverly articulate interpretation that entertains and sparks conversation. 
Related Articles