Theatre Reviews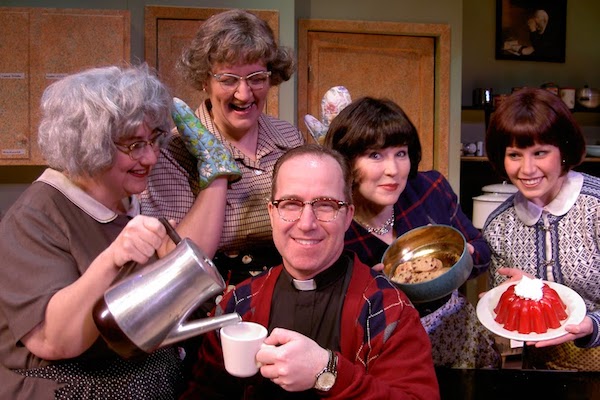 Chatty and filled with spirit, the 'Church Basement Ladies' is a life-affirming slice of Americana pie
Troupe America transforms the Westport Playhouse stage into a 1960s style kitchen with its original, lighthearted, and homespun musical Church Basement Ladies. Overflowing with protestant platitudes, rural wisdom, and more than a touch of "Minnesota nice," the nostalgic show reminds, with gentle humor, that the one constant in life is change.
Self-appointed kitchen manager Mrs. Snustead, played with stubborn charm by Janet Paone, has been the head of the voluntary kitchen staff at the Lutheran church for as long as anyone can remember.  A bit set in her ways, and quick to remind others of tradition and her view of proper behavior, she's overwhelmed by the changes of the '60s. She's joined in the kitchen by Mrs. Gilmerson, a woman with hot flashes and an unlucky husband, played with cherubic enthusiasm by Autumn O'Ryan, and Mrs. Engelson, a spirited woman less upset by change and played with a loving, gracious flair by director Robbie Mancina. 
Mrs. Engelson's daughter Signe, a delightfully upbeat and forward thinking Tara Borman, joins the three in the kitchen when she's home from college in the twin cities -- a location seemingly more loathsome than the fires of hell to Mrs. Snustead. Pastor Gunderson the recently remarried leader of the congregation, played with appropriate decorum and humor by Greg Eiden, frequently joins the women for coffee, sweets, and conversation. There's occasional bickering, and consternation over any break in tradition, but mostly, there's abiding friendship and the comfort of knowing others need you.
The folksy story transpires over the period of a few years and covers all of Minnesota's seasons -- early winter, deep winter, late winter, and eight weeks of spring and summer and the scenes are connected through pleasant songs, some reverent, most humorous. The women's voices are well suited for the layered harmonies and easy melodies and, while no song stands out as a "hit," the tunes are nicely varied and convincingly delivered.
We learn that Mrs. Snustead is a widow and working in the church kitchen is more than just service, it's her connection to the world. Mrs. Gilmerson regales us with tales of her clumsy husband's adventures and accidents with such a cheerful attitude that it almost sounds fun. Even her hot flashes are the source of much laughter. It's also revealed that Mrs. Engelson ran from the church on her wedding day, only to return later to marry a man who better suited her more progressive disposition, through temperament alone, it's easy to see that she's Signe's mom. All the while, the Pastor pops in and out, testing sermon ideas and chatting over coffee.
While change often feels like a threat, the church and its congregation make their way through it all, even the introduction of guitars in the service, as is generally the case. And though Mrs. Snustead is stubbornly resistant, her character is good natured and maternal at heart; eventually, she finds a comfortable way to deal with things that make her uncertain. In a surprising and lovely turn of events, it is she who provides the reassurance and kindness that Signe needs when a serious case of nerves puts her in a tizzy on her wedding day.
The songs range from pleasantly humorous to sweetly reverent and are delivered with lovely harmonies and cute choreography. The basement kitchen of the church is cutely kitschy, filled with linoleum and Formica, though it did bother me that the ladies kept glancing at a clock that never changed time. There are some fun rhythmic moments with kitchen utensils, a malfunctioning furnace, and a multi-purpose deep freeze and the overall tone of the show is delightfully earnest but played for laughs. All in all, the show offers pleasant entertainment that emphasizes nostalgia and positivity over heavy plot or character development.
There's plenty of laughter and joy in Church Basement Ladies, running through October 1, 2017 at the Playhouse at Westport Plaza, but it's delivered with a sense of reality. Much of the music and humor is woven in and out of the everyday trials and tribulations of a rural life that is frequently challenging. While the show will likely appeal most to those raised in the church, its simple message about the strength and support of community lauds the benefits of getting to know your neighbors. With multiple nods to Lutheran liturgy, there's also a strong chord of traditional worship tying the scenes together. Because, if you have faith, you can face any change that comes. Even if you're as stuck in your ways as Mrs. Snustead. 
Related Articles