Theatre Reviews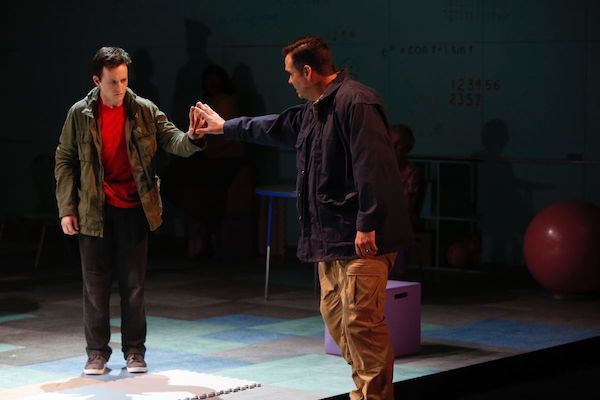 Empathy and self-discovery are at the heart of 'The Curious Incident of the Dog in the Night-Time'
One of the most important gifts of live theater is its ability to transport audiences to a new world or a new way of viewing our current world. In rare moments, theater allows us to enter into the mind and experience of another person so thoroughly that we cannot help but embrace their story. Such is The Curious Incident of the Dog in the Night-Time. The thoughtful adventure succeeds with an ensemble cast that commits fully to the concept and stagecraft that is at once complementary and imaginative.
A precocious boy with mathematical genius, 15-year-old Christopher is also autistic. He dislikes being touched, gets overwhelmed by too much stimulation, and has trouble communicating and connecting with others. His parents love him very much and do their best to help him succeed, which takes a toll on their relationship, though Christopher doesn't see that. Neither does the audience. This genuinely surprising revelation is part of the brilliance and sense of magic that permeates the Repertory Theatre of St. Louis' beautifully staged production.
The story tells how Christopher stumbles upon a dog violently killed in the middle of the night and sleuths out the killer. That's not all Christopher discovers through his investigation, he also learns some hard truths about his mother and father, as well as some surprising abilities of his own. He even manages to befriend an elderly lady in need of company. Though the show unfolds in a rather straightforward manner, the protagonist and his perspective are anything but typical. Director Marcia Milgrom Dodge and the cast faithfully translate Simon Stephens' script, based on the novel by Mark Haddon, to take us into Christopher's worldview. 
A school principal admonishes us to silence our mobile devices and open any hard candies in a stern but firm voice. A flurry of noise and activity surrounds us as the ensemble takes the stage with the enthusiasm of kindergarteners playing dress up. An English children's song plays loudly in the background but, as the song plays on, the melody is heard in reverse, not quite making sense but still recognizable. Christopher enters into this room and is instantly overwhelmed, until the voice of his teacher Siobhan cuts clearly and calmly through the cacophony. Our heart rate calms at the sound of her voice and we can once again focus; Christopher has a similar reaction. 
Nick LaMedica is thoroughly captivating as Christopher. His movements, tone, and expression perfectly translating the internal challenge, the dichotomy of emotional effort and intellectual ease that is Christopher's reality. Jimmy Kieffer and Amy Blackman are heartbreakingly genuine as Christopher's parents, and Kieffer gives a stunningly sympathetic portrayal of a father in a crisis of his own without ever stealing focus. Kathleen Wise is kind and nurturing as Siobhan, the way only the most patient and inspired of teachers can be. The remaining ensemble members seamlessly weave between multiple characters, enhancing the sense of otherworldly through carefully choreographed exchanges.
Dodge does much to transform the show into an adventure as experience felt through Christopher's perspective. The expansive set, designed by Narelle Sissons, is split into two levels, one seeming to represent "reality" and the other mirroring the cognitive brilliance of Christopher's mind. The two occasionally connect, but they never quite merge. The sound design by David Bullard, lighting design by Matthew Richards, and even the costumes by Leon Wiebers emphasize Christopher's state of mind. Purposeful choreography and movement by Milgrom Dodge has clear intention and is visually compelling, and the show has a life force that is energetic, sometimes startling, and curious, much like Christopher himself. 
The award-winning The Curious Incident of the Dog in the Night-Time, in performance at the Rep through October 1, 2017, is a spectacular theater experience. From the opening moment to the gently affective conclusion, we experience the story through Christopher's eyes. Rich with detail and smartly crafted dialogue, his story is heartwarming and life affirming. The cast is so in tune, their actions and dialogue so connected and motivated, jumping in to the experience with them feels as natural as taking your seat. 
Related Articles