Theatre Reviews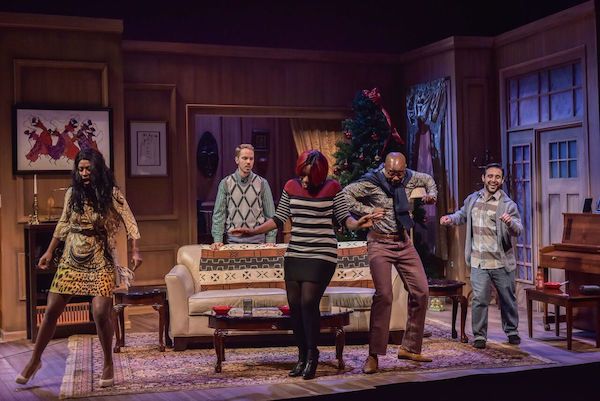 Funny and perceptive, 'DOT' tackles the serious subjects of dementia and caring for an aging population
The Black Rep opens their 41st season with a pointed comedy that takes a close look at an important contemporary issue -- one that no one seems willing to talk about but that affects so many: Alzheimer's. Dementia. Parents that need parenting by their children. The sense of loss, confusion, and anger an aging parent experiences as they feel themselves slipping. 
The holidays have arrived in West Philly and, at the Shealy home, that means it's time to put up the tree, start the meal preparations, and get the house ready for the return of the adult children and grandson Jason. Those tasks have become more difficult since mom Dotty's diagnosis of Alzheimer's. Eldest daughter Shelly is doing her best to take care of her mom, son Jason, and younger sister Averie, who is currently living in her basement, and she's about to break. Middle child Donnie lives with his husband in New York and rarely visits. This holiday season, Shelly needs to impress upon her brother and sister how much help mom really needs. Dotty has also been trying to explain to her kids what she's going through. With the help of her caregiver Fidel, she's arranged a special "present" for her kids that's received with unexpected results.
Thomasina Clarke is engrossing as Dotty, and she expertly travels the fine line between present and lost with humor and intelligence. Though she realizes her mental clarity is failing, Dotty is resistant to help and determined to remain independent as long as possible. Clarke moves seamlessly between the character's sudden mental lapses and mood swings, creating a woman as sympathetic as she is funny. 
Jacqueline Thompson, Chauncy Thomas, and Heather Beal are near perfection as her children, with each standing out for different reasons. Thompson is compassion overwhelmed, but with an edge of insecurity. Doing her best to maintain often leaves the impression she's trying to make all the decisions. Thomas dotes on his mother but stays far enough away to avoid the day-to-day realities. He's dealing with problems of his own and the comfort of distance allows him to deny the severity of his mother's decline. Finally, Beal is not nearly as self-absorbed or uninformed as her fame-seeking, media-savvy, gum-popping attitude may lead you to believe. She effortlessly infuses Averie with street and book smarts as well as comedy.
Courtney Brown is hilarious and warm-hearted as Jackie, a neighborhood friend with troubles of her own and a lingering flame for Donnie. Paul Edwards is at times prickly but ultimately tenderhearted and completely in-love with Donnie and his family. Finally, Ryan Lawson-Maeske shines in an understated way as Fidel, a man with a seemingly instinctive understanding of Dotty and unending patience.
Ron Himes directs the show with compassion and finesse as well as a keen sense of comedy, mining every line for every layer of meaning. The cast responds marvelously, keeping pace with the constantly shifting tone and building tension. Dunsi Dai offers a realistic set that's lived in but well appointed, quickly communicating the family's comfortably middle class status. The other technical elements -- costumes by Gregory J. Horton, lighting by Joseph W. Clapper, properties by Kate Slovinski, and sound by Kareem Deanes -- effectively create the appropriate environment for the relatable, occasionally nostalgic, and always tenderhearted and hilarious show.
The health of our aging population is a serious concern in contemporary America and, generally speaking, it isn't a very funny subject. Thankfully, playwright and actor Colman Domingo and the Black Rep succeed, fabulously, in finding that humor in DOT. The production plays up its humor while still relaying the debilitating progression of dementia and the very real needs of supporting aging family members. Focused direction from Himes, and a cast as committed to comedy as they are to emotion and context, ensure this engrossing play resonates on multiple levels. 
Though laugh out loud funny, DOT is unrelentingly honest at its core and, in many ways, quite frightening. None of us want our parents to suffer from dementia; none of us want to be the caregiver, to parent our parent. But the situation is reality for so many of us. With tempo and mood changes that might give you whiplash, DOT, running through September 24, 2017 at The Black Rep, acknowledges the uncomfortable truths of the consistently funny script. The show may hit home for many audience members, but it does so in a way that reminds us of the love and family at the center of the story.