Theatre Reviews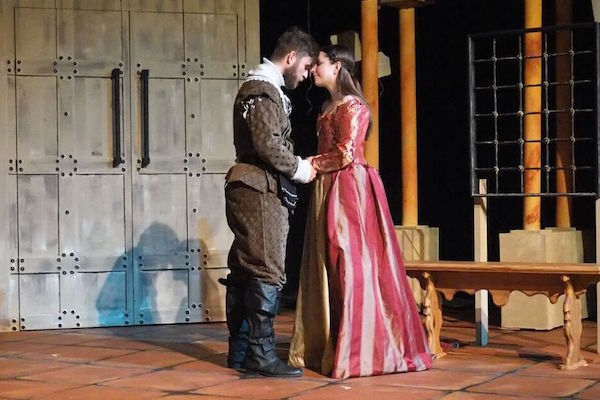 St. Louis Shakespeare entertains with a spirited 'Cardenio' that unfolds with Shakespearean wit and humor
The fact that William Shakespeare was a gifted and prolific writer is indisputable (whether or not the signature was a nom de plume is another question entirely). The existence of a 1613 play about Cardenio, a less-important figure in Cervantes' Don Quixote, penned by Shakespeare and John Fletcher, is also well established. Unfortunately, the script itself is completely lost to history. 
Thanks to the Royal Shakespeare Company's artistic director, Gregory Doran, we now have a newly re-imagined version of the play. St. Louis Shakespeare introduces fans of the Bard to the script in a fanciful retelling that highlights the romantic story with primarily playful escapades and lively wordplay. Cardenio is not without its failings, but the production makes the most of the play, ensuring the light comedy is accessible and entertaining.
The story introduces us to an aging Duke and his two sons, Pedro and Fernando. Pedro is loyal and obedient, a stand up guy anyone would want as a friend. His brother Fernando is a more slippery character, breaking hearts and spending his father's money on expensive horses. In an attempt to understand his youngest son's motivations and plans, the Duke sends a letter to Fernando's friend Cardenio, requesting he come to court immediately. The summons tears Cardenio away from his true love Luscinda at a crucial moment, and the ensuing mischief caused by Fernando nearly costs him her heart. The show has almost too many twists and turns, but a happy ending is eventually secured in the romantic comedy.
Erik Kuhn, a regular with the company, proves the natural choice for the valiant and faithful Cardenio. Earnest and enthusiastic, he expresses himself fully, creating a character that is sympathetic, if at times comically naïve, and bringing good physical presence to the role. Additionally, his interpretation and articulation are noticeably improved, his best grasp of the rhythms and cadence of the dialogue to date. As Luscinda, Shannon Lampkin delightfully counters Kuhn with a heart as pure as the driven snow, a perceptive eye, and a quick wit. She, too, articulates well and shows clear understanding of the story and her character. 
The entire ensemble is capable and well spoken, though there are times when the pace lags considerably and I am, honestly, still uncertain how I feel about the sheep. Kevin O'Brien and Jason J. Little provide solid, engaging support as brothers Pedro and Fernando and both demonstrate a good sense of timing, while Jeff Lovell is upright and full of authority as their father, Duke Ricardo. Lexie Baker is both cleverly appealing and horribly abused as Dorotea, the daughter of a wealthy farmer and conquest of Fernando. Filled with determination and spunk, she's delightful to watch though it is difficult, from a modern perspective, to understand why a rape victim chooses to pursue and moon over her attacker. The fact that Fernando tries a similar tactic not once, but twice with Luscinda is even more troublesome in a contemporary reconstruction.
Matthew Stuckel's scenic design creates the necessary levels and sense of environment while creating visual interest and a sense of place. Michele Friedman Siler tells much about each character and their social standing with her aesthetic palette and artful details, Dona Camilla's jacket is particularly appealing (and something I would totally wear simply for the elegantly distinct embellishment). 
The show is not without its problems, however. Director Northcott's vision is compelling and the majority of the comic touches work, eliciting the intended laughter. However, the production also feels a bit self-indulgent, with too much business slowing already long scenes and jokes, like the aforementioned sheep, that almost but don't quite hit the mark. Those minor points don't distract from the story or comedy, but the strong suggestions of forcibly coerced sex do. Fernando's actions and the lack of any true repentance or punishment are frankly disturbing. The construct appears to be supported by the original text and other writings used to reconstruct Shakespeare and John Fletcher's play. Without the usual historic familiarity, it's decidedly more jarring and noticeable.
St. Louis Shakespeare's production of Cardenio, running through October 15, is an absolutely compelling romantic comedy that folds employing all the Bard's favorite devices. There's plenty of mischief -- most of it cheerful, true love, and, of course, a woman disguised as a man and crucial to the plot. The show is light and pleasing, if a bit lacking in substance, and the company turns out an energetic and entertaining production that genuinely feels like a close cousin to the original canon.
Related Articles