Theatre Reviews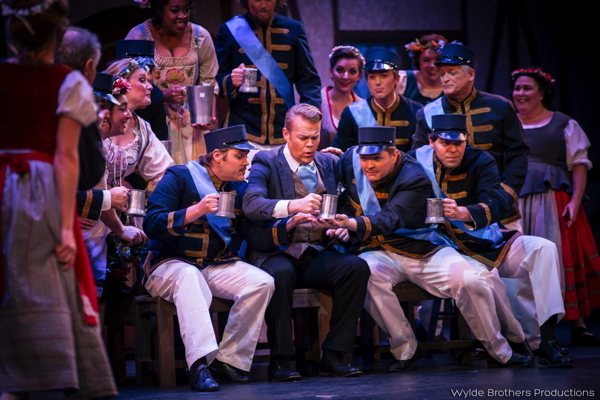 At Winter Opera, 'The Student Prince' will warm the operetta lover's heart
Time was when operetta was common on local stages. Shows like Rose Marie, The Fortune Teller, and Robin Hood made up the bulk of the season at The Muny when it opened back in 1919, and even as late as the 1970s you could still see the occasional Desert Song or Student Prince on the Forest Park stage.
For those of you longing for the sounds of good old-fashioned operetta in general, or The Student Prince in particular, Winter Opera has a brand new production of that 1924 Sigmund Romberg classic for you Friday and Sunday, November 10 and 12, 2017. And while not quite up to the standard set by their Merry Widow last fall, it's still a nice piece of work that's likely to warm the cockles of the operetta lover's heart.
When it opened on Jolson's 59th Street Theatre on Broadway, The Student Prince was a great hit, running 608 performances. That made it the longest-running show of the decade. Subsequent revivals in the 1930s and 1940s maintained its popularity, but it was undoubtedly the 1954 film version, featuring the voice of the legendary tenor Mario Lanza, that really brought it into the American mainstream.  
Based on Wilhelm Meyer-Förster's play Old Heidelberg, the book by American actress and playwright Dorothy Donnelly revolves around young Prince Karl Franz of the mythical kingdom of Karlsberg. Chafing at the gloomy regimentation of castle life, the prince is taken by his kindly tutor Doctor Engel to study at Engel's alma mater, the University of Heidelberg. There he has a brief romance with Kathie, who waits tables at her uncle's beer garden, and is ready to run away with her to Paris when he learns the king is ill and he must return to seal the betrothal to Princess Margaret that was arranged when they both were children. In the end, Margaret persuades Kathie to give up her claim on Karl Franz's affections and Karl Franz reluctantly takes up his kingly mantle, wistfully recalling the good old student days.
It's all rather thin stuff by contemporary standards, with cardboard characters and a perfunctory plot advanced with telegraphic brevity between songs. But what wonderful songs they are!
The enchanting "Serenade (Overhead the Moon is Beaming)" is probably the most famous number from the show, but there are plenty of other memorable moments in this appealing score, including the students' "Drinking Song" and the moving "Deep in My Heart, Dear." The music is what matters in The Student Prince. A production will stand or fall based on the strength of its voices.
It's a good thing, therefore, that Winter Opera has strong, appealing singers in both the lead and supporting roles, starting with tenor Andrew Marks Maughan as Prince Karl Franz. From the first notes of his sentimental duet "Golden Days" it was obvious that he had an excellent clear voice that projected easily over the orchestra without being strident. 
The same is true of soprano Caitlin Cisler as Kathie. Her acting is not, perhaps, in the same league as her fluid and flexible singing, but when she and Mr. Maughan joined their voices in the lovely "Deep in My Heart, Dear" that hardly mattered. They're both attractive and charismatic performers, their vocal blend is ideal, and they are, in any case, dealing with a text that is not what you'd call dramatically deep.
As the kindly and ailing Dr. Engel, bass John Stephens radiates warmth and compassion. Zachary Devin's powerful tenor leads the Heidelberg students in a rousing rendition of the drinking song, ably assisted by baritone Joel Rogier, and Gary Moss once again demonstrates his considerable comic talents as the prince's self-important valet Lutz.
Parenthetical note: Lutz seems to me to be a gloss on Pooh-Bah, the Lord High Everything Else from The Mikado, which makes his disdainful references to Gilbert and Sullivan that much more amusing.
Ellen Hinkle, who was such a delight as Frasquita in Winter Opera's Carmen back in March, once again charms as Princess Margaret, most notably in the waltz duet "Just We Two" with tenor Ryan Keller. Although they're both just starting their careers, their vocal and acting skills are already impressive, and I hope to see more of them in the future.
There are many other fine performances in this large cast. That includes (but is not limited to) Karen Kanakis as the stern Grand Duchess Anastasia, Karla M. Hughes as the flighty barmaid Gretchen, and director Dean Anthony as the unyielding Count von Mark.
When I reviewed Winter Opera's Merry Widow last year, I noted that Mr. Anthony clearly had a good eye for what works well on a stage. The same is true here. That includes his choreography, which once again does an excellent job of keeping the real dancers front and center while providing easily executed steps for the non-dancing singers. Things were still a bit rocky in spots when I saw the show at final dress rehearsal, but that could easily change by the time you see it in performance.
Under Scott Schoonover's baton, the Winter Opera orchestra has never sounded better, with a full and polished sound. JC Krajicek, who has costumed so many fine local productions, scores once again with appropriately colorful outfits, including lavish hoop skirts for the women and dashing military garb for the men. Scott Loebl's sets are in the same fairy tale mode, including a nice trompe l'oeil backdrop for the big Act III ball scene that's reminiscent of the one he did for Merry Widow last year.
It's nice to see Winter Opera taking up the mantle of the neglected operetta repertoire. The sentimental melodrama of The Student Prince might not have aged as well as the comic hijinks of The Merry Widow, but it's still fun to hear these classic tunes sung so well in the warm acoustics of the Viragh Center. See the last performance this Sunday, November 12.
Related Articles