Theatre Reviews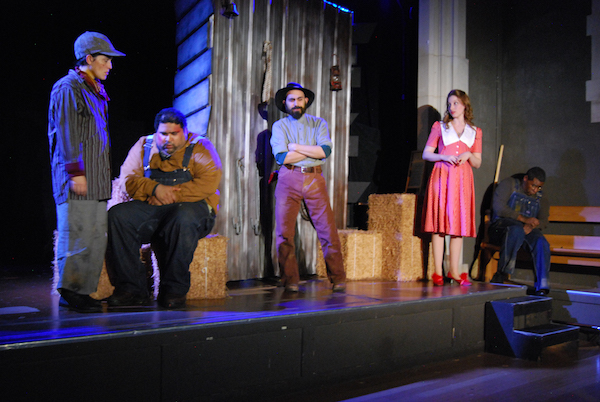 'Of Mice and Men' is a heartbreaking tale of friendship, struggle, and America's migrant workers
John Steinbeck's short novel Of Mice and Men, from his Dust Bowl trilogy also known as the California Series, springs vibrantly to life in Slightly Askew Theatre Ensemble's (SATE) riveting production. Director Jacqueline Thompson and the company intentionally cast the emotionally powerful show to authentically reflect our country's migrant workforce, adding poignant relevance to a story originally set in 1935. 
In contemporary America, the hands that gather the crops and tend to the harvest are those of diverse, transient, and some times undocumented laborers. These workers often lack or are afraid to seek insurance, education, and access to social support systems. In this light, the ethnicity and circumstances of lifelong friends Lennie and George, as well as the rest of the crew hired to buck barley in California's Salinas River Valley, feels natural and believably realistic, if unfamiliar to most Americans.
Lennie and George have traveled together for years. Moving from farm to farm, they're trying to save enough money to purchase a small place of their own, so they can "live off the fat of the land" like the farmers and ranchers who now employ them. George is the brains of the operation, and he often has his hands full trying to keep the slow-witted but hard-working Lennie out of trouble. Mentally underdeveloped, Lennie doesn't know his own strength and has difficulty controlling his impulses and emotions. So far, George has been able to intervene and the two have simply moved on to another job, but their luck can't last forever. 
Carl Overly, Jr. and Adam Flores are simply mesmerizing as Lennie and George. Overly shines in his best performance to date, giving Lennie both guileless gullibility and an endearing, sweet-natured, and sympathetic heart. Flores matches him in an excellent turn as the resourceful, eloquently quick-witted, and achingly aware George. While he wishes for just one night free of worry and concern, it is clear George loves Lennie like a brother and desperately wants the two of them to make it to the end of the harvest. The relationship between the men, expressed in Lennie's need for constant guidance and George's unending patience, is palpable and played with genuine affection. As the familiar story unfolds, you may long for the show to end on a more positive note, just this once.
Natasha Toro is compelling as the disabled laborer Candy, and realistically accurate as a woman trying to pass as a man to survive on her own. Candy's tale is painfully hopeless unless she can convince George and Lennie to cut her in on their plans. Toro's reactions and eager pleading after Candy overhears Lennie and George talking about their dream is silently expressive and naturally motivated by the enthusiastically detailed descriptions the two men share. The three actors have great chemistry, creating a space in which it is easy to believe that the men on the crew would suspend their disbelief and accept Candy as one of the guys. 
Courtney Bailey Parker gives Curley's wife a tragic but lovely moment of kindness, otherwise she's appropriately self-absorbed, sexually dissatisfied, and bored to distraction. With SATE's casting of Toro as Candy, the tension between Candy and Curley's wife is particularly sharp and potentially explosive. Joe Hanrahan's Slim, Michael Cassidy Flynn's Curley, Shane Signorino's Carlson, Ryan Lawson-Maeske's Whit, Jack Corey's Boss, and Omega Jones' Crooks are all fully developed characters actively invested in the story. 
Of particular note is the scene when Overly's Lennie visits Jones' Crooks, which is surprisingly impacted by the company's casting decision. Jones jabs Overly with his finger, his voice filled with anger and frustration at his segregation from the others simply because of his skin color. The moment is underscored by the fact that Overly is also black, but lighter than Jones'. In this context, he's able to pass after the Boss accepts him as the Latino George's cousin. Without overemphasis, the scene gives pause by presenting a very real, often unspoken truth. The exchange amplifies the moment when Curley's wife invites Lennie to stroke her hair, underscoring how little these near strangers understand him and reminding us how much he needs George.
Dramaturge Rachel Hanks' extensive research is displayed in the lobby, providing background on migrant labor as understood by Steinbeck and as documented across generations, and illuminating Thompson's directorial approach. Liz Henning's costumes and the set and lighting designs, by Bess Moynihan, are simple but effective. Henning's costumes define socioeconomic standing and working conditions rather than a specific period, and Moynihan's three-sided backdrops are quickly moved and turned to distinguish the various locations in the play without slowing the transitions. Ellie Schwetye's sound design, featuring live acoustic guitar from music director Chris Ware, adds a finishing touch with traditional folk tunes that set the emotional tone of this thoroughly American tragedy. 
Steinbeck's short novel captures a snapshot of the lives of migrant workers, and Slightly Askew Theatre Ensemble brings that tragic picture to life in a convincing retelling. Thompson directs with a sure hand and a well-researched and realistic perspective, drawing performances filled with nuance and subtlety from the intentionally diverse ensemble. Powerful and emotional, Of Mice and Men, in performance through November 18, 2017, is an exceptional production that lovers of theater and classic American literature will not want to miss.  
Related Articles