Theatre Reviews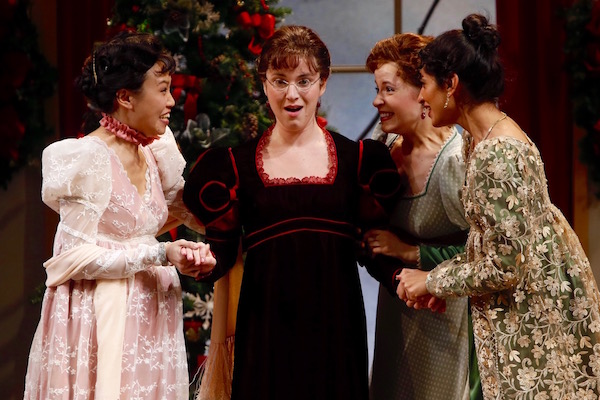 Miss Bennet fills audiences with Christmas joy
The charming play "Miss Bennet: Christmas at Pemberley" won a Jeff Award in Chicago for Best New Play, and playwrights Lauren Gunderson and Margo Melcon absolutely deserve the distinction. The Rep's director Jenn Thompson deserves a distinction as well for her fabulous re-telling. 
The story is a sequel to Jane Austen's "Pride and Prejudice," but it stands on its own. Audiences unfamiliar with the story's characters will get to know them all in the first few scenes. 
The protagonist Mary Bennet, deftly presented by Justine Salata, is a nerd. Obsessed with learning new things, maps, and practicing the piano, she is lonely and upset that she's been forced into the role of caretaker of her parents as she is the only unmarried sister. Not that she is uncaring: Mary is full of love. She just wants to choose when to show it. 
Her match is met in Arthur de Bourgh, another socially-awkward lifelong student. Miles G. Jackson presents Arthur as a gangly, cautious man, and his full physical comedy is brilliant and hilarious. Both these characters have some extreme peculiarities, so much so that they lean towards unrealistic, but through Salata and Jackson's lenses, the audience is convinced these people exist and that they are clearly meant only for one another. 
If this sounds like just another sappy love story, don't worry: it isn't. Well, it is, but it's so much more than that. The rest of the cast dances around the two with wit and joy, mic-dropping punchlines at the perfect moments. 
Mr. and Mrs. Darcy, played by Rhett Guter and Harveen Sandhu, and Mr. and Mrs. Bingley by Peterson Townsend and Kim Wong, make lovely pairs who complement each other as if they are, in fact, married couples who have shared their lives for years. Austen Danielle Bohmer's Lydia Wickham is annoyingly immature, just as she should be, and Victoria Frings' Anne de Bourgh is so severe her teeth might crack from all the jaw-clenching.
The bromance between the men is charming, but it is the intricate relationship among the sisters that speaks the loudest. Anyone with siblings knows the love and frustration they bring, and authors Gunderson and Melcon show us to ourselves through the Bennet sisters at Christmas. 
The players move each other through Wilson Chin's open, lavish set. Each character's choices profoundly affects the others, yet they all seem comically unaware of their power over one another, how their words and actions can give wounds or give joy. While an entertaining, fast-paced, hilarious ride, "Miss Bennet" is also a sweet reminder to love one another -- especially over the Christmas holiday. 
"Miss Bennet: Christmas at Pemberly" brings its Christmas spirit to audiences at the Rep through December 24th. For more information visit repstl.org.
Related Articles