Theatre Reviews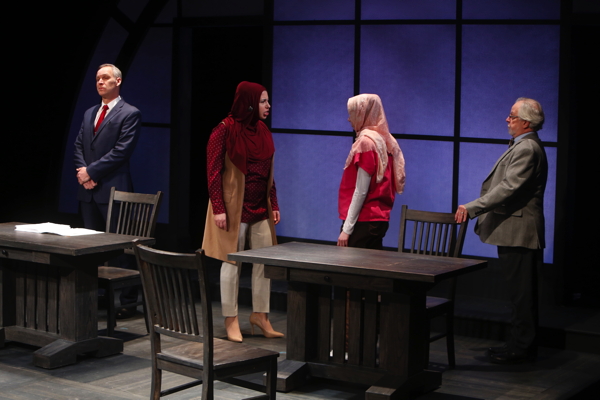 At the Rep Studio, 'Faceless' is a shrewdly observed commentary on faith and identity politics
Selina Fillinger, the author of the drama Faceless getting its St. Louis premiere at the Rep Studio right now, is a remarkable young woman. Although only 23 and a recent graduate of the theatre program at Northwestern University, she has produced an intelligent, shrewdly observed commentary on faith, identity politics, institutionalized violence, and the vulnerability of young people coming of age in the digital goldfish bowl of social media.
Thought provoking, engrossing, and crackling with sharp dialog, Faceless is the all too plausible tale of Susie Glenn, an 18-year-old Chicago high school student who is reeling from the murder of her cop mother and disconnected from her father, who is finding it hard to cope with both her grief and his own. Lonely and unpopular, she is easy prey for Reza, an ISIS recruiter who convinces her to convert to Islam via a simple declaration on Twitter.
Arrested before she can fly overseas to join Reza, whom she has never seen in person (represented only by a recorded voice and a silhouette, he is literally faceless), Susie finds herself on trial for helping to plan acts of terrorism. Her prosecutor is Claire Fathi, a Harvard-educated Muslim lawyer who, as the show's publicity notes, "lives the faith that Susie professes to understand" but of which she has only the most elementary understanding.
Encouraged by her boss Scott Bader--a career Federal prosecutor with political ambitions--and irritated by Susie's religions pretensions, Claire tries aggressively for a conviction. As events unfold, both Susie and Claire begin to seriously question their decisions and it becomes clear that the high moral ground is a precarious place from which one is easily dislodged.
Faceless was first performed at Chicago's Northlight Theatre last year, and the Rep production features some of the same cast and creative team from that world premiere. Most notably, Lindsay Stock and Susaan Jamshidi reprise their roles as Susie and Claire, respectively, and their familiarity with the material and with each other gives their interactions real authenticity.
Ms. Stock moves credibly from girlish superficiality to tragic stature in the course of the evening, while Ms. Jamshidi is equally believable in her journey from righteous anger to serious self-doubt. These wonderfully detailed, thoughtfully shaped performances are the solid foundations on which the drama is built.
Michael James Reed, last seen as Claudius in the Rep's Hamlet, is the aggressively inflexible Scott, driven by a combination of moral certitude and political opportunism. The playwright only gives us a few chances to see a more human side to the character, but Mr. Reed makes the most of them. Next to the literally faceless Reza, he's the closest thing the play has to a villain, but Ms. Fillinger's text and Mr. Reed's nuanced performance give him enough depth to make him that much more chilling.
As Susie's defense attorney Mark Arenberg Ross Lehman, another alumnus of the Northlight production, is the warm and compassionate counterweight to Mr. Reed's character. The playwright has given Ross some of the play's most trenchant political commentary, and Mr. Lehman gives these "author's message" moments a ring of sincerity that avoids preachiness. Joe Dempsey rounds out this sterling cast with a heartbreakingly real performance as Susie's father Alan.
Director BJ Jones, another Northlight import, moves the show at a brisk pace and her blocking keeps the action visible throughout the studio theatre's three-quarter round setup. Andre Pluess's sound, Heather Gilbert's lighting, and Stephan Mazurek's projections all add to the documentary realism of the show and John Culbert's minimalist set makes the many scene changes quick and seamless.
Isumi Inaba's costumes nicely illustrate character. I especially liked different styles of hijab--the headscarf worn by many Muslim women--used for Susie and Claire. Susie's is little more than a simple scarf, worn as thoughtlessly as she wears her new religion. Claire's are stylish, color-coordinated with her suits, and clearly an integral part of her self-image.
If Faceless has a weakness, it may be that while (as Eric Hoffer's The True Believer demonsrated) the underlying issue of the way religious and political fanatics exploit loneliness and insecurity to recruit followers attracted by the false certainty of rigid doctrine is sadly timeless, the more timely cultural references (such as references to Twitter and Facebook) might limit its theatrical shelf life. Shortly after 9/11, for example, Anne Nelson's drama The Guys (about WTC first responders who lost their lives) was nearly everywhere. Now it's practically nowhere and looks dated. I think Faceless is a more substantial script than The Guys, but whether or not that will prevent it from looking like yesterday's news is an open question.
It is, in any case, an astonishingly mature work for a novice playwright--or any playwright, for that matter. And it deserves to be seen. Performances continue through February 4th in the Repertory Theatre of St. Louis studio space on the Webster University campus.
Related Articles