Community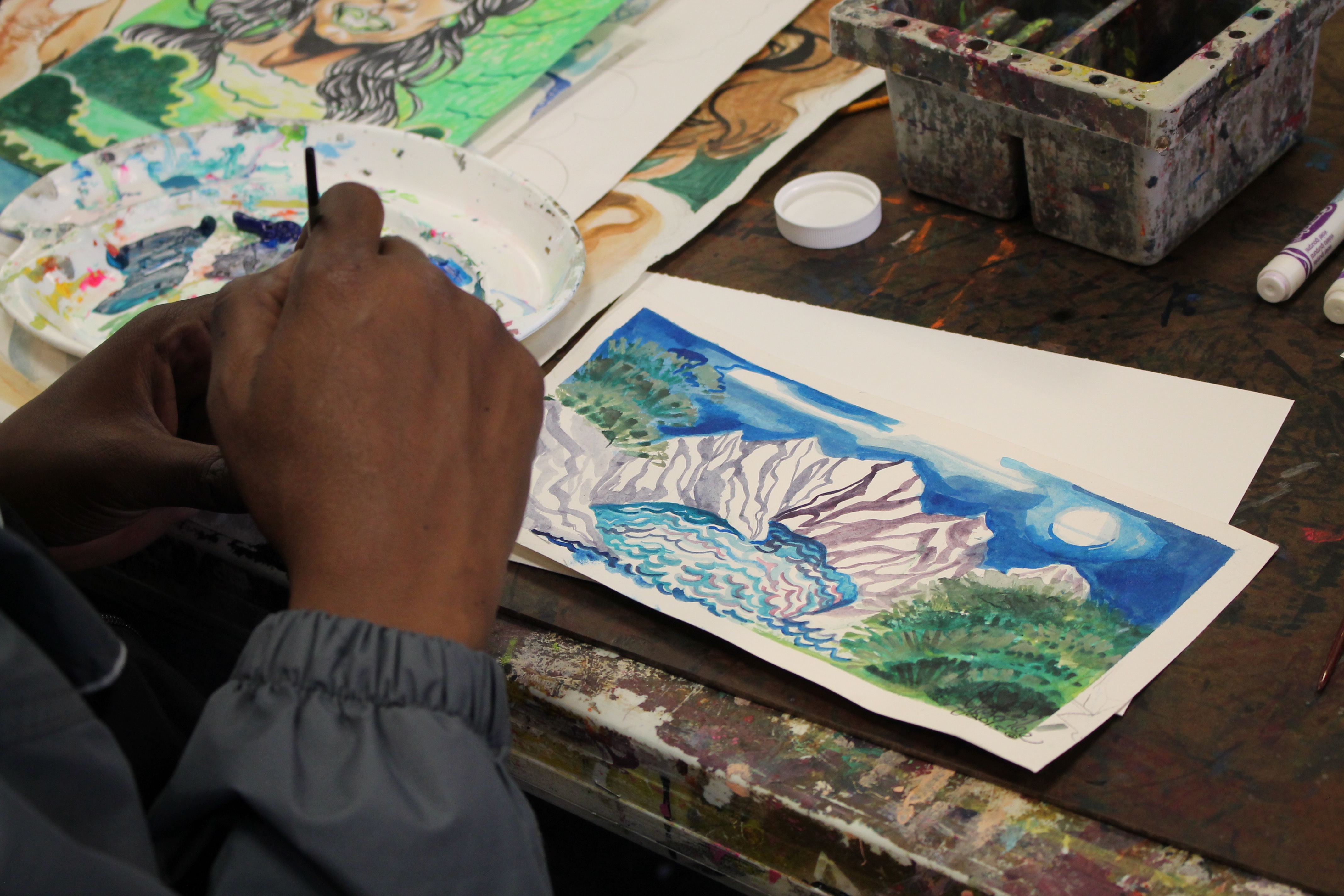 Artists First, Disability Second: Sharing art and sharing life 
As I stepped into the Artists First studio in Maplewood, I immediately noticed the variety of art hanging on the walls, from abstract-expressionist style paintings to delicate pencil portraits. Around tables of art supplies, a number of people were busy drawing and painting. Among them was Paul Stanton, one of the 30 or so artists who come to the Artists First on a regular basis. 
Stanton was finishing up a portrait when he agreed to talk with me about the organization as he left his painting to dry. Stanton, who just celebrated his 55th birthday, started doing sketches and portraits when was a just a little boy. For Stanton, his love of art was there from the beginning: "When I was coming up, I knew that I had the talent. Every person on earth has a God-given talent; my God-given talent was art." Since finding his way to Artists First, art facilitators have helped Stanton to improve that talent: "I am a way better artist than I was. If I didn't know what I know now, I don't know where I will be. But it's not too late for anyone."
A non-profit organization that serves aspiring artists of all ages, the specific mission of Artists First is cultivating artists with developmental disabilities, traumatic brain injuries or pervasive mental illnesses. Besides offering adult and youth open studios to all, Artists Firsts also provides career-minded members with a place where they have access not only to professional art-making materials but also, through the Lifeworks program, to a network of opportunities through which they may display, market and sell their artworks.
Sheila Suderwalla, Executive Director explained the ethics behind the title of the organization: "At Artists First, our philosophy is that the person is first and the disability is second. We want the artists be treated as they are, but not by their disability."
The combination of expertise in social work, art techniques and special education in staff members allows Artists First to offer not only artistic guidance, but also career coaching, financial literacy and emotional support for members artists with and without disabilities. Artist First creates an environment that promotes the improvement of interpersonal skills among those challenged by lack of socialization opportunities and an often interrupted professional support network.
Among those without disabilities, these interactions provide an improved understanding of and sympathy for the challenges those with disabilities face. "There are so many divisions in the world," said Suderwalla, "We want to break down those walls, divisions and stereotypes, and bring diverse groups of people together." 
Through its open studios and other programs, Artists First directly serves over 200 individuals a year. The Lifebooking class, for example, provides a safe harbor where individuals with disabilities can retell their stories either about transitions in life or relationships with support providers. Artists First for Veterans, an extended program of the Open Studio, emerged as a response to the specific needs of veterans readjusting to civilian life.
Beyond its in-house programing, Artists First curates outreach events, including exhibitions and parties at a variety of venues, including the Sharing Art exhibitions at UMSL's south campus and at Maplewood Public Library, where one can see some of Stanton's works on display. 
In so doing, Artists First introduces its artists and their works to a wider St. Louis community and provides more opportunity for artists to sell their work. In Suderwalla words, these exhibitions can be a "bridge" that helps the community empathize with member artists.
While artists get a commission for each artwork they sell; others, like Nakia Jones, choose to keep their work to themselves. When I met Jones, the 42-year-old could not entirely hide her creative side which showed in her red sweater, matching red lipstick, and a pair of blue chain earrings of her own design. For Jones, who comes to the studio for five hours almost every day its open, Artists First is her college. "I don't want to miss any day," she says. Her philosophy about art encapsulates the philosophy of Artists First: "Art is about love to me."
Sheila notices the progress in member artists, which she measures holistically: "What we have seen through Artists First is an increase in self-esteem and self-advocacy. They know how to stand up for themselves and advocate for what they need." People with disabilities need guidance and support along the way. They rely on organizations like Artists First to be their outlet where they feel a sense of purpose and a sense of belonging. Just as Sheila said to me, "This is their purpose. This is their job. This is their community." 
As Nancy Fowler reported for St. Louis Public Radio, Artists First faced a challenge last summer that many arts organizations anticipate may become the unfortunate norm. The St. Louis Office for Developmental Disability Resources planned to cut the annual budget for nonprofit organizations by 20 percent. The scenario got worse for Artists First when Suderwalla was told in early May that half of Artists First's budget needs to be cut. In fear that the organization might have to close, Artists First negotiated and cut costs within the studio therefore was able to continue commit to 200 individuals. As Suderwalla said to SLPR, "On paper, in black and white, it looks pretty bad, but in our heart of hearts we have a lot of a faith."
Friday, February 17, Artists First will host its Arts in Unity event from 6-9 p.m., an art exhibition in celebration of diversity with musical performances by Dave Stone, Brian Curran, Googolplexia, Sole Loan, Kieran Molloy, Gary Schoenberger and others.
Related Articles