Music Reviews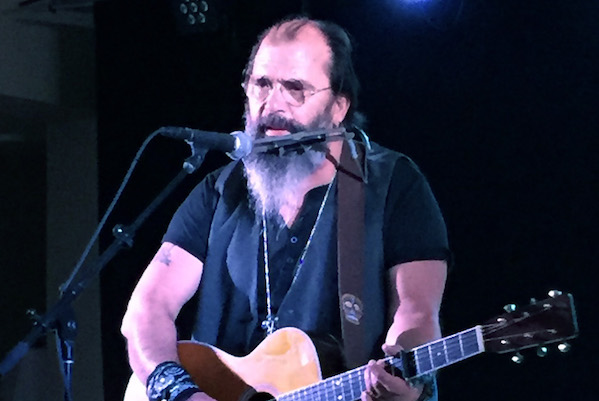 At Home at The Wildwood Springs Lodge with Steve Earle
Imagine going to a friend's house for dinner and musical entertainment. When you pull up, you see people on the porch with drinks in hand. They greet you with smiles and return to their laughter. Inside, the main room has been filled with chairs and a line is beginning to form before the dining room, where the smells of dinner waft out slowly to draw you in. At the head of the line stands a robust and jocular host who greets everyone he recognizes with warmth and humor and everyone new first with curiosity, and then warmth and humor. The food is plentiful and delicious, and table service brings drinks and dessert as you sink into a repast of hometown comfort food. Then, after making a new friend or two, you wander back to the living room for an evening of music and enjoyment. Most of us have experienced something similar to this and can recollect it with fondness. Perhaps it is still talked about when you rejoin those friends who shared the moment with you. Years from now, you can all have a good laugh in the nostalgia of a night well spent. Now multiply your friend's dinner party of a dozen or so to well over 150. And that, my friends, is The Wildwood Springs Lodge in Steelville, Missouri.
The stage was set in a corner of the room between the bar and concierge desk, lit by clear, blue, honeycomb lights. The amps and a spare guitar bordered a worn area rug which really tied the room together, man. Everyone filled into the first rows of soft chairs; theater seats were set up behind those and lined the balcony above. Steve Earle came out in typical bad boy fashion: wordless. He plugged in his acoustic Martin M-38 with an embroidered sugar skull strap, hit the low E for a sense of sound and began strumming. He wore a black vest over a T-shirt, jeans that had seen much of the road across the US, and a stare that had seen ever farther.
After a few measures, he said, "I think it is important to sing this song as much as possible," and started into a gravel-toned sing-a-long of Woody Guthrie's "This Land is Your Land." After a brief pause where he almost smiled, he performed the next few songs without introduction, leaning one into the next with hardly a key change. His songwriting has always been strong, and he sang a few he was known for, dominating the 4/4 time with rambling quick narrative of outlaws and the hard killing floor blues of Southern Gothic imagery. Then stopped to breathe in the space of the venue.
It was then he opened up. Wildwood had billed the night as an intimate evening with Steve Earle, and, trained as I am in the musical lore of Nashville, I was eager to see a softer side of this late-outlaw who came to prominence with Townes Van Zandt and Guy Clark. But soft is not what he offered. Neither did he remain in the hard-shell he had toured within during the '70s and '80s. Rather, he was honest. Not encumbered by the expectations of the Dukes, his usual backing band, Earle was free to tell stories and reminisce.
Halfway through the show, Earle switched to a mandolin he claimed to have won from a divorce and played, "Copperhead Road," which had been called for by the audience. The following number he picked back up his Martin and sang one for, "What's her name, wherever the hell she is." Departing from perspective rather than subject matter, Earle's later songwriting is a reminiscence about his days and ways of his younger self. The early songs are filled with tight riffs and hooks about chasing the devil. These later ones, "typical of a 52 year old," he claimed, center more on chasing the devil away.
Travis-picking through a typical I, V, VII progression in B, he spoke fondly of what it was like to learn from Townes, and how no one could ever match him. He then gave tribute to his late friend with a rendition of "Rex's Blues," which does not appear on the album of Van Zandt covers Earle released in 2009.
By the end of the night, Earle was joking with the audience, telling stories of his son and his many wives. Then after a brief encore and a break off-stage (which at The Wildwood is upstairs), Earle hung out at the bar to greet the lingering fans and take innumerable pictures. He was warm and friendly, offering anecdotes to any listening and would graciously engage whoever was near in ardent conversation.
While I have seen innumerable shows in my life, this was different than most. It was more intimate. There was little remove from the artist, and you felt included in both the music and the appreciation felt by everyone else. That is because of the Wildwood experience. In that space most describe as having a "living room feel," artists can leave their stage persona behind and relate their stories on a more personal level.  
Bob Bell, the warm fellow greeting everyone as they entered for dinner, runs the Lodge with his family who came of age just across the street. it was Bob's father, Paul Bell, who bought the former resort hotel built for Missouri's nouveau riche of yesteryear in hopes it would keep his family together there in Steelville. And his dream is a gift to us all. The Wildwood is not only a venue. It is an experience. The building is an L of old hotel rooms with metal, mortise, bit keys and no TVs. The hallways seem to come straight out of a Coen Brothers thriller, and porches wrap around both sides of the building. There are thirty-mile views off the back porch, which is lined with rocking chairs and retro decorations that have aged with the space. 
This reprieve from the bustle of daily life is a touch over an hour from St. Louis and yet a world away. The opulence of days of yore feels as Bob hopes it would, just like coming home. It is with this perspective he greets his guests as family and encourages them to enjoy the space as he has grown up doing. Here one can enjoy great food, better company, and a concert which enlivens as much as it connects one to the music. The Wildwood Springs Lodge creates a experience of togetherness. Together with family new and old, friends silver and gold, and a space to truly witness the skill and message troubadours like Steve Earle have been capturing in song for eons. It is like going back into a memory, only anew.  
And I, for one, can't wait to return.
Related Articles