Cabaret
Cabaret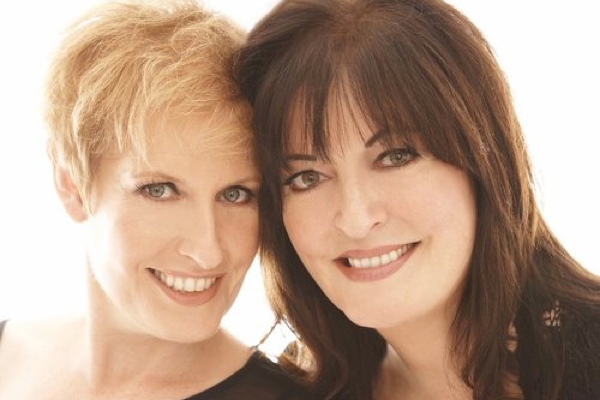 Review: Liz Callaway and Ann Hampton Callaway bring the joy of 'sibling revelry' to the Jazz Bistro
By Chuck Lavazzi
Musical sisters Liz Callaway and Ann Hampton Callaway are no strangers to St. Louis stages. Both have performed here many times in the past and both have been part of the teaching staff at the St. Louis Cabaret Conference.
Their appearance here at on Wednesday and Thursday, September 26 and 27, though, marked the first time their duo act Sibling Revelry has been seen here in almost two decades and the show's first performance at the recently renovated Jazz Bistro. They have performed the show around the country since around 1995, which means they have now fine-tuned it into a precision entertainment machine.
The evening opened with an exuberant duet of Jerry Herman's "It's Today" (from "Mame") that showcased the sisters' precision close harmony, and it then moved into a solo set in which Ann demonstrated both her vocal and interpretive skill. Her version of "Rhythm in My Nursery Rhymes" (a hit for "Fats" Waller, among others), with its scatting and vocal imitations of jazz combo instruments, was a reminder of why she's so well regarded on the jazz scene, but she also captured perfectly the wry, world weariness of Nancy Ford and Gretchen Cryer's "Old Friend" (from "I'm Getting My Act Together and Taking it On the Road").
A delightful duet of "Friendship" (from "DuBarry Was a Lady") gave them a chance to joke about the rivalry in their revelry, and then Liz took the solo spot with moving performances of Steven Schwartz's "Meadowlark" (which I still can't hear without getting teary-eyed) and Frank Loesser's ecstatic "My Heart is So Full of You" (from "Most Happy Fella"). That set demonstrated why Liz has been so much in demand in the theatre and film world.
For me, though, the best thing about the evening was seeing them soar through complex arrangements of Broadway and Great American Songbook standards in flawless tight harmony. They played off each other with the ease of long acquaintance.
Alex Rybeck
They were, in short, having a great time and they made sure the audience was part of the fun. That was perhaps most apparent in their "Huge Medley" of all the songs their friends suggested they should do when they first started putting "Sibling Revelry" together over two decades ago. It's a high-speed trip through (at least) a dozen tunes from the big band hit "Sentimental Journey" to Sondheim's "Every Day a Little Death" (from "A Little Night Music").
Through it all, the reliably brilliant Alex Rybeck (a strong performer in his own right) backed them up on the piano. Mr. Rybeck's skill at the keyboard is always impressive, but his solid performance Wednesday night was made more so by the realization that he had been called in on 24-hours notice and had, in fact, flown in from New York City on a 5 am flight the day of the concert. That's Purple Heart territory.
By the time you read this, the Callaway sisters will have concluded their St. Louis stay, but the season continues at Jazz St. Louis. "Sibling Revelry" was the first show in the new Jazz St. Louis Cabaret Series, co-produced with The Cabaret Project St. Louis. Check out both organizations' respective web sites for information on upcoming events.
Related Articles