Cabaret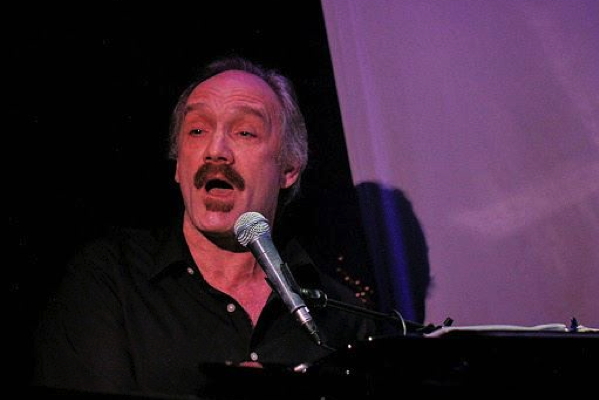 Review: A happy birthday cabaret with Rick Jensen
Written by

Chuck Lavazzi
Although he's based in New York City, singer/songwriter/teacher Rick Jensen has been a frequent visitor to St. Louis, both as a performer and as a music director and pianist for a number of local singers. So it only seems right that he came to St. Louis to celebrate his 60th birthday on Saturday, October 6th, with a special show at the Kranzberg Center.
For the audience of cabaret lovers (including several members of the Jensen clan) it was a festive occasion indeed.
Titled "60 Years in 60 Minutes," the show is a mini-biography liberally illustrated with 14 original songs that demonstrate Mr. Jensen's wide range as both a songwriter and performer, as well as his virtuosity at the piano. "Long Cold Fall" (with its Randy Newmanesque harmonies), for example, muses poetically on autumn as both a meteorological and personal season. "Coney Island" and "Tonight New York City" are lyrical tributes to his adopted hometown that echo Billy Joel and Bruce Springsteen while still being uniquely Rick Jensen. And "Amanda Sang," the more straightforward story song of the evening, includes a lyric that could serve as a mini-lesson for cabaret singers: "She could never go wrong / Because her heart was in her song".
Singer/artist Dionna Raedeke
Photo courtesy of Mariposa Artists
"Happy Birthday Boy" is a loving tribute to his mother who "didn't have a musical bone in her body" and "After All Those Love Songs" is a powerful ballad that was made even more so by the voice of St. Louis's own Dionna Raedeke (a fine singer as well as a visual artist). There were also many lighter moments in the show and one outright comedy number inspired by "certain events that took place in the Jensen household" in Minnesota, "Hi Ho, That's the Jensen Way."
That one, by the way, started out life as "Hi Ho, That's the German Way." Mr. Jensen gave it a re-write for this show, presumably because he knew he'd have family members in the audience. That could have been the musical equivalent of home movies, but Mr. Jensen is too good a songwriter for that. It was a hoot.
Linking all of them were anecdotes about his childhood in rural Minnesota and his coming of age--literally and musically--in New York City, delivered with self-deprecating wit and wisdom. Mr. Jensen is a performer who engages quickly and easily with his audience, so that his show soon felt like friendly chat.
Lina Koutrakos
The show was expertly directed by Mr. Jensen's long-time collaborator (and cabaret legend in her own right) Lina Koutrakos. Like Mr. Jensen, she has taught cabaret master classes and done many solo shows of her own, and her expertise was clearly visible in the pacing and dramatic shape of the show.
"60 Years in 60 Minutes" concluded with one of my favorite Jensen originals, "In Passing Years." I liked this meditation on the enduring value of friendship so much I learned it and performed it with him two years ago during the master class he and Ms. Koutrakos offer every fall on the island of Mykonos. But nobody does it quite like him.
Rick Jensen's show was presented by Mariposa Artists, a wholly owned subsidiary of St. Louis cabaret artist Robert Breig, who has brought many local and national artists to St. Louis stages. Upcoming Mariposa shows include "An Evening With Nina Gabinelli" on Saturday, October 20 and "Merry Keller: It's Personal" on Friday, October 26. Tickets are available via MetroTix.
Related Articles